Healthcare Leader Joins Haub School as Executive in Residence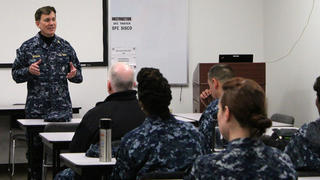 Thomas E. Beeman '74, '77 (M.A.), Ph.D., FACHE will join Saint Joseph's University as Executive in Residence of Erivan K. Haub School of Business starting this winter. In this role, Beeman will be an available professional resource for students, colleagues and leadership. He will aim to provide practical mentorship through office hours, career coaching and lectures.
"Thomas Beeman is nationally recognized as a leader in the healthcare industry and as a former Admiral in the United States Navy. His distinguished career experience will enhance our academic offerings in our graduate business programs, our leadership programs and our veteran programs," says Joseph A. DiAngelo Jr., Ph.D. '70, dean of Haub School of Business. "We look forward to having him as a part of the Haub School."
Beeman most recently served as chief operating officer of regional operations at Penn Medicine at the University of Pennsylvania Health System (UPHS), where he was responsible for ensuring the broadest population of communities possible had access to Penn's clinical care through direct accountability for the Chester County Hospital, Lancaster General Health Hospital and Health System and Penn Homecare and Hospice Services. He has more than 45 years of experience in the healthcare field, including serving as the chief executive officer of Lancaster General Health and president and chief executive officer at Saint Thomas Health Services in Nashville, Tennessee.
"It is an extraordinary privilege to be offered this opportunity at the Haub School of Business and to share my experiences with an ambitious group of students at the University that started it all for me," says Beeman. "Saint Joseph's University is rich in traditions and ethics, and it is an honor to be back on campus."
In addition to Beeman's impressive professional career, he served as a Rear Admiral in the United States Navy Reserve, ending his career as Assistant Deputy Surgeon General. He refers to his time spent in the military as "the most important responsibility of my career."
"My military career allowed me to not only learn leadership, but put it into action," says Beeman. "I look forward to the opportunity to connect with students, help them figure out career direction and be an example that a career is not always a straight line."
Beeman, a Philadelphia native, earned a bachelor's degree in health studies and a master's degree in health education from Saint Joseph's. He earned a second master's degree in hospital administration from Widener University and doctorate in leadership and policy from Vanderbilt University. He is a Fellow of the College of Physicians of Philadelphia and of the American College of Healthcare Executives. He has served as a board member and trustee for various organizations throughout his career. In April 2018, Beeman was appointed as co-chair of The Cover Commission, where he will explore and evaluate treatments for mental health issues in veterans. He is the co-author of three books and a number of academic articles.