How a Saint Joseph's Education Started One Alum on the Path to Becoming an Entrepreneur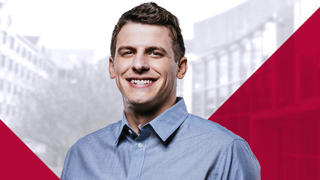 Kyle Chalmers '17 has never been the kind of person who likes to do just one thing at a time.
As a high school student in Tempe, Arizona, Chalmers played tennis, worked on a political campaign and went on immersion trips to Mexico and El Salvador, all while maintaining a strong academic profile. It's no surprise, then, that his four years at Saint Joseph's were jam-packed.
Chalmers' passion for getting involved stems from a core personal value that he developed during his Jesuit high school experience.
"Education shouldn't be used just to advance your own personal self, but to make a positive impact on those around you," Chalmers says. "My Jesuit education taught me to be person who stood with others and wanted to have their choices indicate their values."
When Chalmers was choosing a college, he had never been to the East Coast. But he wanted to go somewhere that would encourage his sense of duty and allow him to continue his level of involvement. When he stepped foot on Saint Joseph's campus, he knew he had found that place.
"I spoke with [SJU tennis coach] Ian Crookenden, and he said that as long as I performed well academically and on the court, I could do as many other extracurricular activities as I wanted," Chalmers says. "I knew I had support from him and from everyone on campus who encouraged me to be involved in different clubs and organizations and academic pursuits across campus."
During his four years on campus, Chalmers rose to the role of captain of the men's tennis team, served as an orientation leader and Hawk Host tour guide, cheered the men's basketball team on as a member of the boosters club, led first-year retreat programs and was enrolled in the Beta Gamma Sigma business honors society. His academic activity was similarly paced: Chalmers took advantage of the broad-based education at Saint Joseph's, taking classes in economics, political science, psychology, finance and general business in his first year, trying to find the right mix of disciplines to fit his interests. He finished school with a double major in economics and decision and system sciences. The latter caught his interest thanks to one professor in particular.
"I took a class with Virginia Miori, Ph.D., and she showed how you can use data to explain decision making," Chalmers says. "I learned how to tell stories with data, and how to place narrative to statistics. After that class, I saw where the future of business was going, and where I wanted to be."
Chalmers honed his skills in business intelligence by working in the field, completing an internship at health care analytics firm Cotiviti before his junior year and at professional services firm PwC before his senior year. That internship led to a job with PwC after graduation, where Chalmers stayed for two years before enrolling in Venture for America, a two-year fellowship program that pairs recent college graduates with non-traditional startups.
When I came into St. Joe's, I don't think the word entrepreneurship had ever been introduced into my vocabulary. Through my academic pursuits, I realized that this is what I think I'm meant to do."
Through Venture for America, Chalmers is currently working with Jornaya, a firm that uses data to help guide companies to motivated consumers. The quick pace of the startup culture fits Chalmers' drive.
"I come home every day after work and think about what smart people I'm working with and how incredibly intelligent everybody at the company is, and how motivated they are to really build and grow this thing and taking ownership over their own jobs, as well as the entire company," he says. "Seeing that is really inspiring, because you have a bunch of people who are wanting to grow and build a business that's going to continue to flourish, and hopefully, grow into a large company one day."
Chalmers hopes to one day start his own company, and while the prospect is daunting, he knows that what he learned at Saint Joseph's — including a self-led senior thesis in which he helped SJU's admissions team analyze enrollment and retention data — will carry him through.
"When I came into St. Joe's, I don't think the word entrepreneurship had ever been introduced into my vocabulary," he says. "Through my academic pursuits, I realized that this is what I think I'm meant to do. I think I'm meant to start my own businesses and help contribute to start-ups and really grow things from the ground up, because that's what I think fulfills me more than anything else."