James and Frances Maguire Make Transformative Gift of $50 Million to Saint Joseph's University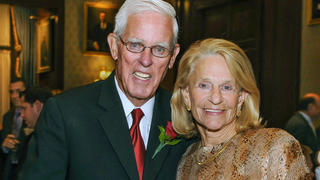 PHILADELPHIA (July 20, 2017) — Saint Joseph's University today announced receipt of a $50 million gift from distinguished alumnus, James J. Maguire, Class of 1958, and his wife, Frances. This extraordinary gift is the largest in the University's 166-year history and will significantly raise the University's endowment, supporting scholarships and financial assistance to students and enabling the expansion of signature and mission-centered programs. 
The gift will endow and expand the 'Maguire Scholars' scholarship program enabling SJU to attract even more outstanding students – from Philadelphia as well as expanded regional and national markets –  who wish to pursue a Jesuit education but lack the financial means. Additionally, the gift will establish multiple endowed funds in support of SJU's No. 1 nationally ranked risk management and insurance program, providing critical support for faculty, scholarship opportunities for students, and professional development opportunities for both. In recognition of this gift and his efforts in launching and supporting the program since its inception, SJU is pleased to also announce the Academy which coordinates and advances the program will be named the Maguire Academy of Risk Management and Insurance. Lastly, the gift will endow support for educational leadership programs for Philadelphia-area teachers in Catholic and independent schools.  Saint Joseph's University and the Maguires have partnered in the past to advance education in the region, and both share a deep commitment to preserving and elevating Catholic schools in the Philadelphia region.
"This is a historic and game-changing gift," said Mark C. Reed, Ed.D., President of Saint Joseph's University. "This investment will advance academic excellence and will increase student access through a major infusion of endowed funds for scholarships and financial assistance – top strategic priorities.   The significant impact on our endowment will benefit students and faculty for generations.  SJU has bold intentions and a vision to expand our reach and raise our profile regionally and nationally.  To do so requires all of us associated with SJU to think and dream big, and to stretch to support our ambitions.  Jim and Frannie Maguire have set the bar high for us all to follow, and I am so grateful to them for their past and present support and the impact they have made on our students, faculty, and campus.  Getting to know Jim and Frannie has been one of my true privileges and pleasures since coming to Hawk Hill.  They are kind, caring, and creative people, who stand out in our region for their generosity and loyalty to many causes, especially Catholic education.  We are most blessed and fortunate at SJU to be the beneficiaries of their single largest gift."
"Saint Joseph's University is where my life changed," said Jim Maguire. "Early in my college career, I struggled academically but it was the Jesuits who saw my potential and nurtured it, setting me on a path for success. I have never forgotten that it was at Saint Joseph's where people first believed in me and I have lived my life – professionally and personally – embracing the values that are the foundation of a Jesuit education. I have gotten to know Dr. Reed well over the past two years and it's become evident that he has a clear vision for SJU and is an effective and respected leader. The University is in a very strong position and poised for phenomenal success. It is with great confidence and pride that we make this investment in SJU."  
Mr. Maguire began his career at MetLife as a salesman and in his first year earned the President's Club Distinction – a recognition reserved for only 175 of more than 29,000 MetLife salesmen.  Based on his success in the insurance industry, Mr. Maguire went on to establish the Maguire Insurance Agency Inc. in 1960 and thereafter formed Philadelphia Insurance Company in the early 80s. After going public in 1993, the business employed 1,600 people in 50 offices nationwide. In 2008, the business merged with the Tokio Marine Group, which was considered one of the largest transactions for financial firms in Japanese history.
A charter member of the Saint Joseph's University Magis Society and a recipient of the Shield of Loyola, Mr. Maguire generously gifted $15 million to the Saint Joseph's expansion campaign in 2005, enabling the purchase of the former Episcopal Academy property, now known as the James J. Maguire '58 Campus. The Maguires are the largest benefactors to the University to-date with a total lifetime giving that now reaches $75 million.
The Maguires are co-principals of the Maguire Foundation, which provides funding to support education in the arts and humanities, and to alleviate hunger and homelessness.  The Maguire Scholars Program funds more than 1,000 scholarships for students at 24 elementary schools, 35 high schools and 28 universities in the mid-Atlantic region. Also a member of the Horatio Alger Association of Distinguished Americans, Mr. Maguire is the author of "Just Show Up Every Day," which outlines his approach to overcoming adversity and his six steps to finding success in life.