Kirchgasser and Sorochen Named Hawk Mascots For 2023-24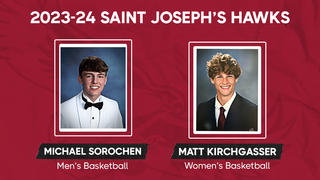 Kirchgasser, a rising senior, returns for his second season donning The Hawk costume for the women's basketball program. A finance major from Media, Pennsylvania, Kirchgasser traveled with the women's team, including the Postseason WNIT.

A rising junior, Sorochen will serve as The Hawk for the men's basketball program, replacing his brother Frank, who donned The Hawk costume for the 2022-23 season. A native of West Chester, Pennsylvania, he has been a student manager with the men's basketball team for two seasons, and served as a Hawk Host this past year. An accounting and business intelligence and analytics double major, Sorochen is currently finishing up a spring semester working in Orlando, Florida as a member of the Disney College Program.

One of the most famous mascots in college sports, the Saint Joseph's Hawk has flapped its wings for more than 65 seasons. The Hawk is best known for staying in constant motion by flapping its wings throughout every basketball game and representing the Saint Joseph's motto, "The Hawk Will Never Die."