Naloxone Training Offered to Campus Public Safety Officers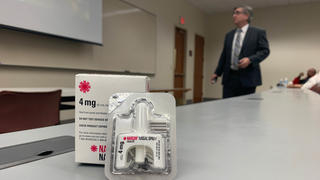 Saint Joseph's new Center for Addiction and Recovery Education (CARE), in collaboration with the Pennsylvania Department of Drug and Alcohol Programs, recently trained SJU's public safety force to administer naloxone, the powerful opioid overdose reversal nasal spray, as part of the Office of Public Safety and Security's biannual training session. This initiative builds on Public Safety's previous policy ensuring that all supervisors are trained to use the antidote.
Training was delivered by Stephen Forzato, the inaugural director of CARE. Forzato described naloxone, brand-name Narcan, as a miracle drug. "There is no other antidote like this for any other street drug," he stressed. He also emphasized that there is no risk of diversion because it cannot be used to get high.
Forzato opened the presentation by addressing broader issues of addiction, recovery and the associated stigma. "While opioids tend to dominate headlines, people are dying from addiction to other substances, like alcohol, every single day," he said.
Naloxone trainings have become increasingly common across the nation in response to the opioid crisis and an effort to educate and prepare community members. Pennsylvania is among the states that passed laws making the prescription medication available as a standing order, which allows pharmacists to dispense naloxone without requiring an individual prescription.
"Nothing could be more important in our role than to save a life," said Art Grover, director of Public Safety and Security. "Public Safety is the first department our campus community turns to in a crisis, so it only makes sense to have all of our first responders trained and prepared to use this tool as well."
Public Safety officers' training also included safe operation of vehicles, technology updates, active shooter protocol, eSports and upcoming events. The trainings are imperative to maintaining a strong workforce.
"I'm proud that Saint Joseph's and Public Safety allowed this timely and important training to be part of the sessions," Forzato said. "It is another way our institution is taking initiative to address addiction and recovery."
Supplies of Narcan are anticipated to arrive on campus in February.