PA Attorney General: Grand Jury Gave Voice to Victims of Catholic Church's Clergy Abuse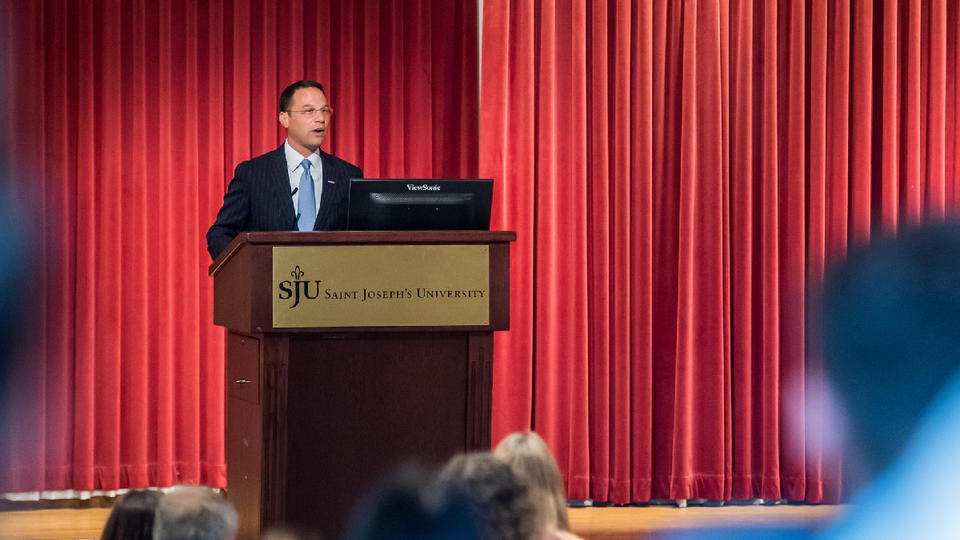 Josh Shapiro, Pennsylvania's attorney general, is passionate about using the power of his office to keep young people safe. And he sees no lines when it comes to the people he'll prosecute if they threaten that safety.
"No one is off limits when it comes to protecting our children," Shapiro told a captivated crowd of students, faculty, staff and alumni in Mandeville Hall's Wolfington Teletorium. "Not a diocese, not a pediatrician, not a state senator. No one."
Shapiro presented the fifth annual Nardi Symposium on Law and Justice at Saint Joseph's University on Oct. 22. During the lecture, which was sponsored by the SJU Law Alumni Endowment Fund, Shapiro shared the long process that led to the release of the landmark grand jury report on clerical sex abuse within six Catholic dioceses in August 2018.
In the report, 301 priests were implicated in the abuse of more than 1,000 children. The investigation, which began as early as 2016, came to Shapiro's attention when he took office as attorney general. Grand juries, by law, are kept secret from the public, and during a transition meeting with the outgoing staff, he learned that the inquiry had to that point yielded some allegations of abuse by a few Catholic priests. Asked if the investigation should continue, he quickly affirmed. Shapiro said that the chance for survivors to seek justice was too important.
"We wanted to give victims the opportunity to stand in front of a grand jury and share what had happened to them," he said. "For many of them, this was the first time in their lives that they could share their truth."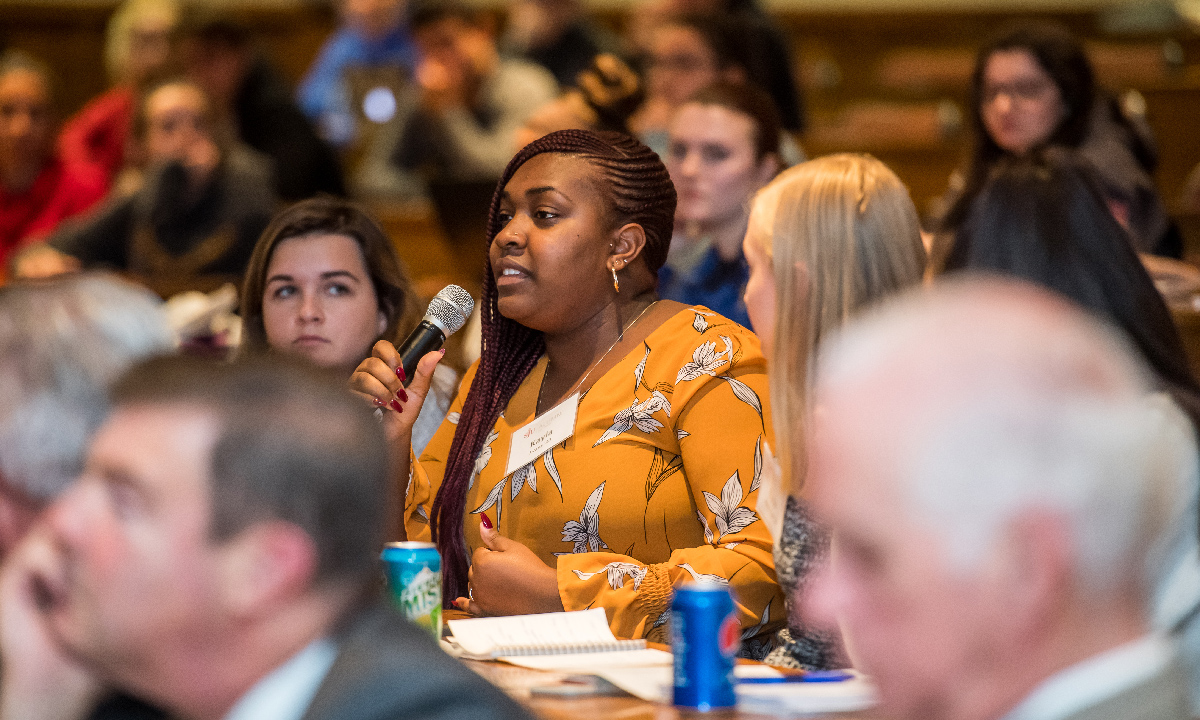 One of the most shocking factors in the grand jury report was the cover-up of the accusations. Shapiro said that many dioceses had a "secret file" on the accused priests and kept a list of "benevolent bishops" who would accept transfers of transgressors. Throughout the duration of the inquiry, multiple dioceses attempted to shut down or lessen its impact, going as far as to petition the Pennsylvania Supreme Court to issue a stay or redact portions of the report. The effort, Shapiro said, further silenced and disenfranchised victims.
"For decades, so many survivors felt so alone," Shapiro said. "There were some who believed we would never share their truth. They had been betrayed by their church and by their parents, who tried to tell them these things never happened."
The grand jury report yielded several results, Shapiro explained. Pope Francis acknowledged the report, saying that the church had "abandoned the little ones." Cardinal Donald Wuerl, who was bishop of Pittsburgh when allegations surfaced and was criticized in the report for his response, resigned from his position as archbishop of Washington, D.C. Twenty-one states and the federal government have launched their own investigations into abuse. And Shapiro's office started a clergy abuse hotline that has recived more than 1,900 calls since the release of the report.
But Pennsylvania has yet to put into law the reforms suggested by the grand jury: eliminating criminal statute of limitations on child sex abuse; clarifying who must report abuse and when it must be reported; prohibiting church confidentiality agreements with survivors from preventing disclosures to law enforcement; and giving survivors a two-year window to sue their abusers in civil court. Shapiro says that, despite the implications the report had on powerful individuals in the biggest branch of the most popular religion in the world, his faith keeps him motivated to stand up for those whose voices aren't heard in societal systems.
"I drew from my faith a lot during the process," he said. "Scripture tells me that no one is required to complete the task, but neither are we free to refrain from it. I take that to mean that we all have a responsibility to get off the sidelines, get in the game, and do our part."
In closing, Shapiro praised Saint Joseph's for inviting him to openly discuss the report. An alumnus of the Georgetown University Law Center, he said he was familiar with the Jesuit approach to educational inquiry.
"It's a true testament to the openness of spirit and dialogue that we are having this discussion," he said. "The fact that I'm here today talking about this says a lot about your institution."