Pharmacy Alum Joins U.S. Public Health Service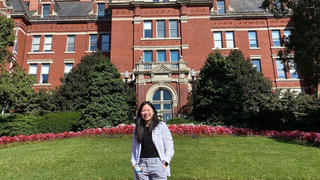 For Han Le '21 '23 (PharmD), pharmacy is more than dispensing medications—it's a public service.
Le is in her final year of the doctor of pharmacy program at Saint Joseph's University's Philadelphia College of Pharmacy (PCP). She committed to the pharmacy profession early, enrolling in the six-year Bachelor of Science in Pharmaceutical and Healthcare Studies to Doctor of Pharmacy program. 
As she grappled with decisions on career paths and college choices during her final years in high school, she sought out familial advice and found her relatives steering her toward pharmacy. Though heavily based in chemistry—a subject Le says was never her strongest—she decided to try it.
"I ended up shadowing at an independent pharmacy and I really liked to see the one-on-one patient interactions," Le says. "An independent pharmacy is a little different than a chain pharmacy, where the pace is faster. They are able to individualize patient plans whereas in chains their main focus is filling the patient prescriptions. They want to talk to patients, inform them about their medications and advise them on better ways to take them."
That patient-forward focus stuck with Le, as she embarked on a pharmacy education that leaned into helping underserved populations get access to health care and medications. And now, she'll stay on that track as she prepares to join the U.S. Public Health Service Commissioned Corps, one of the nation's uniformed services committed to providing health services. 
Le will work as a clinical pharmacist serving Indigenous populations in the Hopi Nation in northeast Arizona. Clinical pharmacists provide direct patient care and work with doctors to manage a patient's medication therapy.
Throughout her education, Le always gravitated toward the path of public service, which is how she ended up in this role. 
While at PCP, she worked with Rowan University's Cooper Medical School students to run the Cooper Rowan Clinic, which provides free primary care to low-income Camden residents. Le worked at the clinic to get hands-on experience at its in-house pharmacy dispensing medication free of cost.
Le's professional experience also includes the U.S. Public Health Service's Commissioned Officer Student Training and Extern Program (COSTEP), where she worked for the Indian Health Service in Phoenix, Arizona serving more than 30 affiliated Tribes.
"I just want patients to have access to healthcare and get the best access possible," Le says. "Being able to give patients access to healthcare they otherwise wouldn't be able to get was a big deal for me."
Le says her experience in both the classroom and in the field prepared her for the Public Health Service, she says. A curriculum built so students take one class on an accelerated three- to five-week schedule helped her better focus on individual topics. 
Working so closely with students in other Philadelphia programs also gave her a competitive edge once she started in the industry.
"It's helpful to see all these different points of view. And being able to learn how to work as a team brings you closer to a real-life experience," she says. "You don't just work by yourself, you work with others."
Le is also a member of the Philadelphia Pharmacists Association and the American Pharmacists Association. 
"Han has really taken advantage of the opportunities that our PCP students have to explore various pharmacy careers," says Le's adviser, Laura Waite, PharmD, associate professor of clinical pharmacy. "She took initiative to find something unique that fit her personality, and then she persevered through lots of paperwork and tedious requirements over several years to pursue the training she needed to follow that career path."
Le is just one of the pharmacy program's more than 100 graduates this spring that will impact the healthcare industry, Waite says. 
"Our students in general are passionate about the profession," she says. "They are intelligent, creative and determined, and they bring their best to their experiential rotations and internships to significantly contribute to patient care during their time as a student. Once they graduate, they bring that same drive to their careers, spanning a wide variety of pharmacy practice settings."