In Physical Therapy, a Performer Finds Her Starring Role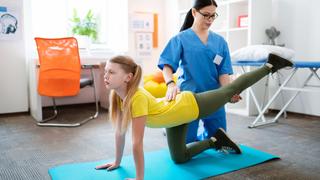 It didn't take long for ballet to steal Lauren McGinnis' heart. She was just six when she started dancing and throughout childhood it became something she needed in her life – a form of expression, a form of escape, a place to develop her sense of self.
But no matter how much she loved it, she couldn't ignore the pain. By the time she was 12, all that dance, combined with studying taekwondo and karate, had left her knees so worn down that she was often brought to tears. The fact that no doctor she saw had anything helpful to offer only left her more disheartened.
When she was a junior in high school, McGinnis decided to become a physical therapist so she could work with dancers and offer them the care she would have wanted for herself. She enrolled in Saint Joseph's Doctor of Physical Therapy program, then at University of the Sciences, and poured herself into learning everything she could to be a pillar of support for other performers.
"I wanted to be the person that people could come to when they needed help specifically for their field," McGinnis says. "As a dancer growing up, I didn't have that. I had all the aches and pains, bruises and strains, but I didn't have the resources to find someone who knew how to help me."
Six years after graduating from the DPT program, McGinnis opened her own business, Encore Performing Arts Physical Therapy, where she offers a concierge-based service to martial artists, gymnasts, dancers and performing artists of all stripes who need to get back to full health. She's working with her childhood karate studio and building relationships with dance studios and community theaters who have students that can benefit from her combination of experience and expertise.
By focusing on a niche area within physical therapy, McGinnis is able to apply everything she's learned through years of performing, alongside her classroom and clinical education, to offer a unique perspective on what is limiting a dancer or performer from feeling their best.
"I call it my X-ray vision," she says. "It gives me a deeper look to be able to know exactly what to do."
She developed that vision during a series of clinical experiences that included working at a Premier Orthopedics clinic, where she was instructed by a fellow dancer, and a 10-week stretch working as the physical therapist in Walt Disney World, where she saw "everybody under the sun," from parade and show dancers to parkour athletes, photographers and mascots. Each person she met had their own body with its own needs. McGinnis carries with her a deep sense of purpose in putting each one back on track.
"It's as rewarding for me as it is for them to be able to do what they love," she says. "They're coming to me because something is wrong. They're scared and nervous and they don't know what's going to happen. To be able to eliminate that and get to watch them do what they love – that's why I do it."
Although her professional career began with a stint working with older adults, McGinnis now balances her focus on performers with early-intervention physical therapy, where she helps young children develop the strength to sit, crawl, walk and improve their overall motor skills.
"It's babies by day, performers by night," she says.
Barbara Kellar, PT, DPT, a clinical assistant professor and co-director of clinical education in the DPT program, watched McGinnis juggle an "incredibly intense" physical therapy education with performances of her own, in dance troupes and theater productions. She says McGinnis' ability to bring passion to everything she does allows her to find the best approach to treat each of her patients.
"She's interested in what makes people tick and what makes them move," Kellar says. "It's a beautiful marriage of her personality and her special skills as a physical therapist."
A major part of what helps McGinnis get patients on the road to recovery is her ability to understand both the mental and the physical side of performance, according to Lora Packel, PhD, PT, chair of the department of physical therapy, who taught McGinnis in the cardiovascular portion of the curriculum.
"It's about understanding the drive to continue, but also what's going on with the tissues and what's best for the dancer long-term," Packel says.
In the years since she graduated, McGinnis has returned to campus to give back, first as part of the university's pro bono clinic and now as a teaching assistant within the DPT program.
Although the program was challenging, she emerged knowing how to be there for other dancers and make a positive impact. Now, she wants to give back to the next generation of physical therapists so they can find a path toward a career as meaningful as her own.
"Being able to help somebody and feel their happiness, feel that reward and the gratitude you share for each other," McGinnis says, "that's the reason behind it."