President Mark C. Reed, Ed.D., Discusses His Approach to the Return to Campus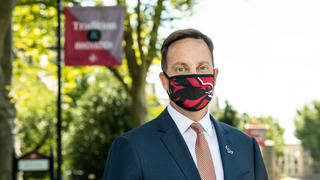 Saint Joseph's President Mark C. Reed, Ed.D., discusses his philosophy and approach for the return to campus, and his message to students and parents. 
How did you approach planning for a fall return? What resources did you know needed to be identified right away?
I know it may sound trite, but the approach to planning started with our mission and what we seek to impart on our students. From there, it moved to the public health guidance and how we could continue our mission and preferred educational approach consistent with that guidance. Our planning has proceeded from an informed, yet optimistic perspective. 
We appointed a steering committee and several task force working groups to lead and develop our planning and preparations. Having chaired crisis management response for many years earlier in my career, I knew that coordination across the University, breaking down divisional and departmental boundaries and obstacles, and working collaboratively toward a common goal would need to happen. 
We did a complete audit of all spaces on campus, reconfiguring for safety and outfitting every building with all of the appropriate health reminders and signage. We hosted very successful virtual orientation sessions for our incoming students and for those returning and their parents, and we delivered comprehensive communications to guide them. We developed a range of instructional delivery modes ranging from in-person to fully virtual and everything in between. We provided campus arrival COVID-19 testing for every member of our community. The list goes on. There is much more than meets the eye.
All the while, it has been important to focus on moving forward – thoughtfully, with humility, and confidently – even in the face of unknowns and obstacles. 
What aspect of fall return planning made you most anxious? On the flipside, what aspects did you feel confident about?
Let me start with the second question. I was confident – and remain very much so – that faculty, students, and staff in classrooms, labs, and across campus would be safe. Our preparations and expectations for individuals' behavior in these controlled locations are exhaustive. Additionally, we are located in a state and region that has been very proactive in addressing the public health challenge. Our campus culture is also a caring one. A sense of the greater good pervades, and there is an inherent willingness by nearly all on campus to act and respond accordingly. I also have absolute confidence in our faculty's capacity and commitment to provide students with excellent instruction through a variety of modalities – in person, hybrid, online. We have faculty here who are committed to the classroom, in whatever form that classroom takes. The education we provide our students is top-notch and personal. 
At the same time, I am anxious about several things. There is the obvious concern about undergraduate students' social behavior and full adherence to social distancing, masks, and other steps to safeguard their health and prevent virus transmission. I'm not referring simply or only to parties, but gatherings of a size or nature that are non-controversial in nature but nonetheless problematic. We do not have to shelter at home or live under lockdown conditions, but we also cannot do everything we would like to do or otherwise would under normal conditions. This virus is largely preventable by taking the proper precautions.
Among my other worries is the endless stream of information about the public health crisis, much of which is helpful, but some of which is misleading or easily misconstrued. I also am anxious about the sweeping generalizations made about higher education which, in reality, is very diverse. The particular situations, details, and nuance often vary greatly across institutions. So while what some institutions are doing or experiencing may be instructive to note or consider, it is not automatically or fairly applicable to another institution.
It has been important to focus on moving forward – thoughtfully, with humility, and confidently – even in the face of unknowns and obstacles."
Are there particular resources you look to when making decisions regarding the pandemic or is there an overarching philosophy that guides you?
There are several Ignatian principles I try to lean on when having to make difficult decisions: Check your assumptions, ask yourself what is motivating you – consciously or unconsciously – to be moving or pulled in a particular direction, look at the issues from neutral angles, be sure that the "means" and the "ends" are properly aligned. 
I try to be a voracious consumer of information and get it from as many varied sources as possible. The CDC, Commonwealth of Pennsylvania, and Association of Independent Colleges and Universities in Pennsylvania (AICUP) have really put forward a trove of useful information. Our institutional memberships, coupled with my role on the boards of several higher education associations, have been especially helpful. And then there are personal relationships and individual conversation partners both on and off campus, which yield a detailed picture of what's really happening and an opportunity to compare notes and talk through options. 
Another overarching philosophy that guides me is my belief that education is among the essential functions and services we must prioritize as a nation. By all indications, COVID is not disappearing anytime soon. We have to find a way to move forward, as safely as possible, at the same time that we deal with the disruptions and challenges that the virus causes. 
Since reopening, what metrics are you tracking to measure success? 
It starts with the high rate of compliance with our health and safety guidelines. This is very reassuring. We are tracking the instances of COVID infections on campus and will do everything we can to keep them as low as possible. This is a full-time, round-the-clock priority for us. Our campus arrival testing went very well, with a small number of cases.
Also, among returning undergraduates, we had a retention rate of more than 95%, which is even slightly higher than last year. This tells us that students WANT to be here.
Additionally, our admissions tours continue to fill up and we are seeing a great deal of interest from prospective students and families; by the end of August, nearly 900 students have participated in socially-distanced, masked tours since mid-July. We are booked through the end of September.
What message would you send to students and their parents?
I would like to thank our students and parents for their trust and confidence and ask for their patience and forgiveness where we have or will fall short. None of us have done this before, so we really are in this together. Let's focus on what we can do, not what we cannot.
To our students, I also say to be vigilant, remain hopeful, find and do something every day that gives you joy, and engage with the faculty and your fellow students even when it may be hard or uncomfortable to do so. While there undoubtedly may be less of the social aspect of college life this year, take advantage of the opportunity to focus on your studies, learn as much as you ever have, get the best grades of your life, and knock it out of the park.
Finally, this question reminds me of the lesson in the Gospel of Luke, chapter 18: "Pray, and not lose heart."