President's Cup Invitational Raises Funds for Financial Aid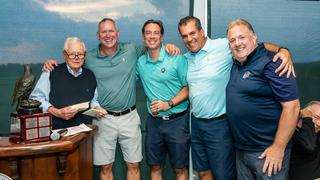 Inclement weather couldn't stop a 22-year-old tradition supporting students' path to a Saint Joseph's University education. Alumni, parents and friends of the University teed off under cloudy skies on Sept. 28 to support student scholarships through the President's Cup Golf Invitational.
Since its inception, the President's Cup has raised well over $3 million for Presidential Scholarships, including approximately $120,000 this year.
"Presidential Scholarships transform lives and have a profound impact on the University," says Bob Bowman '81, co-chair of the President's Cup committee and former University trustee. 
Bowman himself was a Presidential Scholar during his Hawk Hill days and went on to congratulate the event's co-founders, Tony Nichols '67, Vic Farralli '64 (D) and Joe Oakes '64, for creating "an excellent opportunity and experience that has such a profound impact on Saint Joseph's students."
Financial aid can be the difference-maker in a student choosing to attend Saint Joseph's University. Combined with scholarship opportunities, financial aid allows the University to expand the breadth and diversity of its student body, enabling all Hawks to benefit from a richer college experience. 
"We are fortunate to have an abundance of individuals and partners who believe in the power of the Jesuit education we offer and who want to connect more students to this opportunity," said Mark C. Reed, Ed.D., president of the University. "And for that we are grateful."