Research Explores How Bike Exercise Benefits Individuals With Autism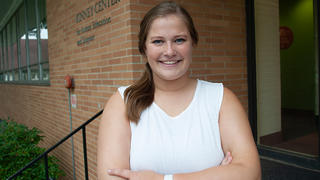 Regular exercise has been proven to be beneficial for just about everyone. It improves sleep, controls weight and give us more energy throughout the day. But does it have the power to improve behavior for individuals on the autism spectrum?
Mary Kate Sheplock '20, an elementary and special education major, spent the summer exploring that question as part of the Summer Scholars Program.
Sheplock's research ties into a larger study led by her mentor, Cheryl George, Ph.D., associate professor of special education. George has been studying the impact of aerobic exercise on individuals with autism and spectrum disorders for the past 14 years.
"Having the Kinney Center for Autism Education and Support right on campus creates a perfect opportunity for this research," explains George, who became a faculty affiliate with the Kinney Center two years ago.
Sheplock, who is also a member of the Kinney SCHOLARS (Students Committed to Helping Others Learn About Autism Research and Support), expanded on George's research by looking at how the stationary bike and virtual reality affects behaviors of concern, specifically in non-verbal individuals.
"The individuals we worked with exercised twice a week on the stationary bike with VR. Individuals with seizure disorders who could not use VR watched on a screen," Sheplock says. "They had a choice of programs to participate in. For example, one program gives the illusion the participant is in a Western riding a horse."
The use of VR helps participants stay focused and work out longer. A previous study found that individuals on the autism spectrum would only bike for five to eight minutes. With the addition of VR, they were able to stay focused for about 20 minutes.
The research will be combined with data gathered by fellow faculty affiliate to the Kinney Center, Elizabeth Becker, Ph.D., assistant professor of psychology and director of the behavioral neuroscience program. She and graduate student Amber Valentino are measuring cortisol levels in the participants before and after exercise to see if stress levels change as a result of exercise. Much of the data gathered during the project is still being analyzed, but Sheplock and George are hopeful that the research will help fill a gap in research currently available.
"So far, we haven't found any published literature that measures cortisol levels as it relates to exercise for this population," George says. Studies specific to non-verbal individuals on the spectrum are also very unique.