Roundup: Summer on Hawk Hill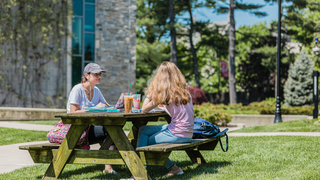 Saint Joseph's remains a vibrant hub of activity in the summer months. The faculty, staff and campus host a variety of engaging events, programs and activities that provide young learners and community members the opportunity to experience the excitement of a college campus and learn about specific areas of interest.
Here are a few notable highlights compiled by the SJU news team:
Philadelphia Freedoms
The Philadelphia Freedoms of World Team Tennis are returning in July for the 2019 season. All of the team's home games will be played at the Michael J. Hagan '85 Arena. One of the highlights of their schedule is a Friday, July 26 home matchup against international tennis phenomenon Venus Williams and the Washington Kastles. To view the Freedoms' full schedule and purchase tickets please visit the team's website.
Camp Kinney
The Kinney Center for Autism Education and Support will host its tenth Camp Kinney, an accredited camp that fosters interaction between individuals with autism spectrum disorder (ASD) and their neurotypical peers. Campers spend the summer working on a set of personalized goals, receiving individualized interventions through positive activities like swimming, cooperative play and sensory friendly science experiments. Campers also have weekly visits from organizations and guests like the Philadelphia Zoo, Franklin Institute and the Phillie Phanatic. The camp is staffed by a dynamic support team including Kinney SCHOLARS (undergraduate and graduate students who provide one-on-one support to the individuals with autism and receive extensive training and guidance from Kinney staff), graduate assistants, full-time Kinney employees and volunteers.
Research Experience for High School Students
The Research Experience for High School Students program provides opportunity for rising high school seniors who are planning to apply to a physics college program to engage in faculty-mentored research during the summer months. The intense, five-week scientific research program provides a full immersion in a research lab through SJU's physics department.
Athletic Camps and Clinics
A variety of athletic campus and clinics for young athletes will be held, including baseball, softball, girls' basketball, field hockey, boys' and girls' lacrosse, boys' and girls' soccer and tennis.
Body Adventure Summer Camp
Saint Joseph's will partner with Main Line Health for the third straight summer to offer a free, one-week health science camp for rising fourth and fifth grade students at Samuel Gompers Elementary School. Designed and run by graduate and undergraduate biology majors, Body Adventure Camp teaches nearly 20 young campers about how the different body systems work together to sustain a healthy person.
SJU Summer Literacy Camp
Saint Joseph's University's Summer Literacy Camp provides children with individualized assessment profiles, small group instruction and collaborative literacy learning focused on higher-level thinking. The program is designed to serve all types of emergent, elementary and middle school students in the Philadelphia area, ranging from developing readers to those who seek challenge and enrichment. Certified teachers use cutting edge literacy research to create instructional and reinforcement activities that increase comprehension and retention.