Saint Joseph's Awarded $1.2M Grant from Pennsylvania Department of Health for First Responder Education and Training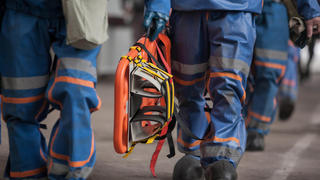 The Center for Addiction and Recovery Education (CARE) at Saint Joseph's University received a $1.2M grant from the Pennsylvania Department of Health to provide first responder education and training across the state's 67 counties. The funds, directed from a Centers for Disease Control and Prevention grant to the Commonwealth of Pennsylvania, will train the groups on the topics of substance use disorder, the use of naloxone, and, importantly, stigma and implicit bias.
Saint Joseph's newly established Center was founded with the goal to facilitate these types of important initiatives, leveraging connections between interdisciplinary scholars and practitioners to address complex issues of addiction and promote recovery.
"At a time when almost half of Americans' lives have been affected by addiction, it's more important than ever to launch the Phoenix Training program and educate first responders on the causes and tools to fight the opioid epidemic," says Stephen J. Forzato, the inaugural director of the Center for Addiction and Recovery Education. "As part of our holistic mission at CARE, we aim to foster education, research, public policy, conversation – and action. This particular initiative enables us to help first responders become more skilled in connecting people to drug and alcohol treatment resources in their local areas, which benefits individuals, families and communities." 
The community-level Phoenix Training Program course "Addiction and Connection to Treatment: Tools for First Responder to Fight the Opioid Epidemic," will be provided at no cost to first responders including law enforcement, emergency medical services providers, firefighters and related professionals who have regular contact with persons in need of assistance. This includes prosecutors, criminal defense attorneys, judges, probation and parole officers and correctional officers. Pennsylvania has more than 4,000 agencies and more than 40,000 active first responders.
The Hazelden Betty Ford Foundation, a nationally recognized addiction treatment, mental health and advocacy organization, will collaborate with CARE on curriculum content development and training.
"We are honored and grateful to work with Saint Joseph's University and the Pennsylvania Department of Health to bring this comprehensive and impactful training program to first responders throughout the state. They are often called upon to play a pivotal, frontline role in addressing the public health issues of substance use disorder and mental health," said Stephen Delisi, M.D., medical director of professional education solutions at Hazelden Betty Ford. "We understand and appreciate the difficulty of first responders' jobs and the passion they have for the communities they serve. We look forward to supporting their efforts to develop new and expanded approaches to taking care of the community and themselves."
At a minimum, CARE and its partners will train a total of 76 agencies over the span of the grant. Trainings will begin in September and will continue until at least August 2022.