Saint Joseph's Delegation Meets with Pope Francis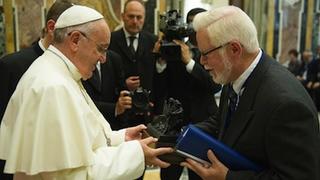 A delegation of Saint Joseph's University professors and 262 other leaders in interreligious relations traveled to Rome for the annual conference of the International Council of Christians and Jews (ICCJ). Led by Philip A. Cunningham, Ph.D., director of the Institute for Jewish-Catholic Relations at SJU and president of the ICCJ, the meeting featured a private audience with Pope Francis.
Cunningham, along with Adam Gregerman, Ph.D., assistant professor of Jewish Studies and assistant director of the Institute for Jewish-Catholic Relations, and William Madges, Ph.D., professor of theology, met with Pope Francis on Tuesday, June 30, during the four-day conference.
Cunningham presented the Pope with a bronze miniature of "Synagoga and Ecclesia in Our Time," a larger statue commemorating the 50th anniversary of the Second Vatican Council's declaration Nostra Aetate. Latin for "In Our Time," Nostra Aetate is the 1965 declaration that changed the relationship between the Jewish and Catholic faiths.
Pope Francis greets Cunningham during their audience.
A second miniature was also given to Rabbi Abraham Skorka, rector of the Seminario Rabinico Latinoamerica in Buenos Aires, and co-author with Pope Francis of the book of their interfaith dialogues, On Heaven and Earth (New York: Image, 2013). "Their friendship models how Christians and Jews can learn from one another," says Cunningham.
Saint Joseph's University will dedicate its full-size statue of "Synagoga and Ecclesia in Our Time," on Friday, Sept. 25, during its celebration of Nostra Aetate along with the Philadelphia Jewish community and the Archdiocese of Philadelphia. Rabbi Skorka will speak at the event, which will be held at 3 p.m. at the Chapel of St. Joseph-Michael J. Smith, S.J. Memorial. The dedication is free and open to the public. Registration is required.
"The ICCJ decided to celebrate Nostra Aetate by meeting in Rome, the city where it was promulgated in 1965," says Cunningham. "Pope Francis agreed to meet with us in honor of this important anniversary, but also because of the ICCJ's history with the document. The meeting that founded ICCJ in 1947 also gave birth to a statement that was a source for Nostra Aetate."
Full-size clay version of "Synagoga and Ecclesia in Our Time."
"Synagoga and Ecclesia in Our Time" reverses medieval depictions of feminine figures that symbolize Judaism and Christianity. Though the Church (Ecclesia) typically triumphs over the blind Synagoga, the statue commissioned for Saint Joseph's portrays the two as friends, learning from each other's traditions and texts.
"The sculpture portrays our goals for the next 50 years of Jewish-Christian relations," continues Cunningham, "in which both faiths are partners in conversation."
Pope Francis personally greeted all 265 conference members during the audience. "The Pope saw it was important to greet everybody individually, because of how crucial it is for Christians and Jews to come together in friendship, " continues Cunningham.
Pope Francis and Cunningham converse during the visit.