Saint Joseph's Kinney Center for Autism Education and Support Awarded $2.5M Federal Grant to Advance Transitional Youth Services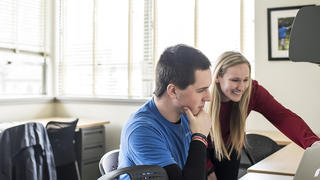 The Kinney Center for Autism Education and Support at Saint Joseph's University received a $2.5 million grant from the United States Department of Education to advance and implement transitional youth services for those with autism spectrum disorder (ASD). With this funding, the Kinney Center will further develop partnerships with local school districts to successfully transition students with autism to life after high school. Programming will build on the Kinney Center's nationally regarded, evidence-based transitional programs for children with ASD that are college bound, entering the workforce and college students who need additional support.
"For more than 10 years, the Kinney Center has been at the forefront of innovations in the field of autism. We established one of the nation's first autism college support programs and expanding our transitional services will allow us to reach more people through this grant," says Angus Murray, executive director of the Kinney Center. "Providing specialized support to facilitate successful transition out of secondary education into either postsecondary education or vocational training is imperative to improve outcomes for individuals with ASD. We'll work individually with each client to ensure they're prepared for the next phase of their life or career of choice."
The project will serve a total of 145 participants through direct services. To achieve the goals of the transitional bridge programs, project staff will establish direct and meaningful long-term partnerships with local schools, business and organizations; develop transition activities designed to supplement and enhance already-existing secondary services for individuals with autism; and develop and disseminate autism-specific e-learning training and support modules designed to engage community stakeholders such as businesses employing people with ASD and parents or caregivers of people with ASD.
Much of the work will build directly from a number of established evidence-based best practices associated with the Kinney Center's existing, nationally recognized ASPIRE College Support program. Kinney's proven model for college support includes a blend of case management, skills courses, peer mentorship, and faculty trainings facilitated by their team of licensed social workers and clinical counselors. The program has defied national college completion rates, boasting an 84 percent graduation rate.
"This funding will build on the impressive work and impact of the Kinney Center, allowing for the emergence of new ideas and, ultimately, positively impacting more lives," says Angela McDonald, Ph.D., LPCS, NCC, dean of the School of Health Studies and Education at Saint Joseph's. 
The transitional programs will include components for high school, summer, and college or vocational training. It will also offer an option for students who are undecided on their next step. The framework, components, and competencies are evidence-based, and the project team plans ongoing evaluation, refinement as needed, and a culminating project assessment of implementation and impact. An outside evaluator will conduct project assessment, and formative evaluation will be guided by an advisory board working with project staff.
The Kinney Center selected Hill Top Academy, a local preparatory day school for students with learning disabilities, and SpArc Philadelphia, an organization dedicated to equity and access for all, as project partners.