SJU Chemistry Major Selected as Goldwater Scholar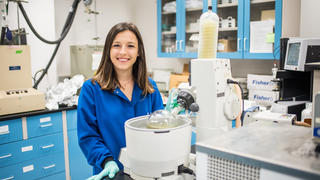 PHILADELPHIA (April 12, 2018) — Elise Brutschea '19, a John P. McNulty Scholar and chemistry major at Saint Joseph's University, has been named a 2018 Barry M. Goldwater Scholarship winner.
"I am honored and humbled to be named a Goldwater Scholar," says Brutschea, of Allentown, Pennsylvania. "More so, I am thankful for the many mentors that I have had so far at SJU. This achievement would not have been possible without the support and guidance of my family, the chemistry department — especially Dr. Mark Forman — and the John P. McNulty Scholars Program."
Congress initiated the Goldwater Scholarship in 1986 to honor the memory of Sen. Barry Goldwater, who served in the United States Air Force during World War II and had five terms as a senator in Arizona. The scholarship in his honor is given to students who excel in math, engineering and the natural sciences and provides up to $7,500 for sophomore and junior students, exclusively, who intend to pursue graduate research in STEM fields. This year, of the 1,280 finalists, only 211 scholars were chosen for the honor, including Brutschea.
"Elise's impressive academic record along with her participation in undergraduate chemistry research were key to her being awarded the highly competitive Barry M. Goldwater fellowship," says Mark Reynolds, Ph.D., associate professor of chemistry and director of University Fellowships, who assisted Brutschea with applying for the scholarship.
In her research, Brutschea has worked with Mark Forman, Ph.D., chair and professor of chemistry, since the summer after her freshman year. Together, they study the effects of bond-angle distortion on alkenes, a class of molecules containing a carbon-carbon double bond. "Currently, we are researching a highly reactive, pyramidalized alkene," explains Brutschea. "This study of strained molecules allows for a better understanding of regularities in structure, stability and reactivity."
Brutschea presented her results with Forman at National American Chemical Society meetings in Washington D.C. and New Orleans, and at the National Organic Chemistry Symposium in Davis, California. While at Saint Joseph's, Brutschea received the Undergraduate Leadership Award from the American Chemical Society, and an Organic Chemistry Society travel grant. She is a member of the Phi Beta Kappa National Honor Society and the Sigma Xi scientific research society.
Following her time at SJU, Brutschea plans to pursue a Ph.D. in chemistry for a career in research.