Student Finds Path for Her Future at Intersection of Art and Medicine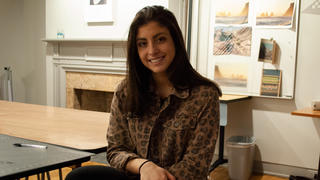 For many students, choosing a major isn't easy. When a student's passions and future career goals don't naturally align, it can feel like choosing between one or the other. Do you study something you love, or do you focus on something that drives you towards a productive career?
This was a choice senior Faith Belcuore didn't want to make. Although Belcuore dreams of becoming a Physician Assistant (PA), she's taking a less traditional path to get there — majoring in art history.
"I was always involved in art and liked doing it, but I didn't see myself doing it as a career," she says. "When I was applying to colleges, I realized I liked helping people, so I started looking at the medical field. There isn't a set track to go to PA school. You don't need to major in biology, you just need to take the required classes."
While art and medicine might seem completely disconnected, Belcuore says there actually is quite a bit of relevant education. "As part of the art history major curriculum, you need to write a research paper. I didn't want to do a typical art history paper, so I looked into how medical schools are starting to incorporate art and art history classes. A lot of medical programs are doing it already, including Jefferson and Columbia."
According to Belcuore, art and art history courses can teach those in the medical field how to slow down and observe. "Art history students are meticulous observers. Looking and observing paintings and art can translate into how a student in a medical field observes scans, labs and patients. Art history courses teach you how to slow down and recognize the details, or how to use empathy and interactions to figure out a background story. This can help make a better diagnosis."
Belcuore also explains how her art history background has helped her succeed at her job as a Kinney SCHOLAR at SJU's Kinney Center for Autism Education and Support. "I've been working there for three years with both kids and adults. I know it can be hard to find doctors and medical practitioners that are accommodating and helpful for people with autism. It's hard to deliver health care. I think my background gives me a different perspective."
After graduating, Belcuore is planning to take a year off to gain some clinical hours before applying to PA school. However, she hopes her art history undergraduate degree will help her stand out from other applicants.
"SJU has given me so many opportunities and didn't push me to do things a certain way. I had a lot of freedom to go beyond the major, to incorporate a lot of different things and really gear my education towards my future. There are so many things that can connect to each other. If you can make your interests connect in a way that makes sense to you, it's awesome."