University Athletics Announces Partnership with Return on Inclusion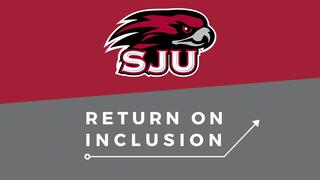 Saint Joseph's Athletics has announced a partnership with Return On Inclusion (ROI) to deliver online sport-specific diversity and inclusion education to the Hawks' coaches, administrators and staff. 
 
The six-module curriculum provides participants the opportunity to implement ROI at Saint Joseph's and experience personal and professional growth together as a department. The coursework includes self-reflection exercises, case studies, best practices, knowledge retention quizzes and discussion guides for group participation. Participants receive instructions on the following topics:
Diversity, Inclusion & Belonging Foundations
Cultural Competence & Managing Relationships
Overcoming Bias, Microaggressions & Covering
Unpacking Racism, Anti-Racism & Privilege
LGBTQ+ Inclusion & Gender Stereotypes
Inclusive Leadership & Strategic Plan Development
Since its launch in October 2020, ROI has emerged as an industry leader, helping administrators, coaches, and staff at athletics organizations of all levels develop the leadership skills to support student-athletes across social and cultural differences. Participants who complete all six modules earn the ROI Inclusive Leader Certificate.
 
All coursework is facilitated by ROI founder Nevin Caple, a national thought leader on diversity, inclusion and belonging in sport, with Saint Joseph's Director of Student-Athlete Development Erick Woods organizing and leading each cohort.
 
"I am thrilled to share ROI with the community I care so deeply about," Caple says. "We should all have access to the tools we need to do our jobs most effectively. I hope ROI will serve as a catalyst for many institutions to prioritize learning for coaches, athletic administrators, and staff as they embark on their inclusive leadership journey."
 
In November 2021, ROI and the National Association of Collegiate Directors of Athletics (NACDA) announced a groundbreaking partnership to advance diversity and inclusion in college athletics. NACDA endorsed the ROI platform for individual and department-wide use for NACDA and affiliate members across the country.
This story originally appeared on sjuhawks.com.