University Convocation for Faculty and Staff Offers Message of Unity, Way Forward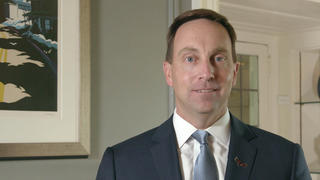 Against the backdrop of a global pandemic and one of the most unconventional semesters in the University's history, President Mark C. Reed, Ed.D., hosted the annual University Convocation for faculty and staff virtually, delivering a clear message of unity, pride and vision. 
An overarching theme of Dr. Reed's remarks was the University's unrelenting commitment to providing a best-in-class total educational experience for students. Despite the challenges of the pandemic, he expressed pride and gratitude to the faculty and staff for rising to the occasion and providing an on-ground experience for our students. 
Other updates included an enrollment overview, a summary of new academic  programs and initiatives, a recap of the University's #8 U.S. News & World Report ranking and recent grant awards, a financial outlook and University investment and progress on diversity, equity and inclusion.
Opening his remarks by recognizing the recent five-year anniversary of Pope Francis' historic visit, Dr. Reed contrasted today's physical distancing with the crowds that emerged that day.
"Instead of hundreds gathered together, with visible facial expressions, sharing a physical connection, we wear masks, keep a safe distance, and avoid anything close to a crowd," he said. "But we do so in order that we can be together at all, and despite the challenges, we go forward blessed and fortunate as individuals and a community in so many ways."
 
Dr. Reed continually focused his attention to the future, while recognizing the challenges facing the faculty and staff -- at home, at work, in their communities -- and expressing gratitude and pride for all the University has accomplished since the start of the pandemic.
"It can be easy to become hesitant, fearful or paralyzed by the external challenges we face, or to wonder how we can influence change, make a bigger or more meaningful impact than we are, or muster the creativity and energy to avoid the urgent crowding out the important," Dr. Reed asserted. 
"And this is why it is so important that we focus on and not lose sight of the goals we have set for ourselves as an institution, as articulated in our strategic plan.... Institutions that are positioned to emerge from the pandemic stronger will be viewed in a different light. There will be opportunities available to those institutions that might not be to others. I firmly believe, now more than ever, the world needs the type of education SJU offers and the graduates who learn and earn their degrees from us. This drives me each day to work toward making SJU the best it can be."
More of Dr. Reed's Convocation remarks can be viewed here.