University Remembers the Legacy of Joseph Feeney, S.J. (1934-2023)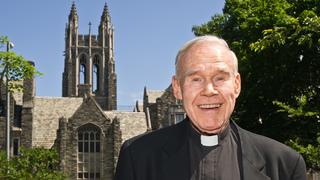 In 1971, Joseph J. Feeney, S.J., stepped foot on Hawk Hill — and never left. Saint Joseph's mourns the loss of Fr. Feeney, professor emeritus of English, who shared his zeal for learning with the University for over 45 years.
A Philadelphia native, Fr. Feeney was born in Germantown and attended St. Joseph's Preparatory School, where he discerned his calling toward religious life. He joined the Jesuit order after graduation in 1952, and went on to earn undergraduate and master's degrees from Fordham University, a bachelor's degree in theology and a licentiate in theology from Woodstock College in Maryland, and a doctorate in English from the University of Pennsylvania in 1971. Fr. Feeney joined Saint Joseph's soon after, quickly earning a reputation for his lively and intellectually rigorous classes.
With humor and joy, he connected with SJU students in the classroom — with course topics ranging from first-year English to the contemporary Catholic imagination, James Joyce, and modernism and postmodernism. He taught his final class in the fall of 2016. Past students recall Fr. Feeney's ability to reshape how they read novels and, from there, to read the world around them. Fr. Feeney also served as a resident advisor in a former campus residence known as Breen Hall and as a celebrant of Masses, weddings and baptisms throughout the year.
"With his personal connection [to students], he was able to push students much further," said Peter Norberg, Ph.D., associate provost for academic and faculty support and former chair of the English department, to The Hawk. "He is the kind of teacher I try to emulate in my own relationship with students."
Fr. Feeney was honored with the Lindback Award for Distinguished Teaching, the Tengelmann Distinguished Teaching and Research Award, and the Hogan Award for outstanding service to the University. He served as a visiting professor of English at Georgetown University, Santa Clara University and Seattle University. He also served as vice president of the SJU faculty senate, as a member of the Jesuit Seminar on Higher Education, and as a trustee at Fordham University, St. Joseph's Preparatory School and the Loyola School in New York.
Fr. Feeney unsurprisingly approached academic research with the same enthusiasm as teaching, dedicating much of his life to the study of poet Gerard Manley Hopkins, S.J. Until several years ago, he co-edited The Hopkins Quarterly, an independent journal about the poet's life and work. He wrote a book on Hopkins, characteristically entitled The Playfulness of Gerard Manley Hopkins, and co-authored with Jacquin Kuhn a second book, entitled Hopkins Variations. Fr. Feeney lectured on the poetry of Hopkins throughout the United States and in Ireland, and was considered a foremost expert on the Jesuit poet, going so far as to discover a previously unpublished Hopkins poem in London, called "Consule Jones."
"[Hopkins] found a number of things beautiful that other people didn't notice," said Fr. Feeney in 2019. "He has a strong sense of uniqueness of everything and every person.
"Fr. Joe Feeney is a pre-eminent scholar of the poetry of Gerard Manley Hopkins," said Frank Fennell, Ph.D., professor emeritusof English at Loyola University Chicago. "But perhaps more importantly, he's a vocal interpreter/teacher of Hopkins, someone who feels and then transmits — and thus teaches — the poems: no one does better at making the poems come alive."
Funeral services will be held Thursday, Jan. 19, 2023. Visitation begins at 9 a.m., followed by a funeral Mass at 10 a.m. at Saint Matthias Church in Bala Cynwyd, PA 19004. The Mass will be livestreamed at https://saintmatthias.org. Private burial will be held at the Jesuit cemetery in Wernersville, Pennsylvania.