From Whiteboard to iPad: Teaching Math Virtually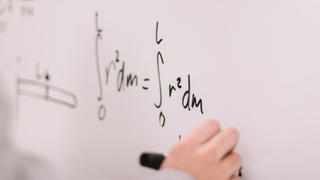 Learning math is generally a hands-on, face-to-face process — and one that some students find intimidating, even in that environment. 
 When it came time to take Saint Joseph's math classes into a virtual environment, Sam Smith, Ph.D., professor of mathematics found innovative ways to use technology to mimic the techniques he employs to make math accessible in a traditional setting. 
Smith typically stands in front of his class solving and displaying math equations on the whiteboard. He uses nonverbal clues to gauge whether or not students are grasping the concepts.
"When in the classroom, I can write on the board and turn around and look at my students' faces to see if they understand what I am teaching," says Smith. Virtually, that's a little more difficult."
One way Smith worked to recreate his teaching style in the virtual environment was to purchase an iPad with a stylus that would allow him to write the lecture and share the notes and computations virtually.
"I'm not a tech person. I didn't get a smartphone until last year and I don't really use social media," said Smith. "So having to teach a class virtually was going to be a different experience for me."
Using a combination of Zoom and Canvas, Smith engages his classes through synchronous teaching. He uses his iPad to diagram the problems and has come up with keywords and phrases that he can use during his lectures to determine if students understand the lesson. At the end of each class, the notes along with the Zoom recording are uploaded to Canvas where students can reference the materials when preparing for quizzes and tests.
This experience has also caused Smith to reflect on how he teaches.
"Learning is a community. For math, it makes all the difference to explain and show. I'm in deeper thought about pedagogy and how people learn," says Smith.