Women's Lacrosse Wins First Atlantic 10 Championship and Picks Up First National Ranking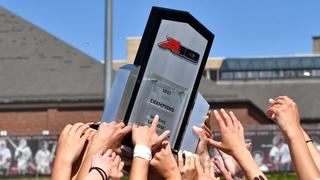 Saint Joseph's women's lacrosse stunned #13 Massachusetts, 15-11, to win the program's first ever Atlantic 10 Championship on Sunday.

Lauren Figura was named the A-10 Championship Most Outstanding Player, and is joined by Jorden Concordia, Riley Evans, Sophia Kolkka, and Taylor Newman-Farr on the All-Championship Team.
After claiming the Atlantic 10 Championship for the first time in program history, which included back-to-back wins over #18 Richmond and #13 UMass, Saint Joseph's was ranked 19th overall in the Nike/USA Lacrosse Magazine Rankings and is receiving votes in the ILWomen/IWLCA Poll. The marks the first time in program history that the Hawks have been ranked nationally by any outlet.
 
Read more on sju.hawks.com.