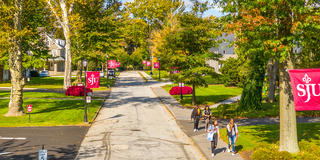 Saint Joseph's University Orientation 2027
June 2023
21 - 22 | 23 - 24 | 25 - 26 | 27 - 28
We invite all of our incoming first-year students and their parents/family to join us on Hawk Hill for a two-day on-campus program. The day after you conclude your two-day program, you will be assigned a time to register remotely for your fall classes: 
Session 1 (21-22): June 23
Session 2 (23-24): June 25
Session 3 (25-26): June 27
Session 4 (27-28): June 29
Course Registration Information
What's Orientation all about?
Based on an approach we call cura personalis, orientation is designed to prepare the whole student. By the start of the fall semester, you will:
Feel Welcome:
Be welcomed by the leaders of Saint Joseph's and our student orientation leaders
Get introduced to the expectations of Saint Joseph's inclusive culture of caring
Learn:
Learn about a range of topics from mission and diversity to registration and books
Receive information about campus history, classroom size, facilities and resource offices
Live:
Explore residential options
Make housing and dining selections
Connect:
Meet your orientation leaders
Engage with faculty from your major
Connect with classmates
Get to Know the Community You're Joining
We look forward to seeing you!