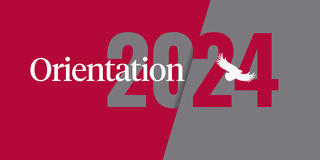 Saint Joseph's University Orientation: Class of 2024
Still need to register?
For students who still need to register please contact us below or call 610-660-1965.
WE ARE SO EXCITED TO WELCOME YOU, THE CLASS OF 2024 AND YOUR FAMILIES, TO THE SAINT JOSEPH'S COMMUNITY!
We are offering a new format for summer orientation for incoming students. This first phase of the orientation program, beginning in June, will be virtual to allow greater flexibility and predictability for incoming students – and their parents. This format will also allow students to experience orientation in a more customized way.
The virtual programming will have a range of learning modules and advising sessions and will provide the opportunity to register for fall classes and learn more about residence halls at Saint Joseph's.
The second phase of orientation happens in July, when students will receive their housing arrangements and get to know their roommate(s). 
The third phase of orientation will be held in person during August's move-in weekend. The on-campus programming will offer students an opportunity to connect in person with their mentors, affinity groups, orientation leaders, faculty and other Hawks. 
Throughout the summer, students will continue to work in the New Hawks Portal to complete the various requirements needed to hit the ground running in the fall: from language tests to accepting financial aid. We also offer pop-up sessions to meet with orientation leaders and other students. 
Based on an approach we call cura personalis, orientation is designed to prepare the whole student. By the start of the fall semester, students will
Welcome:
Be welcomed by the leaders of Saint Joseph's and our student orientation leaders
Be introduced to the expectations of Saint Joseph's inclusive culture of caring
Learn:
Select their classes for the fall semester, in a small group setting with faculty
Learn with information on a range of topics, from mission and diversity to registration and books
Prepare for academic success by learning about educational and personal support
Live:
Explore residential options
Make their housing and dining selections
Connect:
Meet their orientation leaders
Engage with faculty from their major
Connect with classmates
Get to Know the Community You're Joining
We look forward to seeing you!