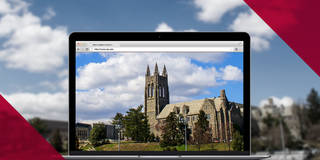 A Virtual Series for Lifelong Learners
A key element of the Saint Joseph's University mission is our commitment to lifelong learning. It's a value we impart on our students and alumni and it underlines the development of our graduate programs and non-credit offerings. It's who we are.
In this spirit, we offer the "Unlimited Learning" series — an opportunity for lifelong learners to engage with University experts and content through virtual events.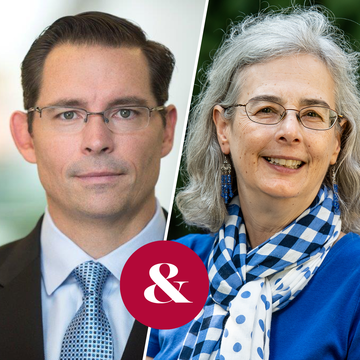 June 11, 12 p.m. - 1 p.m.
The Economic Impact of Coronavirus
The coronavirus pandemic has shocked every aspect of our world and our country, including our medical system and our economy. We're navigating uncharted territory across every industry and every household. Currently, the country continues to balance what we know with what we don't know yet, especially when it comes to the current and future state of our economy.
Explore the macro and micro effects of coronavirus on the global and American economy and what we might expect in the future in our next webinar hosted by Dina Caggiula '09 '11 (MBA) with our experts, Vanguard's Joseph Davis '94, Ph.D., Global Chief Economist & Head of Investment Strategy Group, and Saint Joseph's University's Nancy Fox, Ph.D., associate professor in the Department of Economics.
Our Experts
Joseph R. Davis '94, Ph.D., is Vanguard's global chief economist and the global head of Vanguard Investment Strategy Group, whose research and client-facing team develops asset allocation strategies and conducts research on capital markets and global economies. Joe also chairs the Strategic Asset Allocation Committee for multi-asset-class investment solutions. As Vanguard's global chief economist, Joe is a member of the senior portfolio management team for Vanguard Fixed Income Group. He is a frequent keynote speaker and has published white papers in leading academic and practitioner journals. Joe helped develop the Vanguard Capital Markets Model® as well as the firm's annual economic and capital markets outlook. Dr. Davis is also a member of Saint Joseph's College of Arts and Sciences Board. He earned his B.A. summa cum laude from Saint Joseph's University and his M.A. and Ph.D. in economics at Duke University.

Nancy Fox, Ph.D. is associate professor in the College of Arts and Science's department of economics and has also served as associate dean of the school for 11 years. Dr. Fox's research is primarily focused on economics and ethics as well as industrial organization. Dr. Fox attended Princeton University where she earned a B.A. in Economics and she received her Ph.D. in Economics from the University of Pennsylvania. She is also an author; her new book, Profits and Prophets: Market Economics and Jewish Social Ethic, will be available this summer.
May 20, 2020 12 p.m. - 1 p.m. EST
The Role of Information Security during COVID-19 and Beyond
The use of technology for daily operations has increased drastically as we all rely on video conferencing and instant messaging apps to stay connected personally and professionally and look to telehealth to stay healthy during COVID-19. This rapid transition has highlighted the need for increased focus on current cybersecurity measures, forcing businesses to adapt and to quickly assess risk to protect stakeholders.
The challenges and lessons we are learning during this time give us the opportunity to enhance our cybersecurity and support it with innovative technology going forward. We all need to think strategically today, so we can thrive tomorrow.
Join us for our next webinar hosted by Andrew Napolitano '17 with our experts, Babak Forouraghi, Ph.D. and Monique St. John '94, as they discuss how industries have responded to cybersecurity during the coronavirus pandemic, how we can all stay protected today, and trends that businesses will continue to adopt in the post-coronavirus future.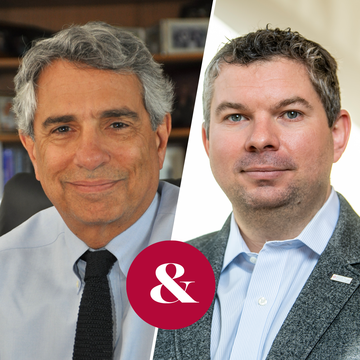 May 4, 2020 - 12 p.m. - 1p.m. EST
Telehealth: Expanding Access to Care
In recent years, telehealth has been becoming increasingly popular for patients and care providers. With the onset of the coronavirus pandemic, the healthcare industry was pressed to fully embrace this new technology and direction of healthcare in order to provide care from a distance. Explore the importance and future of telehealth with Saint Joseph's University's Thomas Martin, Ph.D., Assistant Professor in the Department of Health Studies, and Saint Joseph's Board Member Peter R. Kowey '71, MD, FACC, FHRS, FAHA, William Wikoff Smith Chair in Cardiovascular Research at the Lankenau Institute for Medical Research, and a Professor of Medicine and Clinical Pharmacology at Jefferson Medical College. Watch the webinar hosted by Emily Advani '07, '08 (M.A.) to learn more about how two healthcare experts expect how technology will shape the future of healthcare.
Also, check out our latest story featuring other experts from the School of Health Studies and Education.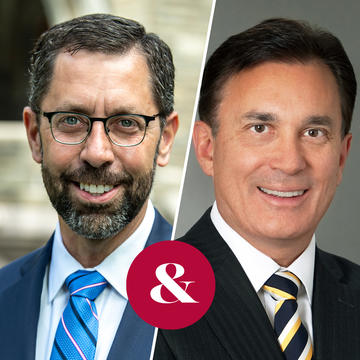 April 23, 2020 - 12 p.m. - 1 p.m. EST
Leading Through Uncertain Times: A Case for Servant Leadership
During times of uncertainty and hardship, servant leadership is more important than ever. Servant leadership is just one part of the Jesuit tradition, focusing on how you can make someone else's life better and in turn, improve your own. This type of leadership reframes the traditional role of the leader from getting someone to do something towards how you can help others grow and feel fulfilled.
Servant leadership is familiar territory to the next experts in our Unlimited Learning Series: Saint Joseph's Haub School of Business Executive-in-Residence Thomas E. Beeman '75, '77 (M.A.), Ph.D., FACHE and Professor of Management Ronald Dufresne, Ph.D.
This free, interactive Zoom webinar is hosted by alumna Rosanna DeFilippo '15 including a Q&A session.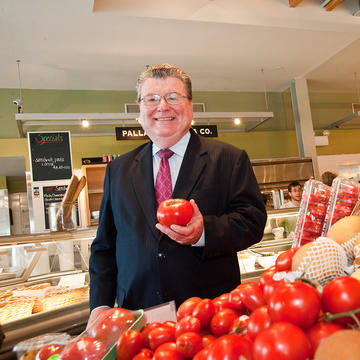 April 6, 2020 - 12 to 1 p.m. EST
After COVID-19: Will Food Shopping Ever Be the Same?
As the world adapts to shutdowns and social distancing, consumers are changing the way they shop for food. John L. Stanton, Ph.D., professor of food marketing at Saint Joseph's Haub School of Business, joined a free interactive Zoom webinar hosted by Emily Advani '07, '08 (M.A.) to explore what's in store for the food industry after the threat of the coronavirus is gone.
New to Zoom? 
PC or Mac:
Click Zoom link provided in the confirmation email, and run software when prompted. Select "join with computer audio" or click the phone call tab to dial in via one of the numbers provided.
Mobile phone, iPad or tablet:
Download the free Zoom app from the iTunes or GooglePlay store; then tap on the link in the confirmation email.
Landline phone:
Dial one of the telephone numbers provided in the confirmation email and enter the Meeting ID when prompted. If you get a busy signal with the first number you try, please select a different number and try again.
Interested in more webinars?
Saint Joseph's is a proud sponsor of Philadelphia Magazine's ThinkFest. Join us for important conversations centered on the theme of "Future of Everything." President Mark C. Reed of Saint Joseph's will be introducing Mayor Kenney for his session on the "Future of Philadelphia" on June 11 at 4 pm.