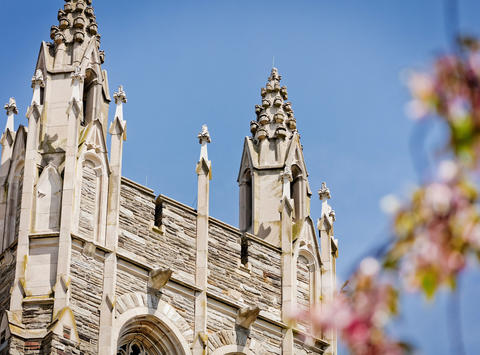 Founded in 1977, the Faith-Justice Institute explores contemporary issues of faith and justice by promoting social analysis and critical thought.
The Faith-Justice Institute explores contemporary issues of faith and justice through academic courses, public forums and experiential field seminars. These initiatives seek to critically analyze the sources of and reasons for injustice and to actively fashion more just communities at local, national and international levels. Such efforts should be rooted in a spirituality that takes seriously the world as it unjustly exists and that fosters hope and commitment to keep working to reshape that world in the light of Gospel values.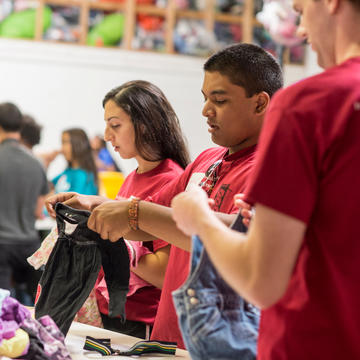 Service-Learning
Service-learning is a form of experience-based education where students engage in service as part of their academic course work. It is believed that doing service work can help students better understand the abstract concepts presented in their classes. Likewise, the ideas learned in class can help students make sense of the human and social problems they encounter through their service work.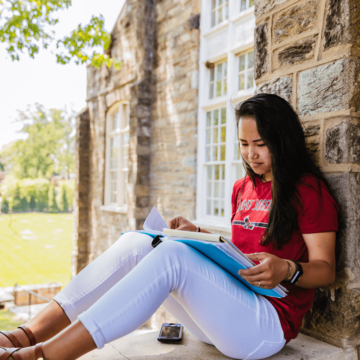 Faith-Justice Studies Program
The Faith-Justice Studies program is an interdisciplinary, self-designed curriculum that enables students to integrate their major area of study with inquiries into faith and social justice issues. Faith-Justices Studies courses are open to students of all majors.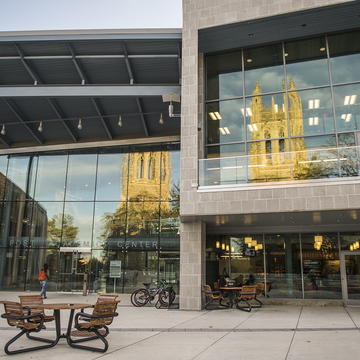 Klein Series
The Joseph William and Madeline Eberle Klein Fund was established for the explicit purpose of supporting educational events (including courses, programs, lectures, and the like) and materials specifically directed toward greater inclusion in the Roman Catholic Church of those groups of persons currently disaffected from it including, but not limited to the LGBTQ community, or gender, racial or political minorities.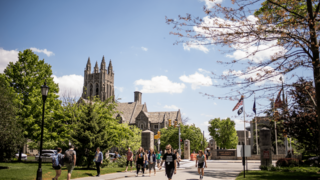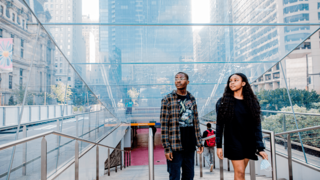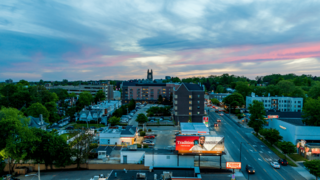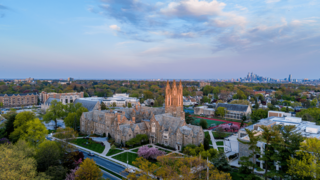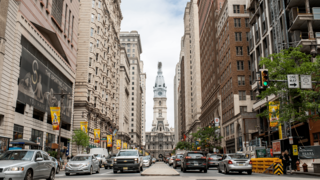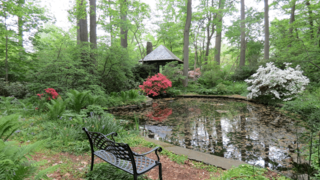 "I would highly encourage incoming first year students to enroll in a freshman service-learning course because it brings to life our motto of the Magis. Serving with and for the greater good of others is essential in grasping the purpose of a Jesuit education and this course takes students beyond campus to experience it."
-Lauren F. '19
"The Klein lectures give the SJU community an opportunity to think about our mission and engage with powerful speakers who push us to be more thoughtful and reflective, whether we are Catholic or not, whether we are practicing, questioning or somewhere in between. Speakers like Greg Boyle, S.J.; Pádraig Ó Tuama; Sr. Simone Campbell, SSS; Sr. Helen Prejean, CSJ; and Dr. Shawnee Daniels-Sykes encourage us think about the systemic injustice that surrounds us every day. Our campus community has learned more about immigration, poverty, homosexuality, race/racism, and the death penalty thought the Klein lectures. Klein lectures deepen our relationship to the faith that does justice and our understanding of where Catholicism succeeds--and where it fails--in addressing the preferential option for the poor and our commitment to the marginalized."
-Ann Green, Ph.D., Professor of English
"The most influential lesson I learned this year was going out of my comfort zone and reaching out to my new community at college. I never thought that service-learning would change my life as much as it has this past year in and outside the classroom. It is amazing that I can learn the issues of our society in which I never have thought about before in the classroom and then get to fully experience it for myself at service. I highly recommend taking a service-learning course for your freshman year, it will change your perspective for the better."
-Brittany C. '20
"The Sisters of Mercy are very appreciative of the offerings of the Faith-Justice Institute at Saint Joseph's University. It is always interesting and challenging and a pleasure to see students and faculty engaged in the presentations. Another terrific resource to the community! Thank you Saint Joseph's University!"
-Sr. Suzanne Gallagher, RSM
"Overall, the Faith Justice Studies minor has allowed me to broaden my understanding of who is marginalized and poor and increase my awareness of how my own religion is working to combat poverty and marginalization. The required ethics course had allowed me to put words to ideas that I could not describe before. I knew what social justice was through my courses in the minor, but now I am confident explaining what that means to others of my own faith background and others that do not have the same faith background in a way that I was not before. This minor has prepared me not only for a graduate degree in social work, but also for a career in which I will fight for social justice in everything I do."
-Faith-Justice Studies student portfolio
"Service-learning was an incredible experience to be a part of in my freshman year at Saint Joseph's. It provided valuable insight and relations with the community around me and taught me even more about the true spirit of this university considering they have a program of this magnitude. I was given true life experience and an entirely new and moral way of seeing the world around me and living my everyday life to the fullest. I would highly recommend this style of course to any incoming freshman because of not only what the students provide the community but also due to what the experience gave me. Being fully embraced by the community from the very beginning of freshman year got rid of any nerves regarding college and allowed me to grow closer to the university in general."
- Connor H. '21
"Human dignity and structural injustice are two major themes that stand out to me from my coursework. Learning about these concepts has allowed me to think about how my faith plays a role in social structures and option for the most vulnerable."
-Faith-Justice Studies student portfolio
"My service location is St. John's Hospice. The most important lesson I have learned is service through presence. The fact that we are there goes a long way to them."
-Olivia S. '21
Initiatives and Partnerships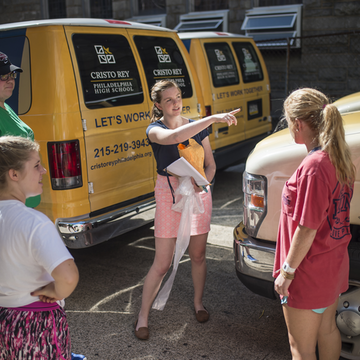 Community Partnerships
Saint Joseph's service-learning community partnerships offer students the opportunity to understand systemic injustices by developing appropriate relationships through service.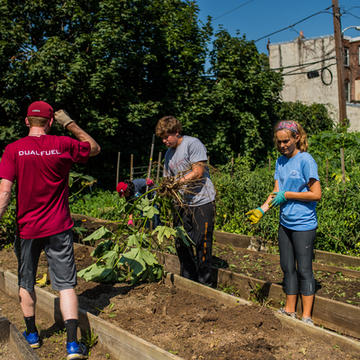 Faith-Justice Institute Impact
Faith-Justice Institute Impact
Our staff is dedicated to working with students, faculty and community partners to design and engage in transformative education for a faith that promotes justice.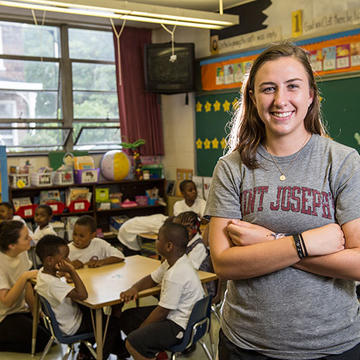 Newman Civic Fellowship
The Newman Civic Fellowship recognizes students who take collaborative action to find solutions within their university's community by providing training and resources for those involved.