About the Fellowship
Campus Compact's Newman Civic Fellowship recognizes and supports community-committed students who have demonstrated an investment in finding solutions for challenges facing communities throughout the country. The fellowship, named for Campus Compact founder Frank Newman, provides training and resources that nurture students' assets and passions to help them develop strategies to achieve social change. Through the fellowship, Campus Compact provides learning opportunities focused on the skills fellows need in order to serve as effective agents of change in addressing public problems and building equitable communities.
The fellowship is a one-year experience for students in which fellows have access to in-person and virtual learning opportunities, networking events and mentoring.
While the fellowship experience is limited to one year, participants in the Newman Civic Fellowship are invited to join a national network of community-committed peers and to enter into a long-term community of Newman Civic Fellows.
Fellows are selected in the spring each year; the fellowship term begins the following academic year.
Campus Compact's website provides detailed eligibility information and  profiles on current Newman Civic Fellows.
The Saint Joseph's University Newman Civic Fellow will work on a mutually beneficial project with a local community partner during the academic year.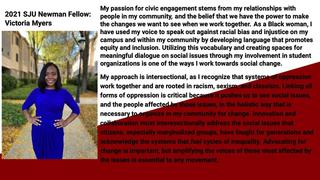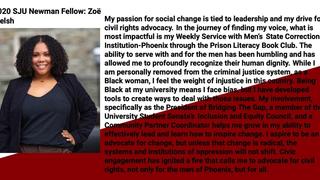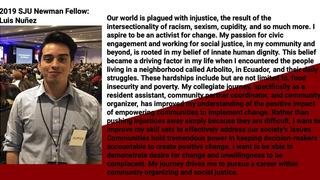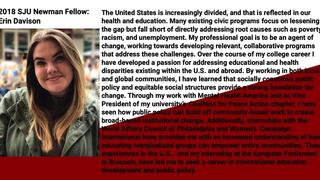 My passion for civic engagement stems from my relationships with people in my community, and the belief that we have the power to make the changes we want to see when we work together. As a Black woman, I have used my voice to speak out against racial bias and injustice on my campus and within my community by developing language that promotes equity and inclusion. Utilizing this vocabulary and creating spaces for meaningful dialogue on social issues through my involvement in student organizations is one of the ways I work towards social change.
My approach is intersectional, as I recognize that systems of oppression work together and are rooted in racism, sexism, and classism. Linking all forms of oppression is critical because it pushes us to see social issues, and the people affected by those issues, in the holistic way that is necessary to organize in my community for change. Innovation and collaboration must interesectionally address the social issues that citizens, especially marginalized groups, have fought for generations and acknowledge the systems that fuel cycles of inequality. Advocating for change is important, but amplifying the voices of those most affected by the issues is essential to any movement.
My passion for social change is tied to leadership and my drive for civil rights advocacy. In the journey of finding my voice, what is most impactful is my Weekly Service with Men's State Correctional Institution-Phoenix through the Prison Literacy Book Club. The ability to serve with and for the men has been humbling and has allowed me to profoundly recognize their human dignity. While I am personally removed from the criminal justice system, as a Black woman, I feel the weight of injustice in this country. Being Black at my university means I face bias, but I have developed tools to create ways to deal with those issues. My involvement, specifically as the President of Bridging The Gap, a member of the University Student Senate's Inclusion and Equity Council, and a Community Partner Coordinator helps me grow in my ability to effectively lead and learn how to inspire change. I aspire to be an advocate for change, but unless that change is radical, the systems and institutions of oppression will not shift. Civic engagement has ignited a fire that calls me to advocate for civil rights, not only for the men of Phoenix, but for all.
Our world is plagued with injustice, the result of the intersectionality of racism, sexism, cupidity, and so much more. I aspire to be an activist for change. My passion for civic engagement and working for social justice, in my community and beyond, is rooted in my belief of innate human dignity. This belief became a driving factor in my life when I encountered the people living in a neighborhood called Arbolito, in Ecuador, and their daily struggles. These hardships include but are not limited to, food insecurity and poverty. My collegiate journey, specifically as a resident assistant, community partner coordinator, and community organizer, has improved my understanding of the positive impact of empowering communities to implement change. Rather than pushing injustices away simply because they are difficult, I want to improve my skill sets to effectively address our society's issues. Communities hold tremendous power in keeping decision-makers accountable to create positive change. I want to be able to demonstrate desire for change and unwillingness to be complacent. My journey drives me to pursue a career within community organizing and social justice.
The United States is increasingly divided, and that is reflected in our health and education. Many existing civic programs focus on lessening the gap but fall short of directly addressing root causes such as poverty, racism, and unemployment. My professional goal is to be an agent of change, working towards developing relevant, collaborative programs that address these challenges. Over the course of my college career I have developed a passion for addressing educational and health disparities existing within the U.S. and abroad. By working in both local and global communities, I have learned that socially conscious public policy and equitable social structures provide a strong foundation for change. Through my work with Mental Health America and as Vice President of my university's Coalition for Peace Action chapter, I have seen how public policy can build off community-based work to create broad-based institutional change. Additionally, internships with the World Affairs Council of Philadelphia and Women's Campaign International have provided me with an increased understanding of how educating marginalized groups can empower entire communities. These experiences in the U.S., and my internship at the European Parliament in Brussels, have led me to seek a career in international education development and public policy.
Saint Joseph's University Application Process
Each year, President Reed has the opportunity to nominate one student leader who has "demonstrated commitment to finding solutions for challenges facing communities" to be considered for Campus Compact's Newman Civic Fellowship. The fellowship recognizes community-engaged student leaders who:
Engage in collaborative action with others from campus or from surrounding communities in order to create long-term social change.
Take action in addressing issues of inequality and political polarization.
Demonstrate the motivation and potential for effective long-term civic engagement.
Interested Saint Joseph's students should submit the following items in one document by December 7, 2021 to Ann Marie J. Keffer, Director, The Faith-Justice Institute at ajursca@sju.edu.
Resume. Resume should include (but is not limited to) student's major, expected year of graduation and demonstrated commitment to community engagement activities (service and/or advocacy work, community-based internships, research, etc).
Personal Statement. 200 word maximum addressing:

Student's passion for civic engagement and working for social change.
Student's approach and work addressing the root causes of social issues and information including their potential for developing innovative and collaborative contributions to civic/public problem solving.

Community Involvement Summary. Please please include a brief summary of your civic engagement with the community including direct service, advocacy, community-based projects and research participation and leadership.   Additionally, please note any experience (prior work, Summer Scholars, course assignment, volunteer work, etc) you have in these areas.