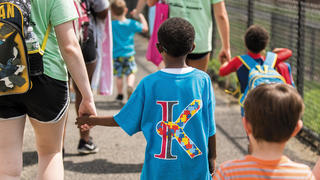 One day in spring 2019, Christine Palus found Kimberly, her 8-year-old daughter, focusing intensely on her Etch-a-Sketch. Christine moved closer to her daughter, who has verbal challenges, but is growing in reading and writing. What Christine saw made her smile: Kimberly was drawing three letters over and over: SJU, SJU.
Kimberly, who has autism, was counting down the days until school was over and she could start summer camp at Saint Joseph's Kinney Center for Autism Education and Support.
"It's just her happy place," Christine says.
For the past 10 years, the Kinney Center for Autism Education and Support has been at the forefront of serving individuals with autism across their lifespan and their families, like Kimberly and Christine.
Since its founding in 2009, the Kinney Center has established itself as a center of national renown, offering services across the lifespan and trailblazing many firsts in the field: the first major and minor in autism studies in the country; one of the first college support programs for individuals with autism; one of the first and only accredited camps in the Delaware Valley to implement reverse inclusion, fostering meaningful interactions between individuals across the autism spectrum and their neurotypical peers; one of the first higher education institutions to offer an autism break room in an NCAA Division I athletic arena.
The Kinney Center was founded with support from Paul '70 and Margaret Hondros with a two-fold mission: "to educate and train the autism professionals of tomorrow while supporting and serving the people and families affected by autism today." The needs are critical: The Centers for Disease Control and Prevention now estimates that 1 in 59 children have autism spectrum disorder — a developmental disability that can cause a broad range of social, communication and behavioral challenges — up from 1 in 88 when the Center was established in 2009.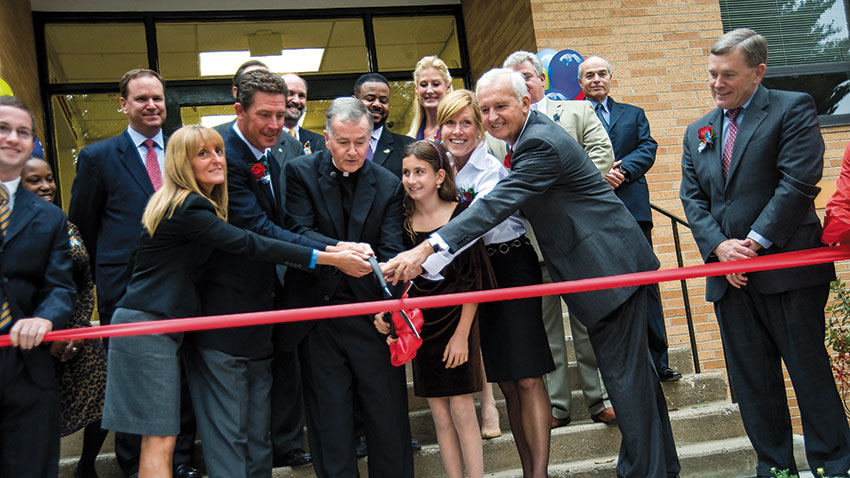 Making Connections
Over its decade of existence, the Center has become a standout. That's part of the reason that Saint Joseph's student Bridget Cichon '20 was drawn to the Kinney Center. Cichon entered the University as a biology major eager to become a doctor. Then a friend told her about the Kinney Center and what a good experience she had as a SCHOLAR. Cichon knew little about autism but was drawn to the community she found at the Center and the opportunity to serve. She took the leap to become a SCHOLAR herself, falling in love with the program and eventually choosing to double major in biology and autism behavioral studies.
"The more I work at the Kinney Center and make these connections with people I never thought I'd meet, the more I can't imagine my life without them," Cichon says. She anticipated a work-study job where she completed paperwork or sat behind a desk; instead, she's working with people with autism, helping them develop social skills and independence, whether it's on the basketball court or learning to take the train.
Cichon still dreams of medical school, but now, she wants to become a developmental and behavioral pediatrician, primarily serving children with autism. "I just find it so rewarding to work with the people the Kinney Center serves," she says.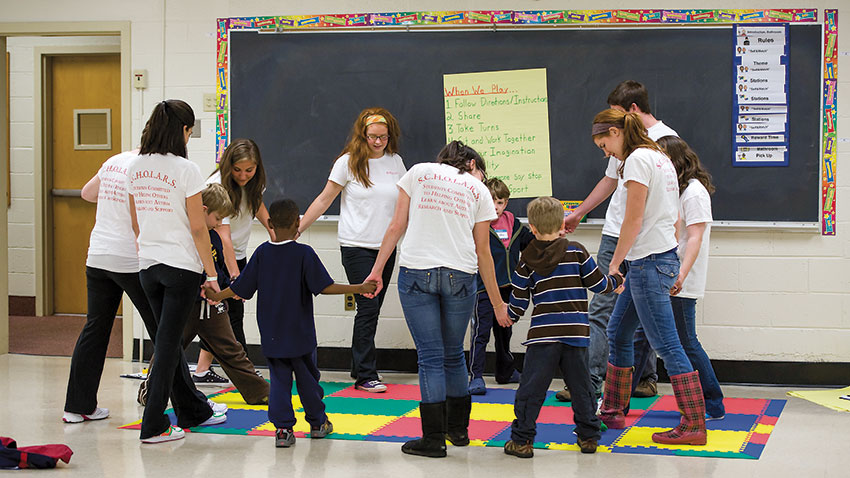 Cichon spent her summer concentrating on a new area of Kinney Center focus: research. Practical experience has always distinguished Saint Joseph's and the Center, but adding a research arm is taking the Center to a new level. In 2018, the University appointed Joseph McCleery, Ph.D., assistant professor of psychology, as the Center's new executive director of academic programs. McCleery most recently served as a scientist at the Center for Autism Research at the Children's Hospital of Philadelphia.
Under McCleery's mentorship, Cichon has been studying the effects of exercise on social functioning in children and adolescents with autism.
Going forward, "our work [at Kinney] will be driven by research," McCleery says. "By providing research opportunities to our students, we are working to create pipelines for people to not just become teachers, but nurses, clinical psychologists, social workers and doctors."
For McCleery, what sets the Kinney Center apart is the caliber of students, young people motivated by the Jesuit notion of being men and women with and for others. "We have very skilled people, very service-oriented people. That's why they come to St. Joe's. It's a very different motivation than you'll find in other places," he says.
And if history is any indicator, Cichon's experience will serve her well as she moves into her career. "You don't usually have the length or quality or depth of exposure to this population by the time you graduate with an undergraduate degree," McCleery says. "They're developing themselves and setting themselves up for very high-level careers as they do this."
'Anything Could Be Possible'
The benefits for people with autism and their families have been tangible. The closer Ira Tucker got to high school graduation, the more his mother, Lisa Edwards, panicked. Tucker has autism and was lucky to receive a good education in Lower Merion schools, but Edwards worried her son would sit at home after graduation with nothing to do. Then she heard about the Kinney Center, and the more she learned, the more relief she felt. All of Tucker's neurotypical peers were heading to college, and now, in a way, Tucker was, too.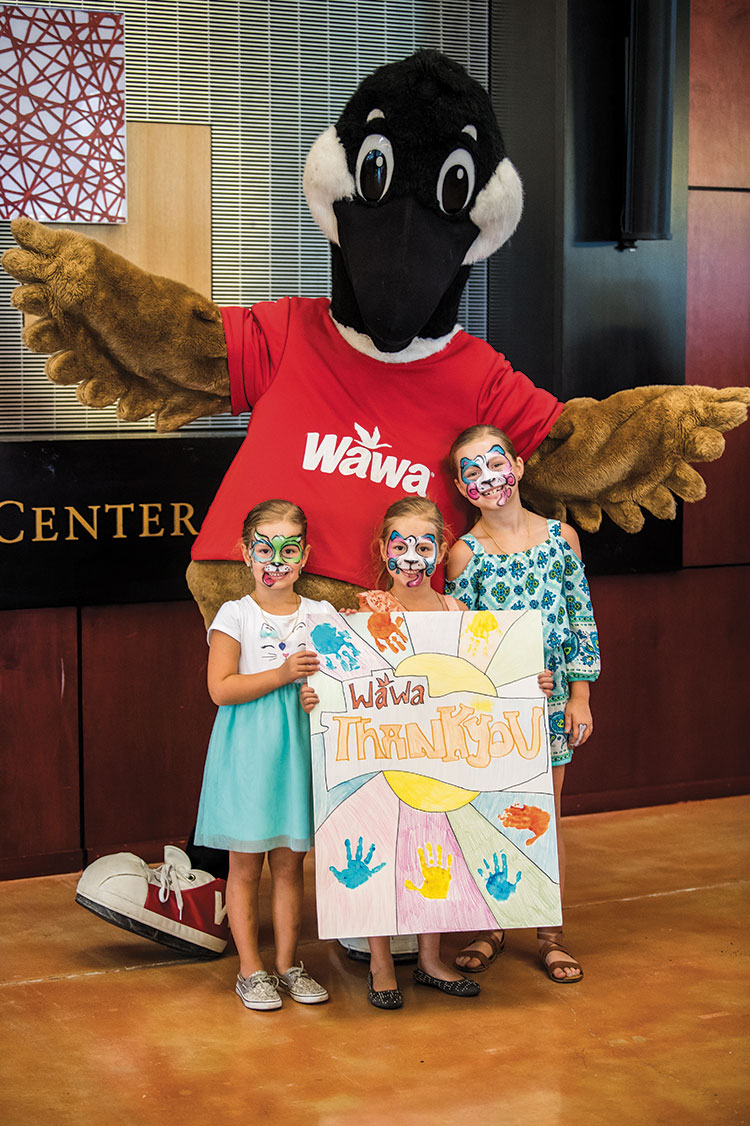 For the past four years, Ira has continued his life skills training, played sports, gardened, attended dances and Saint Joseph's athletic events, and even found work as a dog walker through the Kinney Center. He's earning his own money and advancing in independence. "The Kinney Center has given my son a sense of purpose, and that helps the rest of our family because I feel him moving toward a place where independent living could be possible," Edwards says. "The Center makes me feel like anything could be possible."
Meanwhile, Samantha Sur '17 is a systems analyst for a health insurance company in Pittsburgh. But if it was not for ASPIRE (Autism Support Promoting Inclusive and Responsive Education), the Center's program that provides transitional support for students with autism as they enter college, Sur is sure she would not have received her degree.
Statistics bear out her feeling: Nationally for students with autism, there's a 20 percent completion rate for college. At Saint Joseph's, the freshman to sophomore year retention rate is 88 percent, and there's an 84 percent graduation/retention rate among ASPIRE students. Furthermore, 100 percent of ASPIRE graduates gained employment, and 90 percent are still employed, statistics that far outstrip national employment averages for people with autism, which typically range from 14 to 40 percent.1
"What's happening at other universities is students with autism are paying the tuition, then they're dropping out," McCleery says. "We don't have that, and we don't think any other university is doing anything quite close to it. Everyone we talk to is clamoring to hear more."
Supports for individuals and families affected by autism are also crucial to the Center's purpose. Through the ASPIRE program, Saint Joseph's undergraduates with autism receive support including individual case management, intervention and prevention, time management strategies, independent living and social skills training, and a supported work environment — students are hired as SCHOLARS (Students Committed to Helping Others Learn about Autism Research and Support) if they are interested. The Kinney Center acts as an intermediary with faculty and residence life, provides academic support and facilitates student mentoring.
ASPIRE unofficially began with a single student with autism who was struggling to make college work; the program formally launched with three students in 2012. For the fall 2019 semester, 34 students were enrolled, and 13 have graduated from Saint Joseph's. ASPIRE staff provides a range of services, from educating faculty about the needs of their students with autism to providing regular check-ins with those students and social activities for ASPIRE students and their SCHOLAR peer mentor.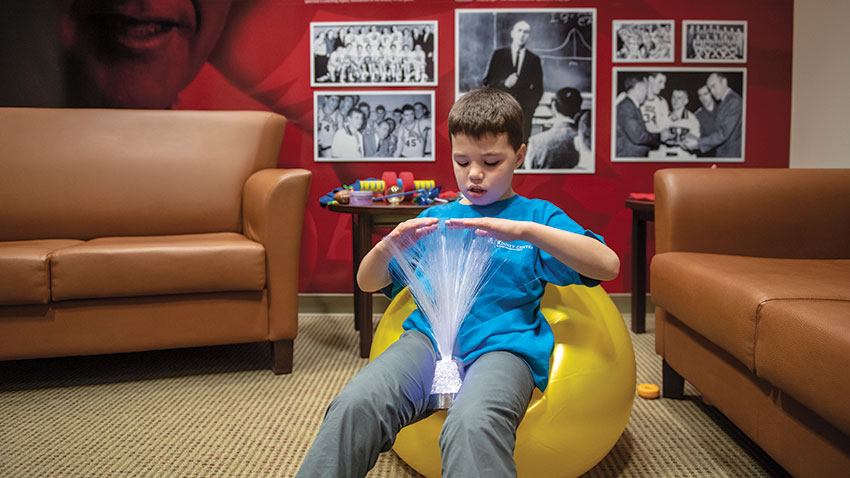 Sur, who grew up in the Philadelphia suburbs, started her college career at another Philadelphia-area university. It had an academic support program but "it wasn't really what I needed," Sur says. She and her family looked nationally at schools with strong autism support programs but found one close to home — at Saint Joseph's.
Sur felt immediately that Kinney Center staff "tried to understand me from many angles, not just as a person with differences." And once she was enrolled as an autism studies major and music performance minor, Sur found help with skills training and advocacy. The targeted academic and social guidance she received was "really helpful as my professors seemed to know me well on the first day of class, considerably increasing my comfort in the room and giving me the space to learn and participate." The Kinney Center also gave Sur her first job, as a SCHOLAR, and helped her transition to the world of work outside of the University.
ASPIRE and the Kinney Center also helped LeAnn Behrens' son find his footing. Diagnosed with Asperger's Syndrome when he was 8, Behrens' son did not have many social challenges but struggled with executive functioning skills. "He didn't have the ability to go sit down with a professor and say, 'I don't know what you want.' He just wouldn't do the assignment." ASPIRE helped Behrens' son choose the right classes. They nudged him to use the campus resources available to him, including the University's student-run Writing Center, and helped him reach out when he hit stumbling blocks. Behrens' son hit his stride, graduated, worked on Capitol Hill and is now headed to law school.
"I don't think we would have gotten him to where he is today without the Kinney Center's assistance," Behrens says. "The Kinney Center and the ASPIRE program are set up to meet kids where they're at, and that's different for every kid on the spectrum. They assess, and then they fill the gaps."
Future Partnerships
Angus Murray, executive director of the Kinney Center since November, is charged with guiding the Center into the future. It's a prospect that Murray is thrilled about, given the Kinney Center's successes so far — its direct service work, its success in aiding students with autism to thrive in college, its high-level preparation of the autism professionals of tomorrow. And the next natural step for the Center, Murray says, is pushing more into the job sphere: vocational training to get people with autism into the workplace, empowering them to greater levels of independence.
The way Murray sees it, "Over the last 10 years, society has done an improved job of preparing folks on the spectrum for society. Society has not done as well at preparing itself for people on the spectrum." But as businesses realize what people with autism can add to their workforce and customer base, the Kinney Center has reached out to help. It can and has worked with firms who want to prepare coworkers to collaborate with people with autism, working at onboarding and other HR matters, all while keeping costs low for businesses. "We're looking to do this in partnership with the Haub School of Business," Murray says. "We have all the resources here at Saint Joseph's University."
The number of families the Kinney Center serves in the community.
Graduation/retention among ASPIRE students.
of ASPIRE students gained employment.
It's also focused on helping businesses deal more sensitively with customers who may have autism. Aer Lingus connected with Kinney in 2016 to help it develop a visual guide to help people with autism and related disorders prepare for and experience air travel — the first of its kind for an airline. The guide was produced by Kinney Center board-certified behavior analysts in conjunction with Aer Lingus and Transportation Security Administration officials and contains color photographs with person-first language that break the entire flight experience into pieces to help individuals who might fear unknown experiences or struggle with transitions.
"Aer Lingus is proud to offer this proactive resource that allows families and caretakers who fly with our airline to narrate and prepare for travel scenarios that could be challenging for individuals with autism," said Jack Foley, vice president for Aer Lingus North America, when the resource debuted. "We are grateful to our partners at the Kinney Center for Autism Education and Support for giving us this opportunity to respond to the needs of this population and for providing this essential support to our guests."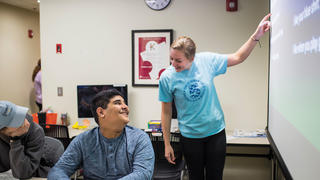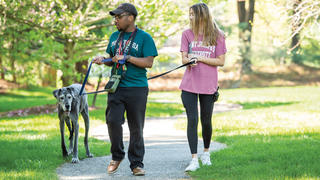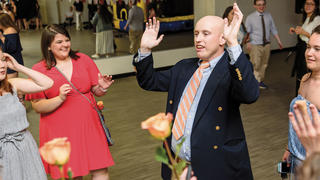 Kinney SCHOLARS provide one-on-one support to individuals with autism.
Kinney Center clients and SCHOLARS work with PETacular, a high-quality pet care service.
Guests dance the night away at the Kinney Prom.
The Kinney Center also consulted with Philadelphia Zoo, Alvernia University and Chestnut Hill College to better accommodate people on the spectrum. And recently, McCleery and Theresa McFalls, the Center's associate director of community outreach, spent time at Merrill Lynch and at Vertex, an international firm with offices in King of Prussia, to train employees there in preparation for ASPIRE students completing summer internships at both companies. "We're modeling what we're doing here at St. Joe's," McFalls says. "We're providing an added level of support for any troubleshooting. This is an area where we can really grow partnerships."
The Kinney Center has established itself as a top-quality clinical interventions and support service provider. In the future, the Kinney Center will partner with leading local, national and international clinicians and researchers to further enhance its services and establish novel evidence-based practices for use by the larger autism service community. While other researchers specialize in the neurobiologic and genetic aspects of autism for future generations, Kinney is focusing on the research that will help improve the lives of those with autism today.
"The Kinney Center's future looks like a place where students, clients and the public can come to learn," Murray concludes. "Students will learn about the most up-to-date interventions and therapies for individuals on the spectrum, clients can come and get caring, compassionate support that prepares them for whatever stage of life they are in and the public can better understand the steps they need to take in order to ensure that all people, regardless of their abilities, are included."
1Roux, Anne M., Shattuck, Paul T., Rast, Jessica E., Rava, Julianna A., and Anderson, Kristy A. National Autism Indicators Report: Transition into Young Adulthood. Philadelphia, PA: Life Course Outcomes Research Program, A.J. Drexel Autism Institute, Drexel University, 2015.
SCHOLAR Reflects on Experiences
Arianna Esposito '12, '14 (M.S.), '18 (MBA), knew nothing about autism in 2009 when, as a sophomore, she clicked on an email introducing the Kinney Center. Esposito was a psychology major and she thought working for the Center might help her studies. She ended up as part of the first-ever round of SCHOLARS (Students Committed to Helping Others Learn about Autism Research and Support). It was an experience that would change the trajectory of her life. As part of a summer program, Esposito met Mia, a 3-year-old newly diagnosed with autism. Mia was guarded, with little language at first, but slowly but surely, her bond with Esposito helped the young girl blossom.
"It was life-changing, seeing her transform," Esposito says. "At the end of the summer, I said, 'This is it, this is what I want to do for the rest of my life.'" Esposito eventually declared an autism studies minor and, after graduation, decided to pursue graduate school at Saint Joseph's with a goal of becoming a Board Certified Behavioral Analyst and working with people with autism. Esposito was still a graduate assistant when she was tapped to become the Kinney Center's full-time director of adult programs, a job she held for six years.
Recently, Autism Speaks, an international agency that advocates for people with autism, recruited Esposito as a director of lifespan services and supports. Esposito quickly discovered what an edge she had because of her experience working at the Kinney Center.
"Even as a college student, I got this direct experience, and that put me light years ahead of most other college students," she says. "At the Kinney Center, you get experience across the entire lifespan." In the Center's earliest days, people had little idea what the Center was or what it was about. "Now, people know," she says. "People are not only aware of what the Kinney Center is, but they're paying attention to what it is doing."
Kristen A. Graham is a local writer who focuses on education issues. She frequently writes for Saint Joseph's University Magazine.