Tradition & Innovation: Evolving The Saint Joseph's Brand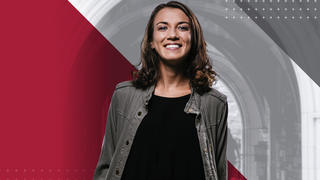 I pull alongside a row of cars, engines idled along a narrow street in Philadelphia's Hunting Park neighborhood. Parents eagerly usher their schoolchildren into vehicles and out of the cold rain that dampens this dreary Friday in November 2019. One by one, the cars pull away as I scan the schoolyard for then-senior Elaine Estes '20.
Between student-teaching and track practice, there is a brief window of time for Estes to participate in a photoshoot. I first learned of her story through the Saint Joseph's athletics department, suggesting we consider highlighting Estes as part of a new rebranding effort.
"Here are a few student-athletes to get you rolling," wrote Robert "Sully" Sullivan '06, senior associate athletics director for external affairs. "Elaine Estes — she's the captain of the track team, a student-teacher, double major, Summer Scholar, horticulture enthusiast and in the Army Reserve."
I see her walking out the front doors of Antonia Pantoja Charter School. She finds my car and walks across the busy intersection. Settling into the passenger seat, she greets me and we exchange introductions. She agrees to the role of co-pilot and we head to the studio.
I know her resume, I've done my homework. But, I'm eager to discover what motivates Estes. Where does she get her drive? And how do her seemingly random pursuits come together to create this impressive person beside me? As I pepper her with questions, her story comes to life.
Why Rebrand?
If you have spent time on Saint Joseph's campus, it's likely you know many remarkable people like Estes. These are the members of our community who consistently strive for excellence in their lives. They are individuals who think beyond the boundaries of a job description and go on to reshape their industries. Men and women who enhance their communities through volunteering and civic engagement. People who give voice to the disenfranchised. These Hawks, and the sum of their collective experiences, are at the heart of the Saint Joseph's University brand.
So if we know how amazing Saint Joseph's community members are, why do we need to rebrand at all? While there is no checklist of indicators to know when the time is right to rebrand, there are often compelling hints along the way. For years now, we've known college-age populations are shrinking significantly in the Northeast and Midwest. In the category of higher education, 2019 marked the seventh year of declining enrollment nationally with the raw numbers showing Pennsylvania as having the fifth-largest drop. In Philadelphia, Saint Joseph's joins an impressive but crowded market of universities all competing for fewer and fewer students.
From our perspective, the data were clear. The standard playbook for branding in higher education isn't working. Furthermore, Saint Joseph's brand identity system was dated and no longer appealing to new students. The decision was made. "It was time for Saint Joseph's University to show up boldly and project a stronger voice to stand out in the marketplace," says Marie Williams, chief marketing and communications officer. "To embrace but reinterpret the Jesuit tradition for new audiences. To leverage our unique, prime location in new and unexpected ways. To honor tradition but look toward the future."
Through months of research and talking with students like Estes, the in-house brand team got to work. The team, which consisted of a crosssection of practitioners and academics from the Office of Marketing and Communications, enrollment management, athletics, mission and more, discovered the University's sweet spot hovers around a promise to redefine traditional measures of success. Sure, Saint Joseph's has exceptional faculty and academic programming to help students achieve their collegiate goals. And, yes, students land jobs upon graduation. These are table stakes. What makes the University distinct is that we prepare students to flex for an unpredictable future where their success isn't defined by one single achievement, but rather by the compilation of thousands of moments and possibilities ahead.
Once we uncovered the "what," it was critical to explore the "how." We found our answer in the history books. Students such as Estes aren't a happy accidental product of a Saint Joseph's education. Their educational journey was purposely designed and grounded in a 500-year-old Jesuit pedagogical approach to learning. One that encourages the development of multiple competencies, unique to the talents and gifts of each individual student. Saint Joseph's University creates the kind of humans that our world needs – professionals who bring broad perspectives to their industries. People who value curiosity, imagination and bravery. People who understand that true success combines professional achievement with personal fulfillment. It's a brand concept we call "AND."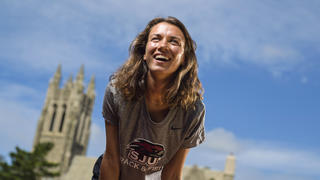 The Heart of the Brand
At the heart of Saint Joseph's identity – and brand – is its distinctive Jesuit educational model. To preserve the integrity of this tradition, we conducted significant background research and live interviews with our Jesuits on campus – even holding a Jesuit roundtable discussion. Importantly, the brand had to reflect principles that are core to our mission and model: faith and reason, action and reflection, tradition and modernity, the arts and the sciences, and the rational and the emotional. Saint Joseph's location in a global city – where it's proximate to some of the country's greatest problems to solve – was another distinction called out in the Jesuit conversations. So, too, was the Jesuits' long history of being revolutionary (and a bit rebellious) in their thinking and on the forefront of scientific and technological advances. And, of course, there is the well-known practice of discernment and tendency to consider issues from all sides.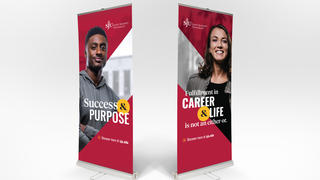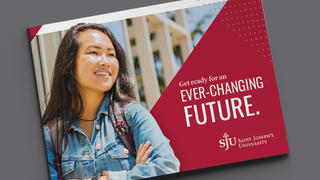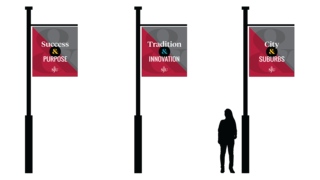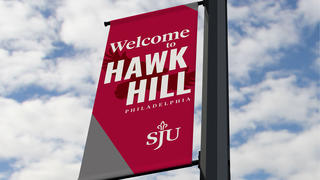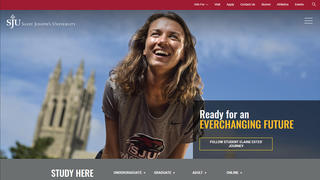 From left: Retractable banner brand story featuring Toliver Freeman '20, a men's basketball player and biology major who plans to attend medical school in the fall, and Elaine Estes '20.
Print collateral going to the Class of 2025.
Banners now hanging on the Saint Joseph's campus.
Banners now hanging on the Saint Joseph's campus.
Elaine Estes '20 on the homepage when SJU.edu redesign was launched in October, 2019.
Daniel R. Joyce, S.J. '88, executive director of mission programs, who served on the brand advisory committee, helped to shepherd the direction of the brand. He believes the new brand expression is inherently reflective of Jesuit values without leaning on Latin terms or clichés.
The new brand captures the desire for unlimited knowledge and an appreciation for plurality, depth and dimension. That is consistent with the Jesuit tradition.
"In a Saint Joseph's education, in our lives and in our faith, we should never settle for easy answers but look for what may be more – looking for the 'and' or being open to the idea that the answer may include a 'both' and an 'and,'" Joyce says. "The new brand captures the desire for unlimited knowledge and an appreciation for plurality, depth and dimension. That is consistent with the Jesuit tradition."
The National Alumni Board was also a centerpiece of the brand discovery and feedback process, participating in a few feedback sessions and helping to organize focus groups with alumni representing different generations and disciplines.
"Saint Joseph's excels at forming people with a holistic view: social, emotional, intellectual, spiritual," says John M. Bradley '98, outgoing NAB president who was actively involved in the rebrand. "These aspects are offered to and expected of students. What I appreciate most about the new brand is that it captures the foundational and traditional elements of our Jesuit education while conveying a greater ambition and aspiration for the University."
The marketing department's faculty experts helped to advise on the rebrand and invited Marie Williams to present the new brand to a class in February.
"There is great value in bringing one story forward. In knowing who we are as a university and using a consistent voice," says Janée Burkhalter, Ph.D., associate professor of marketing and a member of the rebrand advisory committee. "Leading up to the rebrand, we had different branding messages in the market. A person's experience with the Saint Joseph's University brand was dependent on the person they were communicating with. With all of the schools in Philly, we need to have a unified message to get in front of people."
There is great value in bringing one story forward. In knowing who we are as a university and using a consistent voice."
The Execution
Transitioning from the "AND" brand concept to an entire brand identity system is where the creative process kicked into high gear. A brand strategy undergirded the creative, demonstrating that our embrace of dimensionality and a broad definition of success prepares students for the future of everything – no matter how the world changes. In other words, a student's "AND" supercharges them, making them ready for any profession, any experience, any evolution in life or career.
The final result: a 100-page brand book that clearly lays out Saint Joseph's brand strategy, messaging, visual identity and creative expression.
What to Expect?
Signs of the new brand are already popping up on Hawk Hill with new banners and began appearing across the region and the web in the form of advertising this summer. You can even see nods to our new brand in the pages of this magazine. Less obvious to the eye are all of the ways we have been embedding the brand in everything from prospective student tours to the tone of our social media posts. For a brand to be truly successful, it must permeate all of the ways we show up in the world — on postcards and billboards, the partnerships and initiatives we embark upon, through the stories we tell and in the hearts and minds of our students, faculty, staff, alumni and friends.
As former executive director of marketing, Steigleman played a key role in the rebranding effort.