Focus on Women: Saint Joseph's Celebrates 50 Years of Co-Education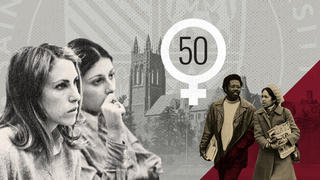 The year 1970 was a tumultuous time in America. The Vietnam War was raging, marginalized groups were fighting for equality, the environmental movement kicked off with the first Earth Day, and the Beatles broke up.
It was also a year of momentous change at Saint Joseph's, where women were admitted to day classes for the first time in the school's history. Other area universities, like La Salle, and fellow Jesuit institutions, including Xavier University and Boston College, had also recently fully opened to women when about 150 female undergraduates came to transform Hawk Hill from an all-male college to a co-educational institution that now, 50 years later, boasts more women than men.
That inaugural class of women made up just 10% of the student body, according to University data. The current enrollment at Saint Joseph's is 54% women. In the 1970-1971 academic year, women earned just 9% of bachelor's degrees in the United States, according to the National Bureau of Economic Research. Today, U.S. Department of Education figures show that women earn more than 50% of all bachelor's degrees.
"It was not uncommon to be the only woman or one of two in a class," says Mary Lou (Finlayson) Quinlan '75, who transferred to SJU from La Salle University in 1973. "Each semester, the guys got a little more used to us. I found the men to be friendly, curious and welcoming, and the women [were] kindred pioneers who had each other's backs."
Katharine "Trinka" (Hillman) Schneider '74 also remembers SJU as a place where she and her female classmates felt supported and empowered – which at the time, when higher education and the working world were dominated by men and many felt a woman's place was in the home, was no guarantee.
"We were there because we wanted something better for ourselves. We were all working class," she says.
Schneider earned a bachelor's degree in marketing and embarked on a career that landed her in senior positions at major corporations, including Colgate-Palmolive, Mrs. Smith's Frozen Foods and Hill's Pet Nutrition, before becoming a consultant. She's hardly an anomaly in her cohort. Many of St. Joe's first female graduates have impressive resumes that were built on the solid foundation of their Jesuit education.
Mary Scullion, R.S.M. '76, has been named to TIME magazine's list of the 100 Most Influential People in the World for her activism, including founding Project H.O.M.E., which provides low-income and chronically homeless people with supportive housing, employment, education and health care.
Muffet McGraw '77 recently announced her retirement after 32 seasons coaching the women's basketball team at Notre Dame, a tenure that included nine Final Fours, seven championship game appearances and two national championships.
Quinlan graduated with a bachelor's in English and went on to a successful marketing and communications career. In 1999, she founded Just Ask a Woman, a marketing consultancy to help brands tap into the buying power of female consumers. A multi-hyphenate, she is also an author, speaker, playwright and off-Broadway performer of women's stories.
Deborah Coughlin '75, took her bachelor's degree in economics to Wall Street, where she worked for 15 years before heading up investor relations at Computer Associates International, a company that was acquired by Broadcom in 2018. As a student, she lived on campus and made lifelong friendships with classmates Jacqueline Carroll Cody, now a judge in Chester County, Pennsylvania Court of Common Pleas, and Barbara Daly Danko, a former Allegheny County, Pennsylvania councilwoman who was a career public servant. Danko passed away from breast cancer in 2015.
"So many of the women that I met that first year, particularly the residents, were at the top of their class in high school. They were valedictorians, salutatorians, in the top 10%," Coughlin says. "Suddenly, the doors opened to come to a Jesuit college. This was a huge opportunity for us to be coming and getting a Jesuit education."
A Breath of 'Fresh Air'
Carmen Croce '71, director of Saint Joseph's University Press, was working on campus in 1970 while also completing his bachelor's degree in English. He fondly remembers that first year when female students arrived.
"It really threw open the doors and windows and let in fresh air," says Croce.
A year earlier, he had transferred to Saint Joseph's from the co-ed Temple University. For a university deeply rooted in the Jesuit tradition, the writing was on the wall, he says. And Terrence Toland, S.J., who served as University president from 1968 to 1976, could read it plainly. Croce recalls that it was Toland who led the charge to enroll women.
"You have to remember that the 1960s were a huge period of change," Croce says. "The church was changing, the country was changing, music was changing. We were used to change and we were expecting it in everything. We were so used to change in that period."
The decision didn't just modernize the school from a cultural perspective. It also widened the applicant pool, which helped St. Joe's grow its enrollment and compete with the many other colleges and universities in the Philadelphia area.
Still, the integration of women didn't come without resistance. Croce recalls some pushback, and a 1969 article from The Hawk campus newspaper highlighted a faculty survey that revealed that while 73% were in favor of admitting women, 12% were "indifferent" and 15% were opposed. The male students were academically competitive, and there were questions about whether the women could keep up.
But any doubt quickly evaporated once the female students showed up. Kathy McGuinness was the first female staff member at the school when she was hired as assistant director of residence life in 1971. She later became dean of students before moving on to administrative positions at Georgetown University, George Mason University and Boston College. St. Joe's already had a handful of female faculty, including Catherine "Kay" Nash, a biology professor.
"The thing that was really nice about St. Joe's is that it was a real community," McGuinness says. "I knew all the students by name. The women that I met were really impressive. They certainly were competitive academically, and many of them were athletes. They quickly moved into leadership positions in activities and the clubs."
A Sublime Connection
The 50th anniversary of women on campus coincides with another important date. This year marks the 100th anniversary of the 19th Amendment, which guaranteed all women the right to vote, though many women of color were prevented from exercising that right until the passage of the Civil Rights Act in 1965, and voter suppression continues today.
In honor of both anniversaries, a group of Saint Joseph's faculty, staff and students organized film screenings, lectures, a book club and other events designed to celebrate and recognize women, and shine light on the continued fight for gender equality. The initiative, titled "2020: Focus on Women," which is expected to continue this fall, includes a 100-Second Lecture Series featuring six members of the Saint Joseph's community – an administrator, a staff member, a faculty member, a coach, a student and an alumna – who are tasked with speaking for just shy of two minutes on the topic of leadership.
Provost and Vice President for Academic Affairs Cheryl McConnell, Ph.D., kicked off the 100-Second Lecture Series on February 13. Standing at a podium set up in the Drexel Library Atrium, McConnell talked about how society often sends the message to women that they need to change in order to fix the gender gap.
"If only we leaned in, if only we learned to negotiate, if only we learned to speak with greater authority, if only we didn't let others talk over us, if only we asked for what we wanted, if only we took more risks – if only," she said. "Women are not broken. We do not need to be fixed…. We are wonderful the way that we are, and it is not we who need to change, it is our society that doesn't value our gifts."
The "2020: Focus on Women" initiative also included a talk on campus by Amanda Bopp '01, who is currently vice president of digital marketing & analytics at life and style brand Kate Spade New York. 
"The world is changing so quickly, and the rate at which we're able to learn things and understand them has increased exponentially," Bopp said during her lecture. "But you have to make sure you have a solid foundation, and that foundation should contain communication skills, critical thinking skills, the ability to think creatively and to be open-minded."
Katherine Sibley, Ph.D., professor of history, was featured as a speaker at a March lecture that also featured artist Mana Hewitt discussing her exhibition, "Persistence," which was on display in the gallery in Merion Hall and features a series of commemorative medals that recognize the courage and perseverance of women who have challenged societal norms. The lecture was connected to 100 years of women's suffrage.
Sibley sees a sublime connection between women's suffrage and co-education. She has a keen interest in activism, especially movements led by women. She says both movements were the result of long years of struggle. Change never comes easily, especially when it requires one group to give up something in order to accommodate another.
"But just like we've seen recently with the #MeToo movement, when women get together and the men support them, changes happen," she says. "When I went to school, I didn't have to worry about being a woman, but I was still subject to harassment [elsewhere]. Women still are, but we didn't have the sense we would be heard the way we have now. And that's because we have spoken up. It's allowing for change."
Many of Saint Joseph's first ladies remember Hawk Hill as a uniquely supportive environment where the struggle for equality seemed to have been settled by their mere presence there. "It was inevitable that we would allow women in as undergraduates," Toland told this magazine in 2010. "We already had women attending the evening college, which was huge those days at Saint Joseph's. Women were on campus at 4, 5 p.m. each day."
For Quinlan, who attended a girls-only Catholic high school, a co-educational university did exactly what she hoped it would do.
"I learned to stand alongside men as an equal, unafraid of speaking out, having opinions, and figuring out how the real world would really work," she says. "For indeed, I was heading into a job market where the leaders of every company were men. I walked in on strong, confident footing thanks to St. Joe's."
Doing for Others
Quinlan, Schneider and Coughlin most remember the unwavering support from professors who advocated for them, taught them to take the lead in the classroom and helped them find internships or jobs.
One of Coughlin's fondest college memories is of the late Joseph Guerin, Ph.D., who was chair of the economics department at the time. He and his wife invited students over for a dinner party at his house, which made them feel grown-up and special.
"He was very accepting of women in the economics department and thrilled to see what we were going to be doing next," she says. "I think that filtered down to other professors in the department."
Coughlin also recalls how a "strong sense of doing for others" permeated across campus. Most students performed some sort of volunteer work. Hers was walking once a week to a nearby assisted living facility, where she would keep the residents company by reading or playing games with them. That commitment to others has stayed with her for life. Coughlin, who lives in Manhattan, has been volunteering at a nursing home on the Upper East Side for the last 25 years.
Schneider remembered Deacon Daniel DeLucca, former vice president and chairman of the marketing department, who encouraged her to apply to graduate school at New York University, where she got a fellowship that paid for her tuition, room and board. "I'm convinced that was him," she said.
Schneider also credited her time at Saint Joseph's for developing her abstract thinking skills, which have helped her throughout her career.
"One of the nice things about being at a Jesuit school, and I've always said this about a Jesuit education, is you were taught to reason out things, to apply critical thinking to solving a problem," she says. "I ended up with really good skills in terms of planning, organizing and having an inquisitive enough mind to have a feedback loop."
The women are more than just successful graduates. They have earned their place in campus history – and among female trailblazers everywhere.
"We didn't realize what we were doing at the time. We were … breaking through barriers, but we weren't thinking that at all," Coughlin says. "We were just having the opportunity to get a Jesuit education, and we seized it." 
Angie Basiouny is a freelance writer based in Atlanta