Inspiring Students and Teachers to Look Within and Lean into Vulnerability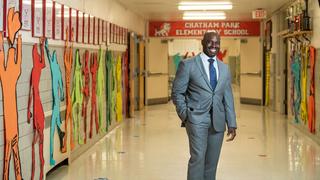 It's 9 a.m. at Chatham Park Elementary School in Havertown, Pennsylvania, and a man wearing a plush shark head strolls into a third-grade classroom. The students (and, more subtly, the teacher) erupt in knowing giggles. Wearing the shark head is their principal, Jabari Whitehead, Ed.D., doing the morning rounds he calls "all the places and all the faces."
When Whitehead started in education nearly two decades ago, he couldn't imagine who he'd be today — a school leader people constantly turn to for wisdom and advice around education and building an uplifting community.
"My whole idea around going into education after college was to teach middle school and coach football the rest of my life," Whitehead says. Others, however, had bigger plans for him. "During an interview for my second job, the principal there, an African-American gentleman, pointed out to me that my role would be to replace him someday."
Likewise, Whitehead's parents, whom he calls "irrational optimists," always pushed him to aim higher. He says they would say, "Wonderful. Now what's next?" after an accomplishment, whether it was receiving his first job as a second grade teacher, rapidly being promoted to leadership roles, getting accepted into the master's in education program at Saint Joseph's University, or later earning his doctorate in education there.
Despite so many voices encouraging him, Whitehead says he wasn't always as confident as he is today. Like many high-achieving individuals, he struggled with imposter syndrome, a lack of belief in his talents, skills and achievements. "In becoming a leader and while working through a master's program, you spend a lot of time trying to prove yourself," he says. "You take yourself so seriously, put up a wall, try so hard to achieve. I didn't always see the human side of what I needed as far as connecting with the people I'm leading and seeing and hearing their story. I needed to break down my own walls and see who I was, and that led me to see the power of vulnerability."
Just being seen goes a long way. It doesn't matter if you're looking at an elementary school or adults; it all boils down to the fact that relationships matter, people need to be valued, seen and heard, and everyone needs human connection."
Whitehead started to lean into the discomfort and embrace a "growth mindset," skills he learned from his master's program and from his longtime passion, CrossFit. "I share the idea of a growth mindset with our parents in the community," he says. "I want to make sure that the kids and teachers know we're on this journey together … We'll lean into discomfort and come out the other side stronger."
Eventually, Whitehead pushed too hard. When he returned to the University for his doctorate, he found himself nearly living in the library and eating unhealthily while simultaneously training for a marathon and keeping up his CrossFit regimen. He wasn't spending as much time as he would have liked with his wife, son and daughter, and says he lost sight of the bigger picture he was working toward. It came at a cost — in his second year of doctoral work, he wound up in the cardiac unit.
Even there, he had his laptop open trying to finish a paper and prep for a ceremony he would be recognized in later that week as a finalist for a teaching award. But when his daughter showed up at the hospital, he saw himself through her eyes — wires coming off of him, hooked up to monitors, still frantically typing into his computer. That was the wake-up call he needed.
"I started doing a lot of journaling and reading a lot of stoic philosophy, learning to focus on what is within my control," he says. "I learned to be at peace within the chaos, a calm rock in stormy waters, and to focus on being able to add value to others every day instead of achieving every single thing every day." Turns out, those were the perfect lessons for a principal stewarding young minds through their formative years.
His professors at St. Joe's reinforced these lessons. He was initially focusing his dissertation on reading readiness until his professor, Terrance Furin, Ph.D., pushed him to look inward and examine what makes him angry or frustrated. "I ended up focusing instead on transformational leadership and how it impacts self-efficacy," Whitehead says. "I still use that work today; the components of self-efficacy — such as the emotional state and verbal persuasion — allow us to learn how to see beyond ourselves and focus on service for others."
Today, that sometimes looks like walking the halls of his elementary school with a silly head on to make kids laugh. Other times, it's walking into the cafeteria and spontaneously kicking off a round of "If You're Happy and You Know It." At home, it's being a dedicated husband to his wife of 13 years and teaching his two kids, now 11 and 9, to make room for play each day.
"Just being seen goes a long way," Whitehead says. "It doesn't matter if you're looking at an elementary school or adults; it all boils down to the fact that relationships matter, people need to be valued, seen and heard, and everyone needs human connection. Those pieces are the same — no matter what."