Overview
Our Doctor of Educational Leadership (Ed.D.) and Certification Program prepares transformational leaders across K-12, higher education, and social sector fields who are committed to equity-oriented change.
Four core values ground our work:
Community – cohorts with strong peer-to-peer and faculty-student relationships

Academic Expectations + cura personalis – high standards coupled with "caring for the whole person" by recognizing that our students are professionals with full lives

Scholar-practitioner – applying knowledge and research to problems of practice

Social Justice –critically examining systems of power in order to advance equity
Coursework for Educational Leaders
Our program's coursework integrates theory and scholarship with practice, thereby highlighting the value of developing transformational scholar-practitioners who are equipped with the knowledge and skills to adapt to problems in real-world contexts. The curriculum provides content courses around leadership theory, historical, political, and legal contexts of leadership, global perspectives on education, learning design and environments, social justice, community engagement, organizational theory, and strategic planning and fiscal resources.
Additionally, the curriculum offers research methodology courses in qualitative research, quantitative research, mixed methods research, communications and research dissemination, and dissertation support. Following a flexible instructional delivery model, students attend face-to-face courses on Saint Joseph's University's campus one night per week and the remainder of course content is provided through other forms of instructional delivery, primarily online or practice-based projects. The majority of the courses are taught by full-time, tenure track faculty, who are experts in both theory and practice and have national and state reputations in scholarly publications, community engagement, professional organizations, and/or teaching. In addition, we draw from high-level practitioner experts and interdisciplinary faculty from across Saint Joseph's University and other institutions to teach some of our courses or course modules, to serve as guest speakers, and to join dissertation committees.
Tracks and Certification Options
Concentrations:
K-12 Education
Higher Education
Social Sectors (e.g., leadership in healthcare, organization, criminal justice)
Pennsylvania Department of Education Approved Certifications:
Principal
Curriculum Supervisor
Superintendent's Letter of Eligibility (LOE) with or without Ed.D.
The Jesuit principles that I learned and internalized at SJU give me an outlook on the barriers faced in urban public education as opportunities for me to be transformative and make a difference."
Superintendent Letter of Eligibility (LOE) program
Our Superintendent Letter of Eligibility (LOE) program prepares transformational leaders in K-12 education who are committed
to equity-oriented change. Aligned with Pennsylvania and NELP Leadership Standards, our LOE program offers Pennsylvania Department of Education approved certification for superintendent/ assistant superintendent positions. You can enroll in this program while in the doctoral program, OR you can start in this program and then apply that coursework towards your doctorate.
Requirements of the LOE Program
Three on-campus and/or hybrid courses in our graduate program:
EDL 845: Historical, Political and Legal Contexts of Leadership
EDL 860: Strategic Planning, Evaluation and Fiscal Resources
EDL 850: Learning Design and Environment
360 hours of supervised fieldwork under an on-site mentor (at superintendent or assistant superintendent level) and a Saint Joseph's supervisor. Fieldwork hours must be divided evenly across the three semesters (120 hours in fall, 120 hours in spring, and 120 hours in summer)
Program Director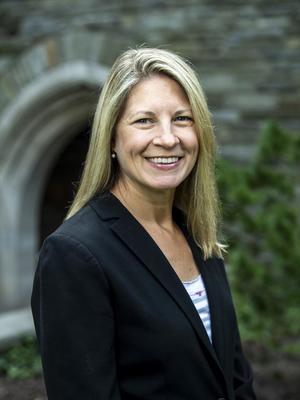 Aimee LaPointe Terosky, Ed.D.
At a Glance
Length

Three years of coursework and one year of dissertation study

Start Terms

Fall

Format

Cohort-based, on-campus model with just one night per week of class.

Credits & Concentrations

60 credits (48 credits of coursework + 12 credits of dissertation study)
Typical length of program is 4 years (3 years of content and research methodology courses which includes two summers; 1 year of dissertation study)
Students have 10 years from start of coursework to complete dissertation

Number of courses per semester

6 credits (2 courses per semester)

Tuition & Fees

$1,105 (per credit hour) (2022-2023)
Application fee: $35

Scholarships: Terrance L. Furin Scholarship (selected by financial need, academic merit, and commitment to social justice, covers one course in Fall of Year 1)

Average Class Size

20-25 students

Average Work Experience

The average student in the program ranges from early career (0-2 years of experience) to advanced career (10+ years).

Jobs in Educational Leadership

K-12: building level leadership (e.g., principals, assistant principals, heads of school, curriculum supervisors, deans, teacher leaders), district level leadership (e.g., superintendents, assistant superintendents, subject matter supervisors
Higher Education: Vice-president or director level positions (e.g., academic administration, finance/operations, student life, residence life, institutional effectiveness, office of mission, diversity and inclusion)
Social Sectors: founders/directors of non-profit organizations and foundations, healthcare leadership, criminal justice leadership

Graduate assistantships

Graduate assistantships are offered on a limited basis and cover 20 hours/week in fall/spring semester for tuition + stipend. Please contact the program director for availability.

Discount Eligibility 

Alumni of Saint Joseph's are eligible to receive 10% off the cost of this program through our alumni discount.
Check with your employer to see if they are an Edcor or a Bright Horizons EdAssist member, which may entitle you to a discount on graduate programs. 

*note - discounts cannot be combined. 

Veterans

SJU is a yellow ribbon school that accepts GI education benefits. Our Office of Veterans Service can help you access and understand your benefits.
The Educational Leadership and Administration (EDLA) program at Saint Joseph's University prepares aspiring school administrators, supervisors of curriculum and supervisors of special education to become transformative leaders in PK-12 settings.
The Organization Development and Leadership (ODL) M.S. from Saint Joseph's University is designed for professionals who want to lead change and create company culture. Offered on campus or online with four concentration options including diversity, belonging and inclusion, this 24-month master's program is an affordable $923 per credit.