Celebrating the Power of Difference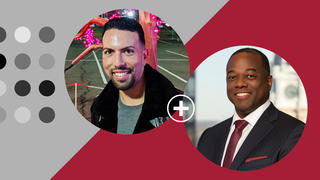 Being a senior partner at Big Four accounting firm Deloitte puts significant stress on Reese Blair '98, but not for the reasons one may think.
"There is tremendous responsibility and pressure to not block the blessing of whomever comes behind me," says Blair. 
When the Bahamas native started at the accounting firm, he walked into a training room of 40 people and was the only Black person there. "I wasn't bothered by it," says Blair. "But until you live it, you can't imagine what it is like. I remember distinctly thinking, 'I can't wait to be an agent of change making this room a little more diverse.'"
Now, Blair has found that opportunity. Last year, he and Christian O'Brien '13 were asked to co-chair the National Alumni Board's new Diverse Alumni Council with the goal to empower, engage and promote a diverse and equitable culture on campus and among alumni through actions big and small.
"What we are trying to accomplish on St. Joe's campus is being accomplished by corporations in our region," says Blair. "The power of difference is celebrated."
Celebrating the Whole Person on Hawk Hill and Beyond
For the council's first event, Blair and O'Brien teamed up for "Crimson Table Talk" — a riff on the popular intergenerational internet talk show "Red Table Talk" — discussing cultural and societal issues with Saint Joseph's alumni. More than 75 people joined to hear about real-life DEI conversations in the workplace.
O'Brien later joined the University's second annual Day of Dialogue to talk about employee resource groups, a growing trend in corporate America. ERGs, as they're known colloquially, help connect and provide support for people of similar lived experiences, whether it be around their heritage, identity or circumstance, such as working mothers or first-generation college students.
The final event of the year, "Then and Now," connected alumni who graduated between '89 and '98 with five student leaders to talk about their struggles and triumphs on Hawk Hill and as young professionals.
"The purpose of college, in my mind, is not only to educate and put ideas in front of students … but to also give them space to figure out who they are," says Nicole Stokes, Ph.D., associate provost for diversity, equity and inclusion. "Connecting students with people like Reese and Christian, to say 'This could be you,' is hugely impactful." 
Excited by the council's early success, Blair issued a $5,000 challenge for last year's Day of Giving to raise funds for the DEI Strategic Innovation Fund and the Ready to Launch Funding Initiative. Participants more than quadrupled the challenge goal, raising over $22,000. 
Ready to Launch is a topic particularly dear to O'Brien. The program helps 25 high-potential students hone their career development skills. "A lot of first-generation students who are from underrepresented minority groups, they don't have that knowledge base," says O'Brien, who is a senior manager at Bristol Myers Squibb.
Priming Students and Alumni to Lead
This year, the National Alumni Board's plans are even more ambitious. "We want to strengthen and grow this chapter," says Ali Corso '09, the NAB's vice president. 
Blair and O'Brien have planned "change maker coffee chats" to recognize heritage months and advocate for people within those communities to become proactive leaders dedicated to transforming their communities. 
"Anybody can do it," encourages O'Brien. "You don't have to lean on someone else to be a change agent."
Doneene Damon '89 has already taken action: She's issued a $5,000 challenge gift on Saint Joseph's Day of Giving on March 21 to help create a student leadership and mentoring program that would help high-potential, underrepresented students lead as resident assistants, orientation leaders and Hawk Hosts.
"I was a student leader and student leadership helped shape my success as I entered the working world," says O'Brien. "It's creating a base for students to have equal footing in a very competitive job market."