Dan McCann, Esq. '09 on Living a Life of Service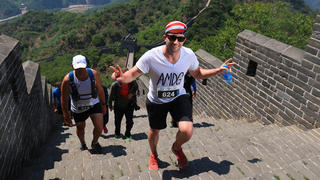 When Daniel McCann, Esq. '09 was 10 years old, he accompanied his mother to Guatemala to serve in an orphanage. His mother, Annamarie Young, DO, a physician, traveled to developing countries each year to see patients who lacked access to quality health care. It was an experience that changed his life, he says, and influenced his desire to live a life of service, leading to his interest in becoming a lawyer.
"I knew that being an attorney would provide me more of an opportunity to help people in need because I'd be able to utilize my knowledge and experience of the court system to bring about justice," he says.
In 2014, McCann opened up his own law firm in Sea Isle City, New Jersey, after clerking for the Honorable John R. Rauh, J.S.C., in Cape May County. He also works as a general counsel for Surety Title Company, a title insurance and settlement services company. And now, his work is being recognized — he was recently named in the NJBIZ 2021 Forty under 40 list, which honors the best and brightest business leaders in the Garden State for their contributions to their industry and community at large.
A Strong Foundation
McCann attributes his professional success in part to his education at Saint Joseph's, where he studied economics, was a member of the men's rowing team and participated in several volunteer organizations. He chose to attend the University because he was attracted to the Jesuit motto of being a person with and for others and the Jesuit educational model.
"At St. Joe's, you run into like-minded people who are serious about their education and want to be involved in the community," he says. "Being surrounded by them pushed me to achieve my career goals."
Faculty and staff in the economics department also had a major impact on him as a student, especially former visiting professor Thomas Burke, Ph.D., and former administrative assistant Dori Pappas.
"I took microeconomics with Dr. Burke, and he really got me interested in the subject. He also took the time to mentor me because he saw that I had so much interest in the subject," McCann says. "Meanwhile, Dori hired me as a work-study, which opened up opportunities to get to know the other professors and really utilize their office hours."
At St. Joe's, you run into like-minded people who are serious about their education and want to be involved in the community. Being surrounded by them pushed me to achieve my career goals."
Entering Academia
McCann says his economics professors' lectures also resonated with him and influenced how he gives his own arguments in the courtroom — and lectures in the classroom. In addition to being a lawyer, McCann is an adjunct professor at Saint Joseph's. Teaching the next generation of Hawks was an opportunity for him to give back to the University, he says.
"When I was an undergrad, I tutored other students in economics, so it felt very natural for me to transition into a teaching role," he says. "I'm very grateful for Dr. Cristian Pardo, who has been the chair of the economics department during my entire time of being an adjunct professor, for giving me the opportunity to come back to my alma mater and teach."
Three years ago, he was asked to research, design and lecture a hybrid course on law and economics, which he still teaches today. "I like how I can utilize my real-life work experiences as a practicing attorney in the classroom, and I think my students benefit from that," he says.
Living With and For Others
McCann's passion for service doesn't end with his career. He and his wife, Katelyn (MacCready) McCann '09, are active volunteers in their community. In his free time, he volunteers as a track and field coach for the Cape May County Special Olympics and runs marathons across the world to raise money for various causes — from supporting struggling parishes in Cork, Ireland, to helping former street children in Uganda go to school.
While he was in law school and studying for the bar, McCann saw a lot of his closest friends and classmates starting their careers and traveling, and he felt like he missed out. So he promised himself that he'd go and see the world and immerse himself in different cultures, all while helping people out along the way.
"I came up with this idea where I would run a marathon in every continent and spend some time there to get to know the locals, raise funds or awareness for a local charity and leave each place a little better off than when I got there," he says. Katelyn, who is a nurse practitioner and a former member of Saint Joseph's women's cross country team, has joined him in three of the international marathons.
This December, McCann will run his sixth marathon in the sixth continent on his list — Antarctica — to promote breast cancer awareness.
"It's been an incredible ride," McCann says. "When you're running with people from all over the world, there are language and cultural differences, but no one cares. You're in it together, and it's good to support each other across the finish line. I'm really fortunate to have experienced that."