A Day in the Life of Student Leader Zoë Welsh '22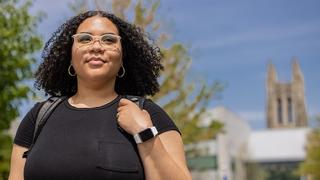 Zoë Welsh '22 is focused on the things that are most important to her – helping people and turning her education into action. Her college experience has been a path to figuring out what drives her, building skills and making connections. 
Welsh always knew she wanted her studies to be interdisciplinary. She chose a sociology major from the College of Arts and Sciences and minors in public policy and human resource and people management from the Haub School of Business. These programs bring together a combination of faculty mentors and resources that enhance Welsh's ability to achieve her goals.
Welsh has taken on multiple leadership roles, including president of the Dean's Leadership Program, a program she has been part of since her first semester on campus.
She counts her involvement with University Student Senate as the most influential experience of her college career. Senate acts as a conduit between students and the faculty and administration, and Welsh believes there is no limit to what can be achieved.
A typical day for Welsh starts early and ends late. She invited us to join her as she navigates classes, meetings, meals and time with friends.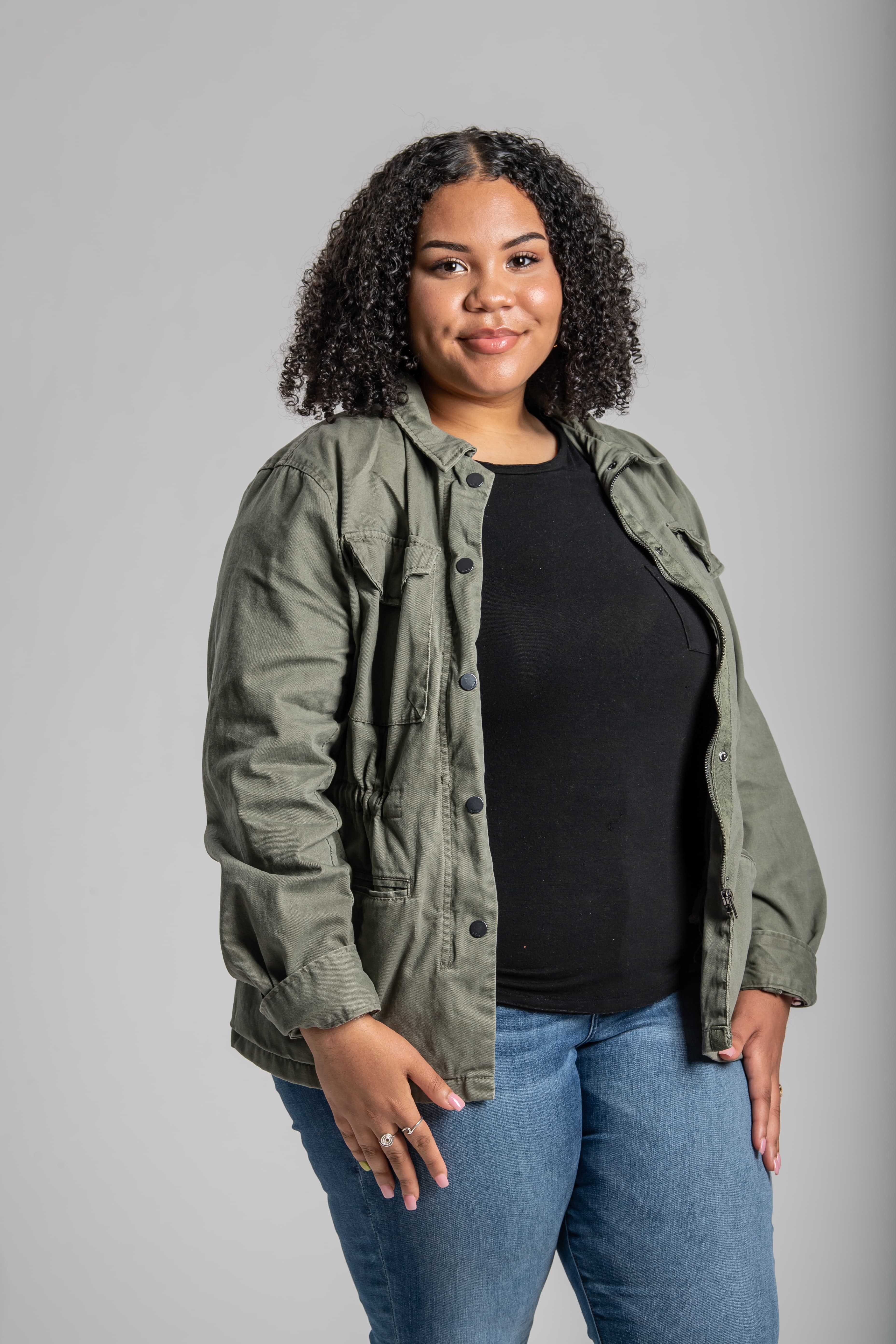 ZOË WELSH '22 FAST FACTS
Hometown: Washington, D.C.
Major: Sociology 
Minors: Human Resources and People Management and Public Policy
Other Campus Roles: President, Dean's Leadership Program; Vice President and Programs Chair, Gamma Epsilon, Alpha Kappa Alpha; Secretary of Academic Affairs, University Student Senate
My favorite Hawk Hill memory: Orientation 2025 this past summer. It was so awesome to be able to welcome the newest class of first-year students with an in-person orientation program. That is something that we have not been able to do since 2019, and it was a great way to end my time as an orientation leader. 
What I love about St. Joe's: I love SJU because I have been able to make my college experience uniquely my own. I have found a home and a family here on campus; the community has helped me grow, develop and find my purpose. I don't think I would have had as much of a transformative experience anywhere else.
A Day in the Life: October 18, 2021
9:45 a.m.: It's such a beautiful day. Fall is definitely here. Walking to my first class of the day, Philosophy 434 Existentialism, taught by Professor Weislogel. This class fulfills the philosophical anthropology GEP requirement.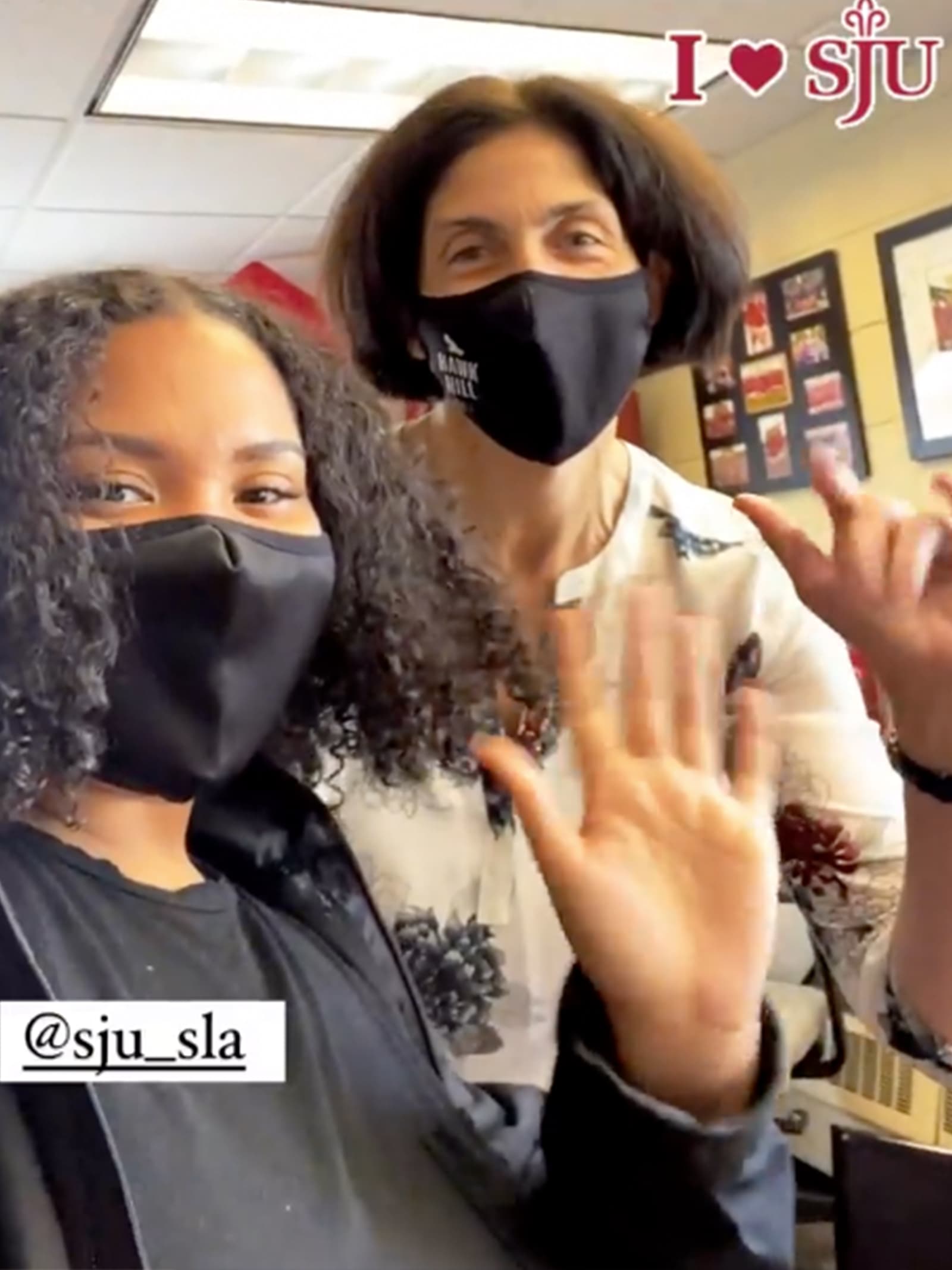 11 a.m.: I head over to Campion Student Center to hang out with some friends on the third floor of Campion and say hi to Beth Hagovsky, director of student leadership and activities.
Noon: Lunchtime! Downstairs in the Dining Hall, I check out what's on the menu today. I grab a salad and a chicken tikka masala wrap. Super fresh and delicious.
1:25 p.m.: Time for my next class. I head back to Merion Hall for Sociology 349 Poverty, Ethics and Social Policy, taught by one of my favorite professors, Dr. Clampet-Lunquist. In class, we are breaking out into small groups to research child poverty reduction programs and policy options.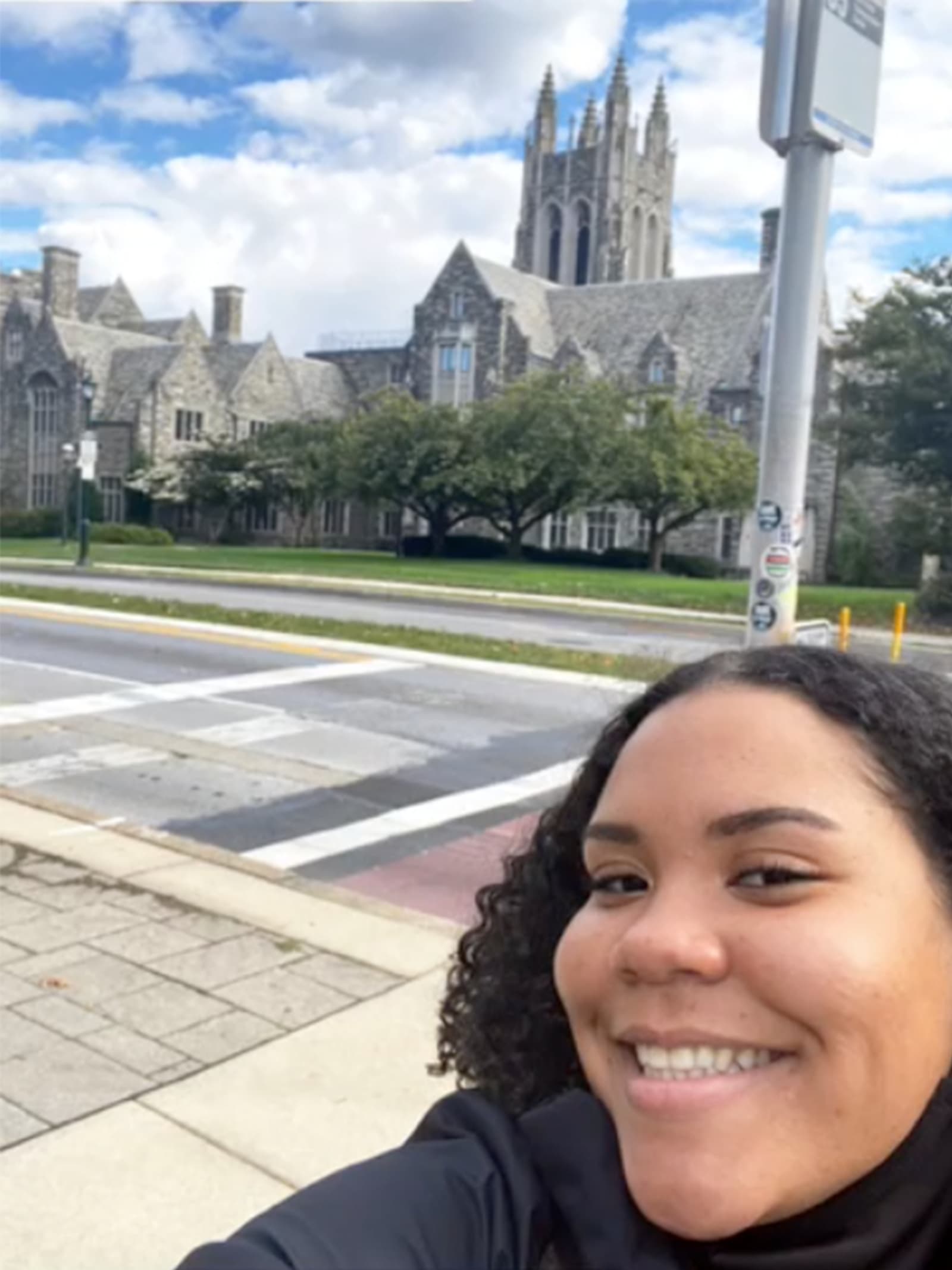 2:30 p.m.: Gotta run over and say hi to Barbelin! Then, I'm off to Post Hall for my final class of the day, Sociology 495, Sociology Thesis Seminar. My thesis is titled Globalization and American Culture: Its Impacts on the Feelings and Behavior of International Students. 
5:30 p.m.: Time for the weekly meeting of University Student Senate, the student governing body for the University. I am the secretary of academic affairs. One thing on our jam-packed agenda is voting on allocating funds to purchase candy to support Gompers Elementary School's annual Trunk or Treat event.
7 p.m.: Off to the next meeting! My sorority, the Gamma Epsilon Philadelphia City Chapter of Alpha Kappa Alpha Sorority Incorporated, is having an event as a part of Skee Week (a week that members use to celebrate our sorority's program targets). The event is called The PinkBook: A Guide for Black Philadelphians and was inspired by one of our program targets: Building Your Economic Legacy.
8 p.m.: My last meeting of the day, a weekly meeting for the Winter Immersion Program. This is an awesome service immersion program that occurs over winter break. My group will be heading to Apopka, Florida, so tonight we are learning more about the growing migrant community that lives there. 
10 p.m.: Signing off. I hope everyone enjoyed a glimpse into my daily life on Hawk Hill. Thank you for tuning in! 
Zoë also shared her day through an Instagram Story takeover. If you missed it, you can check it out here on Saint Joseph's YouTube channel.