Hawks Give Back and Find Home Away From Home Through Greek Life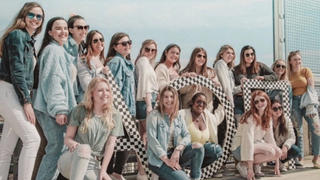 Saint Joseph's University provides numerous opportunities for students to get involved on Hawk Hill and in the community. This includes the option to join one of the seven social Greek organizations on campus; sororities begin their recruitment season on Jan. 21, 2022, and fraternities begin theirs on Jan. 24, 2022. With two fraternities and five sororities currently on campus, around a quarter of Saint Joseph's undergraduates are members of social fraternities or sororities.
Not sure if Greek life is right for you? The Greek community not only gives students a new perspective on the lasting bonds they can have with their fellow classmates, but it also provides them with leadership opportunities, alumni connections and so much more. The University also maintains the excellency of Greek organizations through academics, philanthropy, leadership, ritual and service.
As formal recruitment approaches, I sat down with Olivia Barnes '23, who is the president of Alpha Omicron Pi, and Liam Ferguson '24, who is the vice president of learning community in Sigma Phi Epsilon, and asked them about their involvement in Greek life and everything it's offered them here at Saint Joseph's University.
The University also maintains the excellency of Greek organizations through academics, philanthropy, leadership, ritual and service.
Why did you decide to join a sorority/fraternity at Saint Joseph's?
Barnes: I decided to join a sorority because I was looking for a connection on campus. I really wanted to get involved and do more than just participating in a club. I knew that Greek life at St. Joe's wasn't as intense as it is at other schools and felt more like a community. I knew Alpha Omicron Pi (AOII) was the right place for me when I felt that sense of community. It has given me so many opportunities to grow and be more involved.
Ferguson: Similarly, I found that, on a campus of over 1,000 students, I wanted to find connections within Saint Joseph's community. I decided to join a fraternity because I really connected with the guys and wanted that feeling of brotherhood.
 
How do Greek organizations, such as your chapter, positively impact the SJU community?
Barnes: All of the Greek organizations on campus have philanthropic organizations that they support. We have events on campus to contribute to those causes that St. Joe's students can be involved in (such as bake sales, game nights, raffles, etc.). A majority of the girls are also involved outside of their sorority, engaging in things such as APEX, weekly service, and other organizations throughout campus. When you see someone in Greek life you're also seeing someone heavily involved in the community.
Ferguson: Greek organizations positively impact the community through philanthropic events with the school as well as Philadelphia. Specific to Sigma Phi Epsilon, we work throughout the year to host fundraisers and other events to support causes important to both our fraternity and community.
 
How has being a part of a sorority/fraternity helped you during college?
Barnes: Being in AOII has helped me a lot in college! I have learned so many valuable leadership and life skills. Implementing the skills learned through events such as recruitment and different leadership roles offered within the sorority has also translated well into interview practice and future career roles. By having leadership experience, I also have been able to improve my resume and skill set for the future.
Ferguson: The benefits of being in a fraternity include the people you meet, many of whom turn into lifelong friends, as well as the connections you are encouraged to make through networking that can help with your future occupation.
 
Can you describe the benefits of being a part of a sorority/fraternity, and how you can see that benefitting your future?
Barnes: Being a part of a sorority has benefited me in many ways, most prominently within the leadership opportunities I've had the opportunity of taking on. Better communication skills, creating new relationships, and developing networking skills are just a few of the ways Alpha Omicron Pi impacted my college career and will continue to be carried out throughout my personal and professional life in the near future.
Ferguson: It has helped me through college with social connections and the enjoyment of being a part of something bigger than myself. Being a part of SigEp also encouraged me to see the community around me through an entirely different lens and strive to encourage others both in and out of my fraternity to do the same.
 
What have you learned from being in a social sorority/fraternity that you will carry with you for the rest of your life?
Barnes: I have learned so many communication and leadership skills. Working with other officers has given me the practice of working as a team for the better of the chapter and supporting a common goal. The sense of family I have with my sisters is something that will stick with me forever, as I have met so many women who I will remember for the rest of my life.
Ferguson: I have learned from being in a fraternity that everyone is different and people can appreciate those differences and still enjoy each other through those relationships. In celebrating those differences, I have also learned about the strength of brotherhood and how an open mind can lead you to many more opportunities.
 
What advice do you have for other Hawks considering rushing this semester?
Barnes: I recommend taking the leap if you are even remotely thinking about it! It's a great opportunity to find your place on campus and a community. All of the chapters have something to bring to the table and you'll find exactly where you belong at the end of the rush process.
Ferguson: Some advice I have for other Hawks considering rushing would be to just go for it, you will make a lot of memories and meet amazing people.
Spring formal recruitment for Greek organizations begins on Friday, Jan. 21. For those interested in learning more or joining a Greek organization, please visit their website.