How Saint Joseph's Education Programs Are Responding to the Pandemic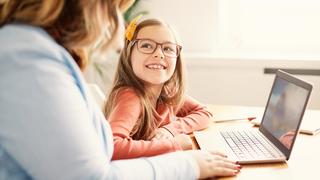 Keys to the Article
The School of Health Studies and Education developed new partnerships with cyber schools to ensure education students could participate in field placements this semester despite the pandemic.
The school also invested in ATLAS, a video library that shows authentic cases of National Board-Certified teachers in the classroom, which is valuable for teaching observation.
Students and faculty have been trained on emerging technologies such as Google Classroom, a software program that's used frequently by PK-12 schools.
Students will continue to be placed in virtual schools in the spring for field experience and student-teaching.
A hands-on approach to learning is crucial for students in all fields, but particularly for those in the field of education. It's in the classroom that aspiring teachers in Saint Joseph's School of Health Studies and Education (SHSE) make connections between theory and practice and gain an understanding of students' development, motivations and learning styles. In fact, teacher candidates in the Departments of Teacher Education and Special Education work directly with PK-12 students as early as the first semester of their freshman year.
"Our goal is to provide students with a broad range of experiences in urban, suburban charter, private and parochial schools, as well as inclusive and special education settings prior to their student-teaching experience," says Monica A. Belfatti, Ph.D., assistant professor of practice and graduate program director in the Department of Teacher Education.
So, when schools switched to hybrid or all-virtual instruction in the wake of the COVID-19 pandemic, SHSE leveraged new partnerships and advanced technologies to ensure that education students could participate in virtual field placement this fall.
Classroom experience is an integral part of education majors' training. For underclassmen and graduate students, that means gaining field experience prior to teaching through classroom observation and by working in local schools. Once education students advance through field experience, they are placed in a classroom full time for the semester to student-teach, while receiving guidance and feedback from both the teacher and their professor in St. Joe's student-teaching seminar course.
A shift to virtual instruction, and thus field placements, meant forging new partnerships with schools that offer high-quality, online instruction like Downingtown Virtual Academy, Pennsylvania Leadership Charter School, Pennsylvania Virtual Charter School and St. Andrew's School.
"They enthusiastically welcomed our students into their schools," says Jim Osborne, M.Ed., director of clinical experiences, who played a pivotal role in creating these partnerships. "We greatly appreciate our new partners and their leadership and expertise in providing cutting-edge, virtual instruction," adds Belfatti.
Laura Feeney '22, an undergraduate student who completed her field experience at Downingtown Virtual Academy this semester, says the opportunity opened her eyes to new possibilities for instruction.
"From viewing classroom management techniques to watching how teachers utilize technology in new and innovative ways in the virtual setting, attending virtual fields and observing teachers in this environment has given me a new understanding of teaching and the possibilities that come with both virtual learning and in-person learning," says Feeney.
To supplement field experiences and early observation, the school also invested in ATLAS (Accomplished Teaching, Learning and Schools®), a video library that shows authentic cases of National Board-Certified teachers in the classroom. These videos include instructional materials and the teacher's feedback on the lesson, and are a valuable and effective learning tool for teaching observation.
Education majors progressing to the student-teaching portion of their studies were affected by the pandemic as well. In a typical year, the Pennsylvania Department of Education allows 50% of the student-teaching experience to be completed virtually; during the pandemic, however, these guidelines changed so that students could gain experience fully online.
Graduate student Brett Kaplan, who is pursuing certification in PK-4 education, was admittedly worried about the virtual student-teaching experience and the preparation it would provide for his career. 
"I could not have been more wrong," he says. "If anything, this unique experience helped me understand that flexibility, differentiation and technology are critical to education, and I look forward to applying all that I learned for my future students, whether virtually or in-person."
Being prepared for the future also means equipping Saint Joseph's current and future educators with the latest software being used in the school system. Both students and faculty were given access to Google Classroom, a program that's used by many PK-12 schools, for educational and instructional purposes.
Faculty were also trained on the program's best practices by Janine Firmender, Ph.D., associate professor of teacher education and leader in technology and teaching, and alumna Vincenza Bartholomew '16 (B.S.), a Google Classroom-certified teacher and Catholic school educator.
With exposure to these new technologies and experiences, students have not only gained a greater appreciation for the education landscape as a whole, but they've also learned valuable tools that will make them more marketable in a post-COVID-19 world.
"Attending virtual field [placements] has helped me develop as an educator because I have acquired a new set of skills that will provide me with ways to engage students in the virtual classroom, as well as in-person," says Feeney.
SHSE will continue to place education students in virtual schools in the spring, while making use of Atlas, Google Classroom and other new technologies.
Looking back on an untraditional semester, Osborne reflects on the opportunities that emerged. 
"As unusual as the circumstances were, many of our teacher candidates had an opportunity to implement online instruction, an opportunity that wasn't previously available," he says.
Belfatti adds that new job placement opportunities are cropping up in cyber schools as a result of the pandemic: "These schools have had a large increase in student population, and thus, are looking to hire our graduates, who now have experience facilitating online instruction," she says.