An Inside Look at The Kettle, Hawk Hill's Newly Remodeled Dining Hall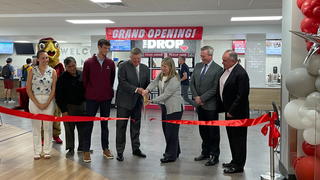 At the start of summer break, Saint Joseph's University began renovations on Campion Student Center's dining hall, featuring a newly remodeled modern space, along with new dining options that take into consideration dietary restrictions, allergies and late-night dining. The dining hall, which has been renamed The Kettle, opened at the start of the fall semester, with an official ribbon cutting occurring on Sept. 18, 2023. 
"The new dining options fulfill a huge need for students at Saint Joseph's for on-campus dining options that mirror what we might look for off campus," says Alec Mettin '24, student body president. "Especially for residential students, the increased diversity provides significant benefits for both healthy and comforting options."
Ghost Kitchen
Saint Joseph's introduced a ghost kitchen to the Campion dining hall to provide a variety of flexible food options from one convenient location without compromising space. Students can order from new brand offerings, such as Auntie Anne's, The Spread and Jamba Juice, while mainstays like Hawk Wraps, Food Lab and Burger and Fries (B+F) remain. 
As an extension of the ghost kitchen, The Drop introduces students to a new way of ordering their favorite meals right from their phone. Students will need to download the HawkEats app on their phones, place their order and pick it up from one of the food-safe lockers on site. 
New Retail Spaces
In addition to the ghost kitchen, two new retail spaces were added to The Kettle: Moe's Southwestern Grill and Bento Sushi. 
Moe's Southwestern Grill provides students with the opportunity to create their own meal including burritos, quesadillas, rice bowls and salads, featuring meat- and vegetarian-friendly proteins. 
For students looking for an on-campus sushi location or who are following a pescatarian diet, they can head over to Bento Sushi. Bento Sushi offers build-your-own poke bowls, side orders of dumplings and ready-to-go sushi.
True Balance and Root
With a focus on health, plant-based foods and allergens, Saint Joseph's introduced two additional dining options to The Kettle. 
True Balance will offer meals prepared and served in a kitchen environment free of the nine most common allergens — milk, eggs, fish, shellfish, tree nuts, peanuts, soy, wheat and sesame. Students looking for vegetarian and plant-based dining options can now purchase their lunch and dinner from Root. 
Quick Eats
The Post Learning Commons P.O.D express in the Drexel Library has been upgraded to a 24-hour convenience market called Quick Eats. Similar to Amazon Go and Amazon Fresh markets, students will swipe upon entering, grab their food and go — avoiding any lines! 
The advanced technology takes advantage of cameras placed throughout the P.O.D. and debits from a students' hawk card based on what the student grabs from the shelves.
Quick Eats is a great option for students with busy schedules or who follow religious holidays such as Ramadan (during which students need to eat when dining halls may be closed) to grab late-night snacks, drinks and ready-to-go meals.
"I like the different options and availability after late working hours, clubs and practices," says Sarah Stoud '27, a first-year, early education major. 
With an updated look to the dining hall, Tim McGuriman, MEd, associate vice president of administrative services, hopes to attract new students, as well as provide current students with an expanded dining experience. 
"The facility needed to be upgraded and modernized with the latest technology to meet the needs of our students," says McGuriman. "We had what many considered a 'high-school' like setting with no national brands and this was hurting us in terms of attracting students to SJU and in serving our current students. We have seen an uptick in the number of students enrolled in dining plans this year."