Karr Barth Associates Chairman to be Honored with Haub Hall of Fame Award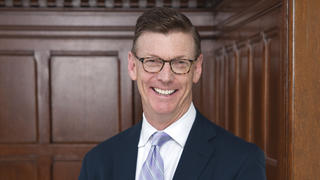 "Adapt, adjust, move on," has been Timothy J. Maguire's motto since his diagnosis with a rare hereditary disorder, adrenoleukodystrophy, 18 years ago. Faced with the prospect of progressive paralysis, the 55-year-old chairman of Karr Barth Associates hasn't slowed down. 
"I had to make a choice whether to focus on my limitations of what I couldn't do or focus on my blessings and capabilities and not let the disease really define me," says Maguire, who graduated Saint Joseph's University in 1988. "The outcome has been that this disease has made me more resilient. I've become a better leader."
This May, Maguire will be honored for his business success and his leadership in the community when Saint Joseph's University inducts him into the Haub School of Business Hall of Fame. 
The event also will celebrate the 30th conferring of the award, which was postponed this past year due to the coronavirus pandemic, with a look back at the prestigious history of the Haub Hall of Fame.
"It's a real honor to be recognized among the greats of the last 30 years," says Maguire. "I'm joining individuals who are really, in my mind, giants in the industry and in the community." 
A widely respected leader in his industry, Maguire joined Karr Barth Associates, one of the major financial advisory firms in the Mid-Atlantic region, soon after graduating from Saint Joseph's. He quickly ascended to the role of senior executive vice president before becoming chairman in 2008.
Maguire attributes his success to the hard-working attitude emphasized by his parents and the values instilled in him on Hawk Hill.
At Karr Barth, Maguire manages more than 350 financial professionals and maintains a growing client practice. He also devotes significant time to nurturing the careers of young professionals.
"I am very fortunate that I have a career that [allows me to] help men and women become the best version of themselves. The roots of that started at Saint Joseph's," Maguire says.
Maguire has long committed himself to giving back to the University and its students. He has remained connected to his alma mater as chairman of the Haub School of Business Board of Visitors, provided philanthropic support to scholarships, and launched the careers of Hawks through his company's robust participation in Haub's cooperative education program.
"I really see the Jesuit value of cura personalis [care of the whole person] embodied by my father," says daughter Shannon, who graduated from Saint Joseph's in 2018. "What's important to him is helping the personal development of others." 
Maguire also is actively engaged as a board member of CHOP Oncology, Villa Maria Academy, Finseca and ALD Connect. He received the prestigious "Father of the Year Award" from the American Diabetes Association, which recognizes men who have made their families a priority, while balancing demanding careers and being outstanding community leaders.
"While Tim has had a spectacular career in the wealth management space as chairman of Karr Barth Associates, it is his living of the Jesuit credo of men and women for others that makes him so deserving of being inducted into the Haub Hall of Fame," says Joseph A. DiAngelo, dean of the Haub School of Business.
Maguire and his wife Colleen, who also graduated from Saint Joseph's in 1988, have four children and live in Wayne, Pennsylvania. 
Register to join the Haub Hall of Fame virtual celebration honoring Timothy J. Maguire on Tuesday, May 18, at 6:30 p.m.