Kinney Center Researchers Team Up with Young Adults on the Spectrum to Explore and Improve Dating Experiences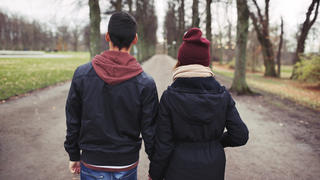 In recent years, there's been increased conversation about the dating experiences of young adults with autism spectrum disorder (ASD). Although these experiences have been highlighted throughout different mainstream media channels, Joseph McCleery, Ph.D., assistant professor of psychology and director of academic programs at the Kinney Center for Autism Education and Support at Saint Joseph's University, recognized that there is very limited research on dating experiences or dating support needs of individuals with ASD.
"There's a lot of progress being made to help set individuals with autism up for success during transitional years, such as developing the skills and experience needed to enter the workforce, but not a lot of progress has been made when it comes to dating," says McCleery. 
He decided to assemble a research team to explore these experiences. It was critical for McCleery's research team to be led by Saint Joseph's undergraduate students with ASD. 
"My first step in thinking about this study was recognizing that the project should be driven by undergraduate students. They understand the strategies and complexities of dating in high school and college," he says. " So I turned to our psychology students and Kinney SCHOLARS in my laboratory for their perspective. Together, we quickly realized that we also needed to involve autistic college students in the planning and implementation of our study."
This presented an opportunity Tate Fryczynski '22 couldn't pass up. Fryczynski was diagnosed with ASD when he was two and a half years old. The interdisciplinary health studies major and autism studies and biology minor, began working on this research project with McCleery during last year's Summer Scholars program. He has been actively involved with the Kinney Center since his second year at Saint Joseph's, from taking part in the ASPIRE Program to working in the Sports and Recreation Program and the Adult Day Program. 
As a young adult navigating the dating world, he understood the value of this research.
"Individuals with autism want human connection, too, and we can't be left out of the dating conversation," Fryczynski says. "While everyone has different dating desires, we need to figure out a way to have more available dating resources for those interested."
McCleery, Fryczynski and others in the lab interviewed college students about their educational experiences and activities, age they began dating, number of individuals dated, length of romantic relationships, and dating support needs and preferences, among other topics. 
Early findings of the study confirm that the majority of individuals with ASD have a desire for a long-term romantic relationship. The data also suggests that, while many autistic people delay dating until college, those who are interested and successful in initiating their dating career during adolescence seem to have their first date around the same age as neurotypical peers: eighth or ninth grade.
Finally, the majority of the college students with autism in the study recognize the importance and challenges of communication when it comes to establishing and maintaining relationships with others, and also show significant insight into a number of other factors that may be affecting their relationships with others.
As this long-term project continues, McCleery and his team hope to interview more college-aged students and publish final findings sometime next year.
"As a field, we need to continue to do a better job involving autistic individuals in research. Tate has been an incredible resource and leader on this project. From the first day he joined the project, he applied a unique set of skills as well as a unique perspective to improve the study questions and the interview process and procedures. The answers and solutions we obtain from this study will be way more meaningful and helpful for the autism community because of Tate's work and ideas," he says.