Leadership Transition Announced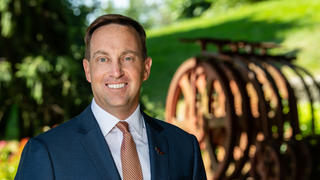 Today, Loyola University Chicago announced the appointment of Mark C. Reed, Ed.D., as 25th president of the esteemed Jesuit university in Chicago, after seven years as president of Saint Joseph's University. 
"Dr. Reed's appointment as president of Loyola University Chicago is recognition that the broader Jesuit university community has seen the transformation underway at Saint Joseph's under his leadership," said Jim Norris '85, chair, Saint Joseph's Board of Trustees. 
Dr. Reed will continue as president of Saint Joseph's through August 15, including through the anticipated completion of the integration of University of the Sciences into Saint Joseph's, slated for June. 
During Dr. Reed's seven years at Saint Joseph's, the University initiated a strategic plan and campus master plan, increased academic quality, expanded the academic portfolio and secured an educational partnership with the nationally renowned Barnes Foundation. Dr. Reed also boldly navigated operations through the COVID-19 pandemic, offering students robust on-campus experiences a year before most colleges and universities in Philadelphia. Most recently, he led the University through a letter of intent, due diligence and merger agreement with University of the Sciences. During Dr. Reed's tenure, Saint Joseph's endowment more than doubled. He also secured the largest gift in University's history, a $50 million gift from esteemed alumnus James Maguire '58. A product of Jesuit education, Dr. Reed believes deeply in the University's Jesuit tradition and accepts the privilege and responsibility to steward its mission as central to his leadership.
"Because of the dedication this institution and everyone associated with it has to our Jesuit, Catholic mission, coupled with the current leadership team and Board of Trustees, Saint Joseph's marches forward with faith and strength to dare, and its steadfast commitment to excellence with purpose," said Dr. Reed in an email to the Saint Joseph's community on May 3. "No one will be cheering more than me for the future successes of our students, faculty, and community."
"The Board of Trustees selected Provost Cheryl McConnell, Ph.D., as interim president because of our full confidence in her steady hand and commitment to furthering the transformation already underway," said Norris. "Cheryl's dedication to the Jesuit tradition of academic excellence is unmatched and evidenced in her three decades of service to Jesuit universities and their students."
Cheryl McConnell, Ph.D., joined Saint Joseph's in June of 2019 and led the academic enterprise through a critical time in the University's history. McConnell engineered the University's pivot to online learning during COVID-19; led faculty through construction of a combined academic enterprise with University of the Sciences; and brought an expansion of academic programs to the University's portfolio.