Levi Anderson Earns Atlantic 10 Offensive Player of the Week Accolades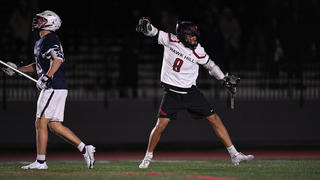 Anderson etched his name into program history against St. John's, scoring a program record eight goals in the 16-10 win over the Red Storm. The Canadian attacker also pitched in two assists for 10 points on the day, matching St. John's.
 
Prior to his outburst in Queens, Anderson's previous career-high in scoring was four goals, now doubling that tally en route to the school record. Anderson has now recorded 23 goals on the season, having recorded a hat trick in six of his seven games so far on the year.
 
Anderson is nine goals shy from eclipsing 100 goals on his career. His 23 goals this season is already just 10 goals shy of his season-best, set last year with 33 tallies.
 
The Hawks return to Sweeney Field to take on #4 Duke on Saturday, March 25. The Hawks will host a MLAX/WLAX double header, opening with the Blue Devils at 12 p.m. before the women take on Richmond at 3:30 p.m.
This news article originally appeared on sjuhawks.com.