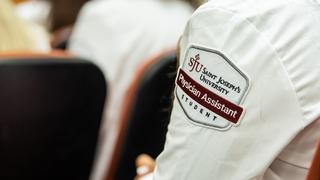 This year and for the first time, Saint Joseph's University recognized second-year students from the physician assistant (PA) program with a pinning ceremony to commemorate their transition from the didactic or classroom phase of their training into their clinical curriculum. 
The PA program consists of six semesters of a rigorous curriculum that will prepare students for healthcare careers. In the final year of the program, students train in medical offices and hospitals, or other clinical settings, working on actual patients and gaining real-world experience. 
"Clinical training provides students with a theoretical foundation to begin their roles as student-clinicians," says Gerald F. Smith, DMSc, MPH, PA-C, assistant professor of physician assistant studies. "They will learn how to elicit histories from patients, perform physical examinations and procedures, and continue to develop their skills in diagnosis and developing treatment plans in this final year of the program." 
Traditionally, second-year PA students are given short white coats to signify their transition into clinical work.
"We decided instead to have a pinning ceremony," explains Smith. "The short white coat is replaced by a long one upon completion of the program. This way, the pin can serve as a token of their time in the program and act as a reminder of the lifelong commitment to learning they have taken on as a practitioner." 
The pinning ceremony will remain a special part of Saint Joseph's PA program. 
Learn more about the PA program.​​