On the Path to Professorship: Chemistry Major Amanda Lucas '22 to Pursue Ph.D. at Cornell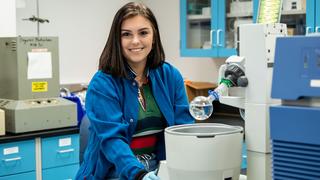 Four years ago, Amanda Lucas '22, walked onto Saint Joseph's Hawk Hill campus and felt something click. 
"I visited a few places, but stepping onto campus, I immediately felt welcomed with open arms," recalls Lucas. "I could clearly see my future here over the next four years over any other university." 
As a McNulty Fellow and chemistry major, Lucas has spent much of her time working with other women in STEM with the goal of being part of a group of women who prioritize the same values as her. 
The McNulty Scholars program provides highly qualified female students with leadership training and professional development opportunities, mentored research experience and full- or partial-tuition scholarships to pursue a degree in the natural sciences, mathematics or computer science.
I felt like I had the freedom to choose where I wanted to go with my research
"We were given the autonomy to do the type of research that we wanted, so I felt like I had the freedom to choose where I wanted to go with my research," says Lucas. "I'm so grateful for the mentorship I've received from my professors and my advisors."

Lucas has made her mark in Saint Joseph's laboratories working on targeted synthesis of an alkene molecule — Pentacyclo[4.3.0.02,4.03,8.05,7]non-4,5-ene — to study the strain of its double bond, the conditions that cause the bond to break, and how to synthesize the molecule for use in other applications.
"You think of this molecule and you ask, how can we make this in as few steps as possible to increase the efficiency of its synthesis," explains Lucas. "I create reactions to try and synthesize the molecule and then I'll do a characterization."
Since molecules cannot be observed directly, chemists have created indirect methods of determining the structure of the molecule, as well as the purity of the sample. This is the practice of characterization, she explains.
Lucas uses tools like nuclear magnetic resonance (NMR) to determine how the atoms are interconnected, and processes like gas chromatography mass spectrometry (GCMS) to show if she's made the molecule correctly.
Additionally, Lucas worked as a Summer Scholar on this research and was able to cut the reaction time of her molecule's synthesis. Originally, it took nine separate reactions to create the molecule  — at present, Lucas has cut it down to just five. 
Lucas took her research to the National Chemistry Society in San Diego, California, to present her findings at a poster session. 
"It was really exciting," remembers Lucas. "Professors who were interested in looking at new directions for their research came around to ask about my research and it was great to talk with other people who are interested in organic chemistry."
Lucas plans on taking her love for science to the next level in the coming years. She is set to begin her Ph.D. program in organic chemistry at Cornell University in New York. Instead of continuing her research she began at Saint Joseph's, she will embark on a new journey researching the organic reaction olefin metathesis — work that can inform drug and fuel production.
Lucas will also be teaching in the undergraduate labs at Cornell, which will be key to her ultimate goal of professorship. 
"I've always admired the hard work and dedication of educators," says Lucas. "I have been a lab TA and a chemistry tutor for the Office of Learning Resources at Saint Joseph's, and I can't wait to expand upon that experience at Cornell." 
As a professor, Lucas hopes to run a research lab focused on neurodegenerative disorders like Alzheimer's and Parkinson's. One of her main goals is to make chemistry education more accessible to those who are intimidated by the subject.
Saint Joseph's has played a pivotal role in Lucas' future by allowing her to explore her interests and supporting her research. She leaves SJU with a plethora of new skills under her belt. 
"SJU gives you all the resources you need. It's up to you to take those skills and meld them into the future you want," says Lucas. "I feel like I've been given the independence to choose my own path and now I feel prepared to take what I've learned here and turn it into something great."