Saint Joseph's University Named Top Producer of Fulbright U.S. Students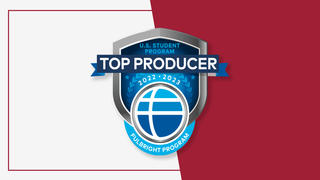 Today, the U.S. Department of State's Bureau of Educational and Cultural Affairs named Saint Joseph's University a Fulbright Top Producing Institution for U.S. Students. This recognition is given to the U.S. colleges and universities that received the highest number of applicants selected for the 2022-23 Fulbright U.S. Student Program. 
Four SJU students were selected for Fulbright awards for academic year 2022-2023: Adrianna DiVentura '22, Spain English Teaching Assistantship (ETA); Erin Doherty '22, Spain ETA; Madde Guerke '21, Mexico ETA; and Cat Jones '15, Laos ETA. 
This is the third time in University history that Saint Joseph's has been awarded a Fulbright Top Producing Institution designation. SJU is also the only Philadelphia university to have been recognized in the master's institutions category.
"Making the Fulbright Top Producers List is a significant national honor for Saint Joseph's University," says Mark Reynolds, PhD, director of the Office of Fellowships and associate professor of chemistry and biochemistry. "It reflects well on the quality and hard work of our student fellowship applicants and speaks to the excellent faculty mentoring they receive here. Our Fulbright student applicants and winners have gained valuable experiences that will make them outstanding global citizens."
Fulbright is the U.S. government's flagship international educational exchange program. Since its inception in 1946, more than 400,000 participants from all backgrounds and fields – including recent university graduates, teachers, scientists, researchers, artists and others, from the United States and over 160 other countries – have participated in the Fulbright Program.  
Earning this distinction is yet another proof point for the lifelong value and academic rigor of a Saint Joseph's education.
Fulbright alumni have returned to their home countries to make an impact on their communities thanks to their expanded worldview, a deep appreciation for their host country and its people, and a larger network of colleagues and friends.  
"Earning this distinction is yet another proof point for the lifelong value and academic rigor of a Saint Joseph's education," says Interim President Cheryl A. McConnell, PhD. "The education we offer is designed to foster an appreciation for the larger world and kindle a desire to make a positive impact. The Fulbright Program is one critical avenue to launch our graduates into that world."
The Fulbright Program was established over 75 years ago to increase mutual understanding between the people of the United States and the people of other countries. While the primary source of funding for the Fulbright Program is an annual appropriation made by the U.S. Congress to the U.S. Department of State's Bureau of Educational and Cultural Affairs, it benefits from additional support from foreign partner governments, non-governmental organizations, private organizations, corporate partnerships and individual donors. Importantly, U.S. and foreign host institutions provide support as well. 
"On behalf of President Biden and Secretary of State Blinken, congratulations to the colleges and universities recognized as 2022-2023 Fulbright Top Producing Institutions, and to all the applicants who were selected for the Fulbright Program this year," says Lee Satterfield, assistant secretary of state for educational and cultural affairs. "Thanks to the visionary leadership of these institutions, administrators and advisors, a new generation of Fulbrighters – changemakers, as I like to say – will catalyze lasting impact on their campus, in their communities and around the world."  
Saint Joseph's University will be recognized at a Fulbright Top Producing Institutions reception in Washington, D.C., on Feb. 21, 2023.
The Fulbright program is administered at Saint Joseph's University through the Fellowships Office. Students and alumni interested in applying for the Fulbright Program should contact Mark Reynolds, PhD, or visit fulbrightprogram.org.