Saint Joseph's University Partners with Samuel Gompers School to Boost Sports and Science Programs through $100K Grant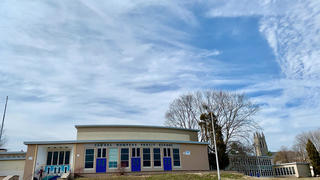 Saint Joseph's University will partner with Samuel Gompers School to enhance the school's sports and science programs through a $100,000 grant, extending the University's commitment to the nearby K-8 school in the Wynnefield section of Philadelphia. Half of the funds will be used by the school towards curriculum materials, additional playground space, sports equipment, facility upgrades and more. The remaining funds will be used to hire a graduate student dedicated to working closely with Gompers staff to help develop more structured, non-academic programming that focuses on health and wellness. 
"In the last two decades, athletics has evolved from simply playing a sport to encompass mindfulness, fitness and nutrition, which can benefit students' lifelong health and wellness," Director of Athletics Jill Bodensteiner said. "We're excited to share these best practices and resources with the students and staff at Gompers. Not only will the Gompers community benefit from this endeavor, but Saint Joseph's students will also have the opportunity to participate in a high-impact experiential learning opportunity."
Additional Saint Joseph's students, primarily student-athletes, will voluntarily assist the graduate assistant with creating and implementing purposeful fitness-related activities. The goal of the newly developed curriculum is to help provide additional structure during non-academic hours, like recess and lunch, that equips students with health and wellness knowledge. One potential example of this is a mindfulness session for students during the recess period. 
"Having recess in school is simply not enough. A structured regime is what students need to fight obesity and minimize screen time on cellphones, social media, gaming and texting," says Rennie Parker, Community School Coordinator at Gompers. "After I completed a needs assessment for the Gompers community, increasing physical activity was a top priority for students, parents and staff."
The grant aligns with Gompers' main strategic priorities, identified by Parker, Gompers Principal Phillip DeLuca, and other administration, as a community school designated by the City of Philadelphia – physical wellbeing, social wellbeing and after school programming.
"Physical activity and social wellbeing are an integral part of K-12 education. Both areas help provide students successful academic outcomes. At Saint Joseph's, we recognize that we can assist our partners at Gompers to enhance this area to help achieve their goals and have made a commitment to work more closely with them," says Aimee LaPointe Terosky, Ed.D., associate professor of educational leadership. "At the same time, Saint Joseph's students will be able to practice and apply their own skills through this project. We look forward to working with Gompers on this grant because of its reciprocal nature."
As immediately adjacent neighbors, Gompers and Saint Joseph's have enjoyed forming a mutually beneficial, rich partnership including dozens of initiatives such as undergraduate student teaching positions, Big Brothers Big Sisters of America and GeoKids LINKS.
The grant funds were provided by Philadelphia Women's Basketball, a non-profit organization set up to host the 2000 NCAA Division I women's basketball championship. Surplus proceeds were distributed to non-profit organizations for enhancing youth activities in sport.
The project is in the early stages of planning, and Saint Joseph's will work in conjunction with Gompers as they cooperate with the City of Philadelphia's back-to-school plans.