Senior's Road to Medicine is Paved with Humanity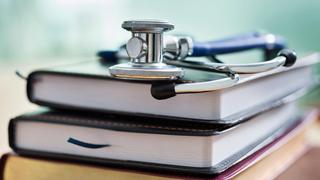 When Daniel DiSandro '23 was applying to colleges, he was certain of just one thing: He would not become a physician. Both of his parents practice medicine and he was determined to chart his own path.
DiSandro was a high achiever at St. Joseph's Prep where his SATs came back high enough to give him his pick of Ivy League schools upon graduation. But something about Saint Joseph's University just seemed to fit.
"Maybe it was all the service work I had done in high school," explains DiSandro. "Service has always really appealed to me and I often found myself going beyond the base requirement for that type of work in high school; knowing that was such an important aspect of the curriculum at St. Joe's felt familiar."
He came to Saint Joseph's on a Dean's Scholarship, a merit-based award that covered the entirety of his college tuition. And because he was dead set on deviating from his genetic destiny, DiSandro enrolled as an undecided business major. 
It didn't take long for him to realize that his course load had a science-shaped void that he badly wanted to fill. 
"I never realized how important science is in my life," he says. "Academics have always come so easily to me, and in high school you have to take every subject — because of that, I had never taken the time to reflect on how much I actually enjoy studying science and why I was good at it."
DiSandro quickly conferred with his faculty adviser, Nancy R. Fox, PhD, professor of economics, who was able to convince him that switching majors didn't have to mean he was admitting defeat.
"Throughout his time at SJU, Danny has demonstrated the value of analyzing complex issues through an interdisciplinary lens," says Fox. "And he's been able to do so with excellence and grace."
DiSandro declared himself an economics major, which meant he could stock up on courses offered through the College of Arts and Sciences that are prerequisites for medical school. That's how he found Saint Joseph's Institute of Clinical Bioethics (ICB).
I have never had a student with Dan's level of intellectual ability, personal charisma and commitment to research.
"From the moment Dan started as a research fellow in the ICB, we knew there was something special about him. He had a hunger to learn and was never afraid of a challenge," recalls Peter A. Clark, S.J., PhD, professor and director of the Institute of Clinical Bioethics, and the John McShain Chair in Ethics. "I can honestly say in my 25 years at Saint Joseph's University that I have never had a student with his level of intellectual ability, personal charisma and commitment to research."
DiSandro quickly became a leader in his role at ICB, managing four separate Health Promoter programs (free monthly healthcare clinics) with area embassies that offered prenatal care, physical therapy consultations and monthly screenings for eye health, vital signs and autism to undocumented immigrants without healthcare access. 
"Medicine is this amazing intersection of science and service," explains DiSandro. "Working with ICB brought that intersection into a whole new light for me. Because, yes, medicine involves more science than anyone can ever truly know, but what we do when we practice medicine isn't just service. There is this deeply human side to it where you, as a physician, need to recognize the innate humanity in every single patient you see."
What we do when we practice medicine isn't just service. There is this deeply human side to it where you, as a physician, need to recognize the innate humanity in every single patient you see.
Working in ICB helped DiSandro to understand that the end goal of medicine isn't the research you work on or the papers you publish — it's about doing what is best for the patient, even if that sometimes means doing nothing at all. 
"In everything I've ever done with ICB, the resounding lesson is that you don't always need to treat a patient, but you always need to care," explains DiSandro. "Sometimes, treatment isn't right for your patient — sometimes what's best for a person is their relationships, their quality of life, the ability to do something that a certain treatment might prevent. So the treatment we ultimately go with might end up being no treatment."
A significant point of pride for DiSandro comes from his work on education around a patient's dignity in death and helping families better understand and prepare for a medical crisis. 
In 2022, DiSandro took on a Summer Scholars project where he worked with a video crew and a team of medical residents to create informational videos about code status, or the type of emergent treatment a person would or would not receive if their heart or breathing were to stop. 
"There's a lot of research out there that shows very few patients truly understand what they're signing when they ask for a 'do not resuscitate' order," says DiSandro. "And just in general, patients don't really understand the possible outcomes if they do survive a resuscitation attempt."
The video DiSandro produced is currently with the Institutional Review Board at Mercy Fitzgerald Hospital where he hopes it will be approved for use in training residents in having these conversations and educating families who are experiencing a crisis of health.
DiSandro is passionate about preserving patient dignity, and he'll take that with him to med school in fall of 2023. He scored in the 99th percentile on his MCATs and interviewed at top schools like NYU and Harvard. But DiSandro is staying local.
"I'm going to be attending the Lewis Katz School of Medicine at Temple University this fall," he says. "But I don't think I'll know what type of medicine I want to practice for a while."
As he navigates his journey with an open mind, DiSandro has left an indelible mark on Saint Joseph's.
"I have had the privilege to teach Dan as a student, but to be honest, I've also learned from him," remarks Clark. "His empathy, compassion and care for others is contagious. He has taught the ICB fellows and me what it truly means to be a person with and for others — to treat all people with the utmost dignity and respect. In the end, the student has become the teacher, and we will all be learning from Dan for many years to come."