SJU to Honor Distinguished Alumni at Leadership Awards Dinner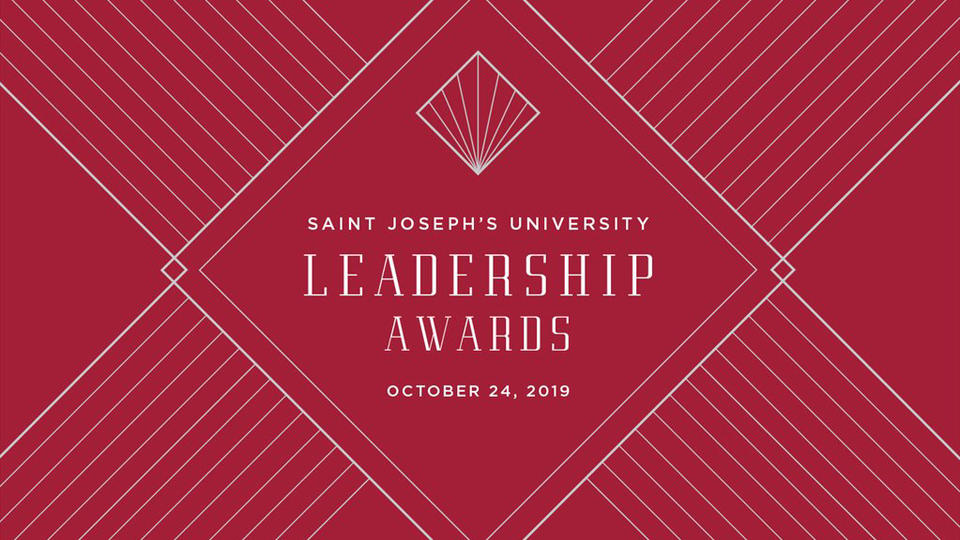 Saint Joseph's University will honor four exceptional alumni at its annual Leadership Awards Dinner on Thursday, Oct. 24 at the Loews Hotel in Center City. The dinner brings together alumni, friends and supporters of SJU to raise money for the Shield of Loyola Scholarship Fund and pay tribute to dedicated and accomplished alumni.
"I look forward to this special evening every year," said University President Mark C. Reed, Ed.D. "The experiences our alumni have here stay with them throughout their lives and manifest in great loyalty and service to their alma mater. This event is our way of celebrating our own and the contributions they make at SJU and the wider world."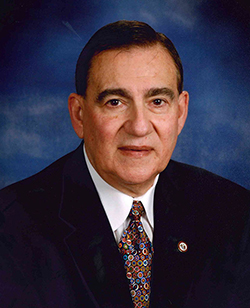 Anthony Carfagno '60, the founding chair of the Erivan K. Haub School of Business' Board of Visitors and a longtime Saint Joseph's benefactor, will be recognized with the Shield of Loyola, the University's highest honor, for remarkable success in his profession, a life that reflects the values of St. Ignatius Loyola, and unparalleled loyalty to the University.
Carfagno boasts a long and successful career in the pharmaceutical industry, serving as the chair of the New Jersey Pharmaceutical Quality Control Association and also as the international chair of the American Society for Quality. He and his wife, Evelyn also initiated the Carfagno Lecture Series, which promotes civic engagement and thought leadership through informative engaging discussion has brought the likes of Former Secretary of State Condoleeza Rice and Vice President Joe Biden to campus in the past year.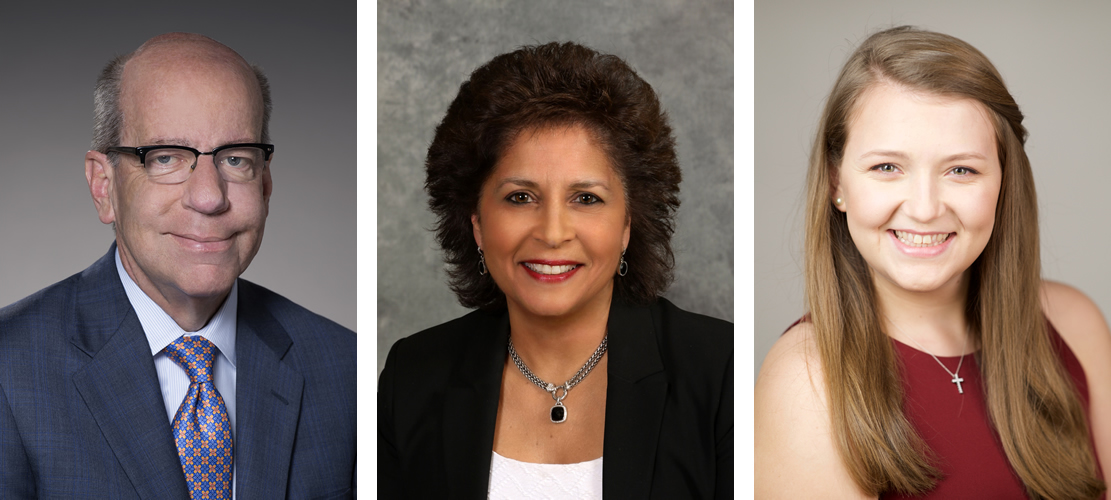 Michael J. Hare '83, executive vice president for development at The Buccini/Pollin Group, will be awarded the Reverend Joseph S. Hogan, S.J., Award for exemplifying the Christian principles of faith, hope and love and outstanding loyal service to Saint Joseph's. Hare's involvement at the University spans nearly 40 years and includes stints as a member of the Alumni Board of Governors, the National Alumni Board and the SJU Real Estate and Construction Alumni Advisory Board.
Denise Viola Monahan '85, administrative vice president for M&T Bank, will receive the Alumni Professional Achievement Award, which acknowledges those alumni whose professional accomplishments have brought distinction to themselves, credit to Saint Joseph's and benefit to their communities. Monahan has over 30 years of experience in the banking industry and served a nine-year term as a member of Saint Joseph's Board of Trustees.
Claire C. Tedesco '15, a category manager with HelloFresh, will receive the Ignatius Award for devoted efforts in the service and promotion of Saint Joseph's and a life of "service to others" consistent with the principles of St. Ignatius Loyola. Tedesco is currently a member of the National Alumni Board.
For more information about the honorees and to register to attend the dinner, visit the events page.