Education Sparks Alumna's Rise to Community, Business Leadership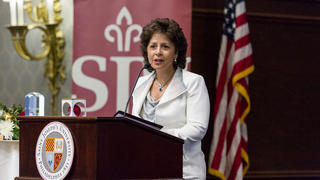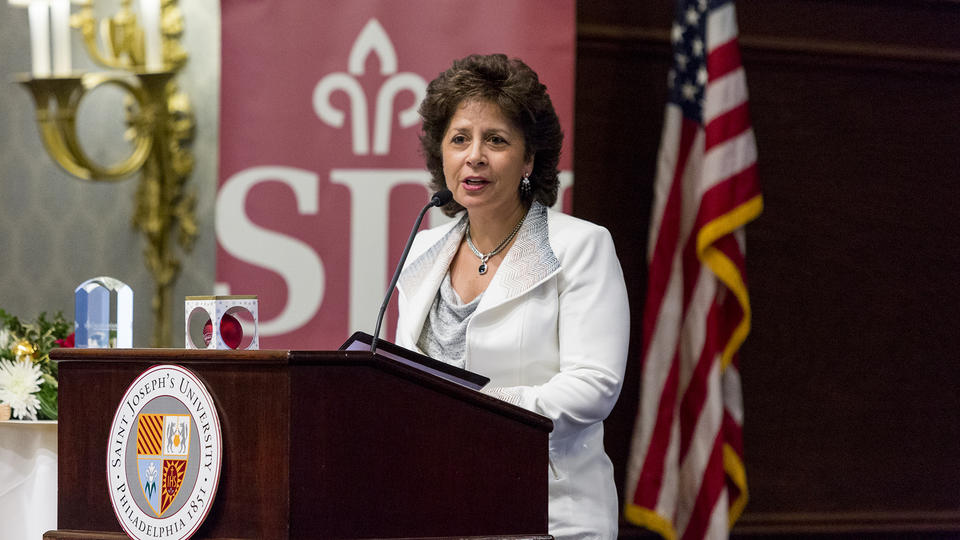 Denise Viola Monahan '85 didn't come to Hawk Hill with her eye on a career in banking.  She was an education major who took her Jesuit values to heart, always working to make a difference in her community. Today, as the administrative vice president of M&T Bank, Monahan can trace her steady climb up the ranks back to her undergraduate experience at Saint Joseph's. 
"It surprises people to hear that I was an education major," remembers Monahan, who enrolled in PNC Bank's management training program after learning that the company was looking for young people without traditional business backgrounds. "When I really think about my 35 years in the business world, it's my liberal arts education that has helped me differentiate myself professionally."
Now, one of the most influential business leaders in Southern New Jersey, Monahan will be recognized for her professional success and work in the community with the Alumni Professional Achievement Award at the University's Leadership Awards Dinner on Thursday, Oct. 24.
"You just realize this power that you have within to help others and make a difference," Monahan says. "Saint Joseph's University helped form me into the person that I wanted to be, was meant to be. And now, I have the opportunity and a responsibility to give back and make a difference in the life of someone."
Monahan lends her expertise to a broad range of nonprofits and serves on the board of multiple organizations including the Philly Pops, the Chamber of Commerce Southern New Jersey, the Ronald McDonald House of Southern New Jersey and Catholic Partnership Schools in Camden. 
While serving as the board president of the Ronald McDonald House, she initiated a "Family Spotlight," which allowed families to tell their stories and say thank you. She has also worked with the Southern New Jersey Chamber of Commerce's Summer Teacher Institute, which provides opportunities for teachers to engage with the business community.
Monahan also spent nine years as a member of the Saint Joseph's Board of Trustees, where she played an instrumental role in shaping her alma mater. Among the many  notable accomplishments during her tenure was the historic acquisition of the James J. Maguire '58 campus and completion of the University's last $150 million comprehensive campaign.
She's most moved, however, by her impact on SJU students. "To be a part of enriching that experience for them is the most memorable, meaningful accomplishment that I have had in my professional life."
Now the parent of a first year student, Monahan cherishes her time on Hawk Hill more than ever before.
"Saint Joseph's University taught me what it means to be a person with and for others. It's because of SJU that I'm always striving to do more," Monahan said. "I know that, in my life, I've been blessed and inspired to give back."
Monahan is currently an associate trustee of the University. She is an active member of the Saint Joseph's Real Estate Advisory Board and received the Timothy R. Lannon, S.J. Leadership Award from the University in 2011.
For more information about the University's Leadership Awards Dinner or to register to attend the event, visit sju.edu/leadershipawards.