Student Examines Cognitive Consequences of Long COVID-19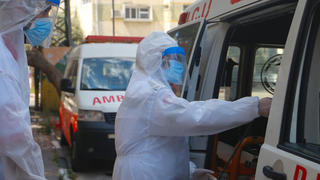 With the COVID-19 pandemic surging on, an estimated 35% to 45% of those infected with the virus are experiencing long-term cognitive side effects. Only recently, COVID-19 patients have begun to show signs of moderate traumatic brain injury — issues with fatigue, brain fog and executive function. 
As frontline health workers witnessed these neurological issues in their long-recovered COVID-19 patients, they began to wonder — is this part of the virus? Is there something that can be done? Or is this just life now?
Saint Joseph's University Summer Scholar Harshal Mehta '22, a biology major minoring in health care ethics, has set out to investigate the cognitive consequences of COVID-19 in an effort to identify trends among those affected by long-term side effects and better understand their neurological implications.
"There hasn't been much research done, of course, because it's all so new," says Mehta, who has been slowly gathering scholarly information on these developments over the past year and a half. "I'm hoping to take a more in-depth look at the cognitive principles and neurological problems that arise in COVID-19 patients — does it cause encephalopathy? Does it cause neuropathy? Things of that nature."
As a means of gathering data and information, Mehta is overseeing a team of medical residents and peers from institutions like Philadelphia College of Osteopathic Medicine, Mercy Health System and more who have been working with COVID-19 patients throughout the pandemic.
"My team is providing invaluable details and experiences that give me real, authentic insights into the medical aspects of these long COVID situations.
"The information my team is providing has been invaluable," Mehta insists. "They have all these details and experiences that give me real, authentic insights into the medical aspects of these situations."
While Mehta examines the ethical and social perspective, the medical team provides physiological insights to round out the research. Ultimately, Mehta aims to publish a paper on the implications of these side effects and provide recommendations to hospitals and medical professionals on how they are trending. 
Peter Clark S.J., Ph.D., professor of medical ethics and director of the Institute of Clinical Bioethics, is advising Mehta's Summer Scholars research. 
"My residents have tons of cases on this," notes Clark. "The problem is there are all these disparate studies on the subject. We're trying to look at all this information and bring it together to prove whether or not there is a biological component."
Clark illustrates the complexity of Mehta's research through specific examples: "Dementia patients are proven to be more likely to contract COVID-19 but Black dementia patients are three times as likely to be infected as white dementia patients. What is the biological or physiological impact there? How did this come about this way?"
The major takeaway here is that Mehta is doing seriously cutting-edge work. 
"Neurologists will have to look at this very carefully," insists Clark. "Psychologists, psychiatrists, physicians — I mean, this is going to have a major effect on further treatment of these patients."
Mehta also sees potential for this research to inform those who have never been infected. "Someone who hasn't had COVID might be thinking, what if this happens to me? What's the likeliness of a, b or c? How can I be prepared? What can I expect from my future in this scenario? Having such a holistic approach to gathering the research makes this that much more beneficial as we'll hopefully be able to answer those questions."
Mehta looks forward to sharing this published paper and his new experience as a team leader when he applies to medical school next academic year.
Read more about our 2021 Summer Scholars: